Winter Squash Soup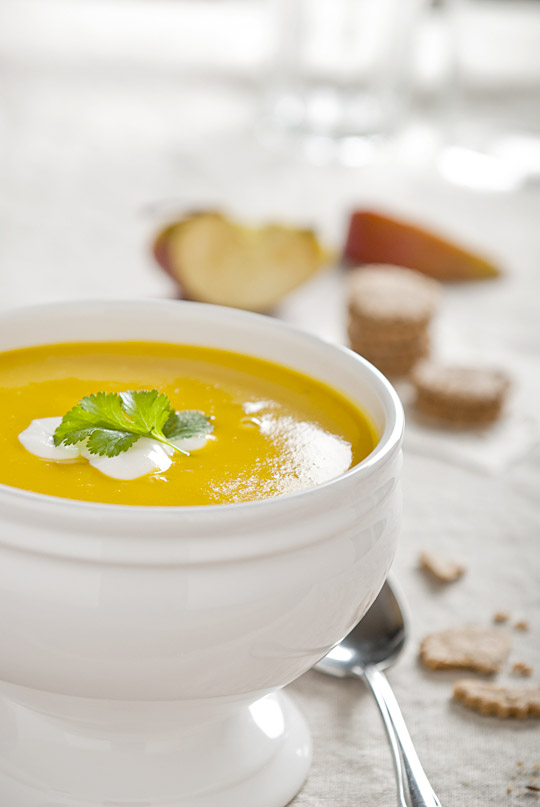 Every early summer all I think of when I transplant winter squash plants to the garden is to make this soup for dark cold nights. So far my favourite winter squash for this recipe is definitely Marina Di Chioggia (Cucurbita maxima) because it has a dense and meaty flesh which is not as dry as Japanese kabocha yet possesses a rich sweet flavour. This Italian heirloom is popularly used to make gnocchi, but I would like to use it for every recipe I have on hand! I would even give up growing any other squashes or pumpkins to secure a spot for this beautiful squash. It keeps well into spring in a cold place and, after cooked into soup, it freezes very well too!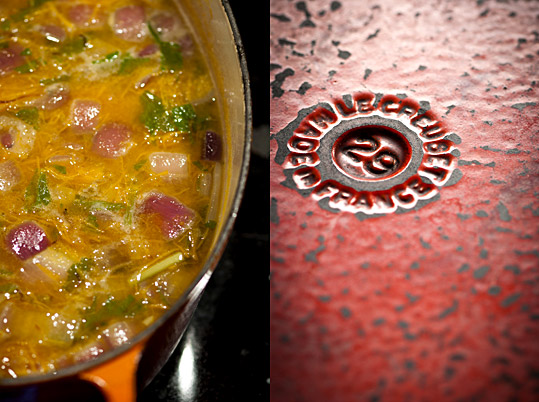 Winter Squash Soup
Serves 6-8
2 1/2 cups roasted Marina Di Chioggia or any butter cup type
2 tablespoons butter
1 large onion
1 carrot
1 stalk celery
2 tablespoons chopped Italian parsley
8 cups chicken stock
1/3 – 1/2 cup heavy cream
Salt and freshly ground pepper
Sour cream (optional)
Preheat the oven to 350F. Quarter the squash and remove the seeds. Place them on a baking sheet and roast for 40-50 minutes until tender when it's tested. How long it takes to finish roasting depends on how thick and how big each piece is, so keep an eye on them after roasting 30 minutes.
Meanwhile, in a heavy-bottomed pot, melt the butter and sauté the onion, carrot, celery and Italian parsley until they start colouring over medium-high heat, about 12-15 minutes. Pour the chicken stock into the pot, bring to a boil, then lower the heat to medium-low and skim the foam that floats on the surface of the soup. Simmer for 20 minutes, partially covered. Spoon the roasted squash from the skin and add it into the pot. Simmer for 10 more minutes. Remove from heat. Put soup into a blender or use a hand blender and puree. Be careful not to burn yourself. If I were to use a blender, I would blend the first half of the soup and transfer to a large bowl. Then I would do the second half, and finally bring everything  back into the pot and simmer for a few more minutes. Add cream, blend well over medium heat and adjust the flavour with salt and pepper. If the soup becomes too thick, add some water or chicken stock to achieve your preferred consistency.