Soba Salad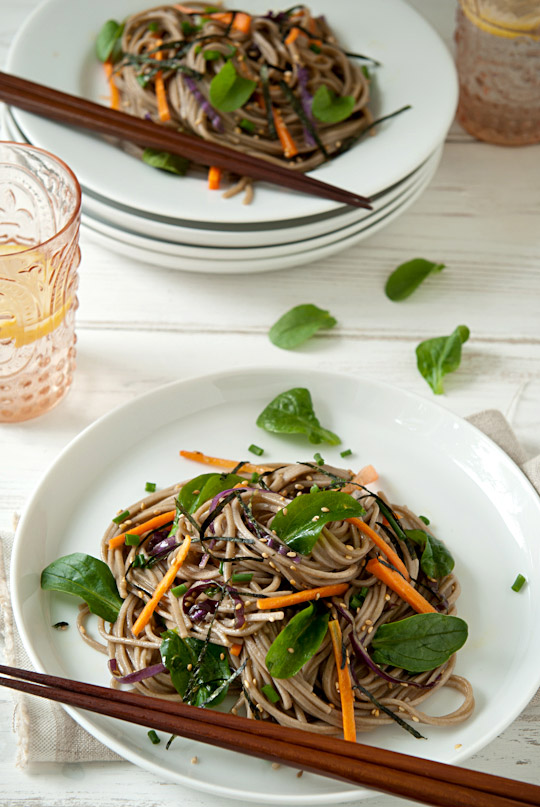 It is still too early to plant any vegetables here in the Vancouver region due to the amount of rain we receive during winter months plus the threat of unexpected cold spells in April. Nonetheless, part of my garden is slowly being transformed by a green carpet of corn salad (Valerianalla locusta). Although unknown by many, corn salad is a vegetable that we urban gardeners enjoy especially during early spring when there is not much to eat in a garden. Corn salad, aka lamb's lettuce, is a cold hardy plant that has small, tender green leaves that possess a mild and somewhat nutty flavour. These are perhaps the only salad leaves you can harvest without any care at all in the winter season! Yet, corn salad is special because it feeds us when we are really in need, around February to April. It requires no fuss, no cover and it self seeds comfortably every year and still looks happy in the dead of winter. As a matter of fact, I just sowed the seeds two years ago and they have kept faithfully coming back since then.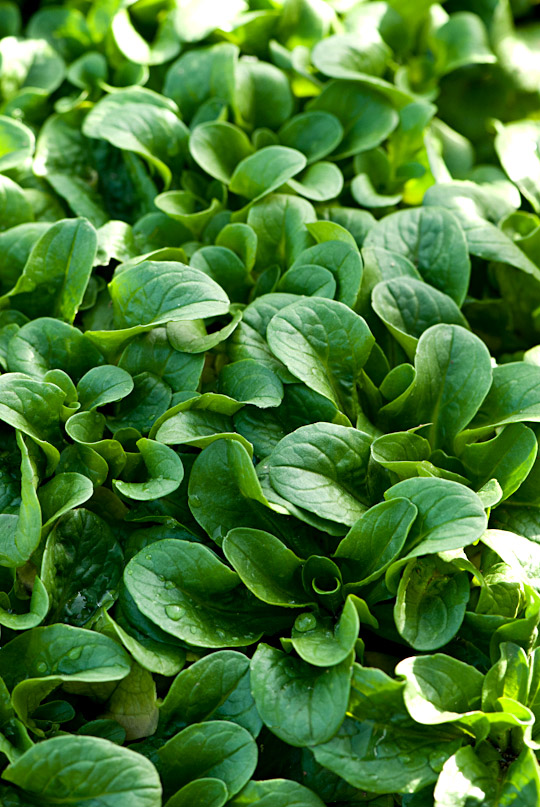 Whenever I crave a quick, fresh, savoury meal, I turn to a soba salad; a cold soba dish with seasonal vegetables. Soba is a Japanese staple, and is also called buckwheat noodles in North America. It is composed of a mixture of white flour, buckwheat flour and water. Making the noodles requires an intricate craftsmanship, so I buy dried ones. Soba salad is so easy to make and light to eat as even a late night meal. I remember one of my uncles used to eat this dish every day just before going to boxing practice! He always said it fulfilled his stomach long enough yet still gave him a quick boost of energy before exercising. The contentment you feel after eating this dish is incomparable to any other light quick meals, for me at least! The key is to have dry soba and a bottle of aged soba sauce handy. Add baby salad leaves, like corn salad with its vibrant green colour, in order to make a springy plate, perfect for potlucks too! So far all my friends loved this dish for its freshness, textures, flavour and aesthetics.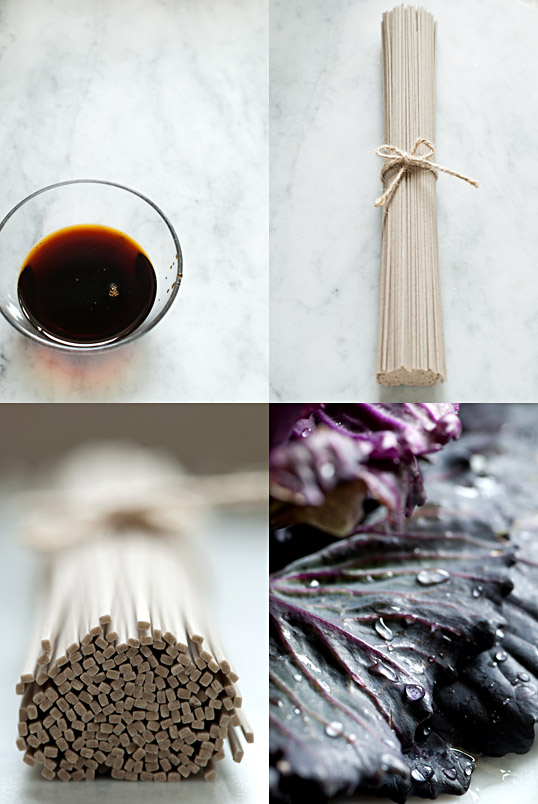 I will introduce a sauce recipe that I learned when I worked in a kitchen in Shinjuku in my first year of college days. To this day, I still cherish this recipe for its versatility. It is called hongaeshi, but I call it soba sauce so that my friends can pronounce it with ease. It is slightly thick liquid made with mirin, sugar and soy sauce that is simmered and cooled, then left to sit for at least two weeks in the refrigerator. The longer it sits, the better and the richer the flavour becomes, and the more roundness and umami are produced.
Some traditional artisanal noodle restaurants in Japan inherit a secret sauce recipe of this kind that has been passed from generation to generation. Yet, some restaurants let the sauce mature for years in order to obtain a premium quality. Although you can pick up a bottle of mentsuyu at your local Japanese grocery store, I prefer to make my own for the enhanced flavour and to ensure better quality. It is indeed a great multipurpose Japanese condiment for noodle dishes, soup, stir-fry, braising and the list goes on! I always make a big batch so that it lasts me for a long time.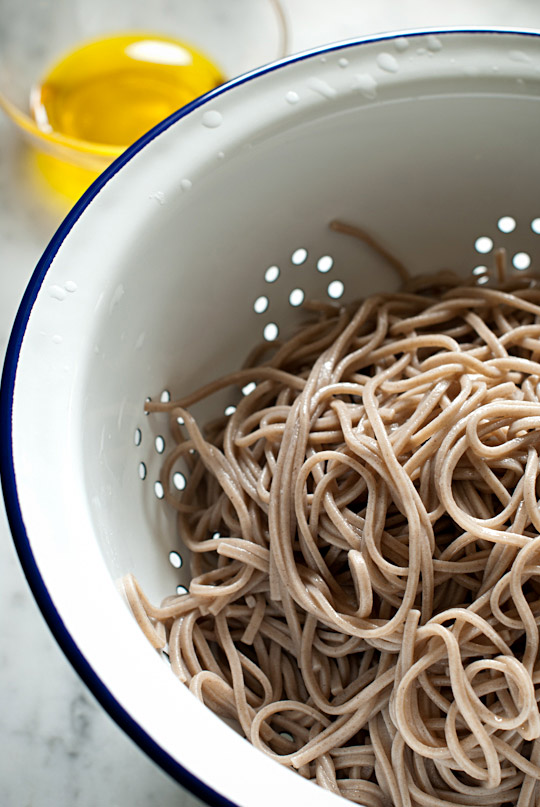 If you feel like a warm bowl of soba or udon noodles, make soup (mentsuyu) by adding the sauce to dashi stock or water to reach the preferred taste, and bring to a boil. Then, add the cooked and drained (but not rinsed with cold water) noodles to the soup.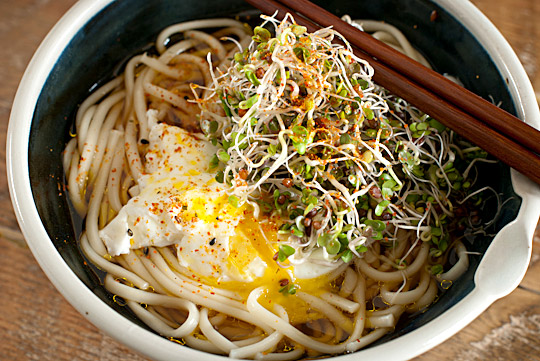 Soba Sauce (hongaeshi)
Makes 1 litre
100 ml mirin (Japanese condiment)
1 2/3 cups sugar
1 litre soy sauce
Put the mirin in a large pot and bring to a boil. Add the sugar and let dissolve. Add the soy sauce; then bring to a boil, lower the heat and let simmer for a couple of minutes. Skim occasionally. Let cool. Pour into a sterilized airtight jar and store in the refrigerator for at least two weeks. You can use it right away after making it, but nothing beats the aged sauce for the enhanced flavour!
*Use only a clean spoon to scoop the sauce.

Soba Salad
Serves 2-3
2 carrots, julienned
2 cups corn salad leaves, washed, pat dried
1 cup purple cabbage, thinly sliced
A bunch of chives, finely chopped
2 bundles dry soba (buckwheat noodle), one bundle size of a dollar
2 tablespoons soba sauce (mentsuyu)
2 tablespoons flaxseed oil (I like the garlic chill-flavoured one)
2 tablespoons roasted white sesame seeds
1 sheet nori
Place water in a large pot and bring to a boil. In the meantime, prepare the vegetables. Cook the soba noodles according to the instructions on the packaging. Using a colander, drain well. Rinse with cold water and drain completely. Toss the noodles with the carrots, the corn salad, the cabbage, chives, the soba sauce, the flaxseed oil and the sesame seeds. Cut the nori in thin strips and sprinkle over top of the salad. Serve immediately.