Rhubarb Custard Ice Cream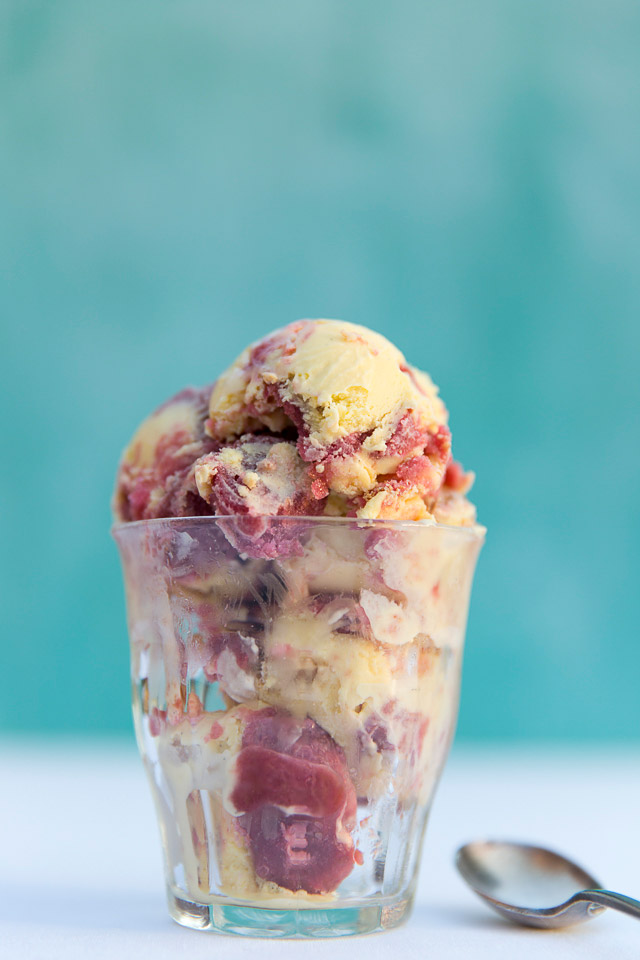 I realized that there was no better time to create this recipe than when my neighbour's daughter, who lives on a farm, handed me two and a half dozen colourful eggs that she had just gathered. Immediately I thought about turning them into omelettes with chunks of goat cheese and chives, adding them to pancakes, making a pudding… oh, yes, there seemed to be too many possibilities.
However, last year, when I wrote the rhubarb tart recipe, I already had a special ice cream recipe in mind to introduce when my rhubarb returned. So today, I finally made a custard ice cream mixture and combined it with my long awaited seasonal treat: rhubarb. As I had been itching for the rhubarb stalks to become tall enough, it was the perfect timing. There is something irresistible about this combination, which features just the right tartness combined with a sweet, creamy egginess. This ice cream will make a special dessert to share with my friend who recently invited us to her dinner party, as she is quite passionate about rhubarb!
Rhubarb Custard Ice Cream
This recipe involves creating three elements: the rhubarb stew, the custard ice cream mixture, and the honey ginger cookies.. Churn the ice cream a few hours before serving time and freeze to achieve the best texture—this will allow each component to stand on its own instead of being totally absorbed together. It may sound like a lot to accomplish, but it's really not. All you must do is organize your time wisely and then it's as easy as pie!
Makes about 1 quart
Rhubarb Stew
3 cups rhubarb, chopped into 1 inch pieces
¼ cup plus 1 tablespoon cane sugar
1 teaspoon freshly squeezed lemon juice
Place the rhubarb and sugar in a small saucepan and cook over medium high heat until no shape is visible. You can agitate the rhubarb pieces here and there to help dissolve. Add the lemon juice and stir.
Cool, transfer to a container and refrigerate overnight.
Custard Ice Cream Mixture
2 cups whole milk
1 vanilla bean, split lengthwise and scraped
6 large egg yolks
½ cup plus 1 tablespoon cane sugar
1 cup whipping cream (Avalon's organic one is my favourite)
Bring the milk and vanilla pod with pulp to a gentle boil in a saucepan over medium heat. Remove from the heat, cover and let sit for 10 minutes to infuse the milk.
While waiting, prepare a large bowl filled with ice cubes that can hold the finished custard mixture in a small bowl. This will speed up the cooling process. Set aside a small bowl.
Whisk the egg yolks in a medium bowl and add sugar; continue to whisk until well combined. Whilst whisking, gently add a quarter of the hot milk into the yolks. Continue to whisk, and add the rest of the milk in a steady stream. Discard the pod. Return the egg yolk mixture to the saucepan.
Bring the mixture to a gentle boil over medium heat and whisk continuously until thickened, for about 5 minutes. Do not over boil. Strain the mixture through a sieve into the prepared small bowl. Set the bowl on the ice cubes. Add some water to the ice bath. Stir constantly until cool.
Add the whipping cream and stir to combine, then refrigerate overnight.
Honey Ginger Cookies
1/3 cup butter, room temperature
1/3 cup sugar
1 large egg
1 tablespoon honey
½ teaspoon ginger juice extracted from a piece of grated ginger
2/3 cup rolled oats, milled finely in a food processor
1 cup cake flour
½ teaspoon baking powder
A pinch of salt
Sift the flour, baking powder and salt together; set aside. Cream the butter in a large bowl with a beater. Add the sugar and stir well until fluffy. While beating, add the egg, honey, and ginger juice and combine well.
Switch to a spatula, add the oat and flour mixture and combine until flour is not visible. The mixture will be very soft, but no worries. Try to form it into a ball and store in a Ziploc bag; flatten to make a disk shape and place in the freezer for about 30 minutes.
Preheat the oven to 320F. Flour the work surface and roll the dough with a rolling pin to 1/3 inch thickness, trying to form a square shape. Using a knife, cut into 2 inch squares. Transfer to a baking sheet lined with parchment paper and bake until golden, for about 15 to 20 minutes.
Cool and store in an airtight container.
Next day, place the rhubarb container in the freezer while you churn the custard mixture according to the manufacturer's instructions. By individually freezing custard and rhubarb before layering, it will be easy to achieve the separation between the two.
Transfer half the custard ice cream to the bottom of a large container, and dot with the half portion of semi-frozen rhubarb. You can reserve some cookies to serve on the side of the finished ice cream. Break the rest of the cookies into 1 inch pieces and stud half of them between the rhubarb and into the custard. Repeat another layer on top. Flatten the surface and freeze for a few hours before serving.

25. April 2013 by Emi Uchida
Categories: Dessert, Garden, Recipe, Vegetarian | Tags: cookies, custard, dairy, dessert, ginger, honey, ice cream, rhubarb | 12 comments