Quinoa and Poached Egg Salad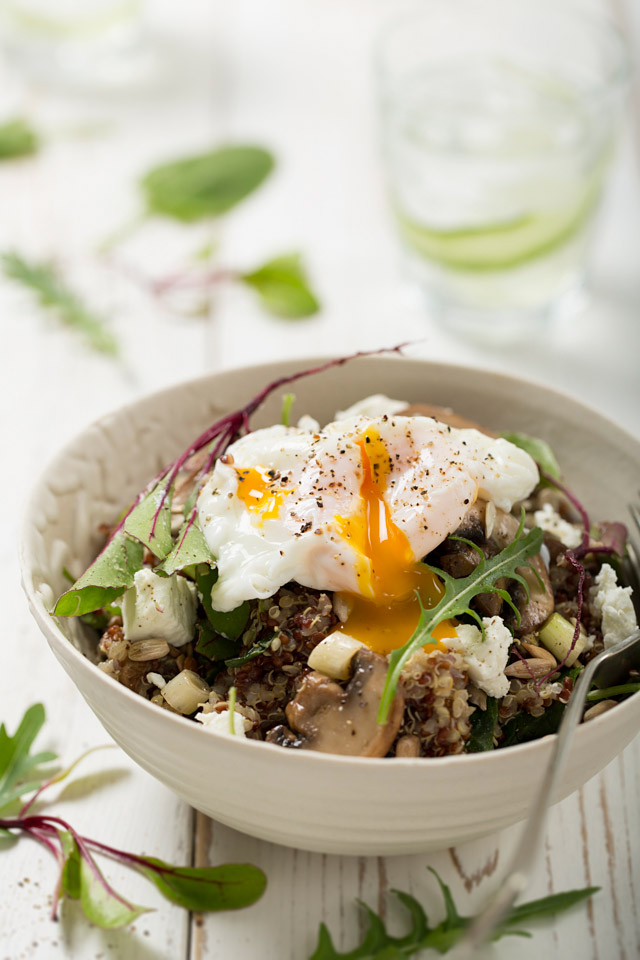 One of things that I make sure that I keep well stocked in my pantry is quinoa: red and white to be precise. On lazy weekend mornings, I often fail to plan to have a good loaf of bread available. So, with a well-stocked pantry, I can come up with something else good and hearty; best of all, it's healthier!
With a few steps into the garden, I created this always perfect, cozy breakfast. Oh, I'm so in awe of these little arugula and spinach leaves that have been doing so much on our plates everyday. Now that they are about to end their season, this dish became a great homage to these little but powerful garden gems. I also used baby beets that had to be thinned. Can't wait for summer vegetables to come!
If you thought from the photos that we were having a gorgeous sunny morning, ha, I managed to trick you with the artificial light. It was actually so extremely dark and crazily pouring rain outside that I had to turn the fireplace on, LOL!
Quinoa and Poached Egg Salad
I used what's growing in my garden, but any salad leaves should work. Feel free to experiment with it. As for the cheese, I had only the goat variety, but would've loved to use something stronger, like good quality cheddar. For best results, make sure you toast the sunflower seeds. Don't skimp on this step because it completes this dish nicely. If you don't know how to poach eggs, I found a dedicated article here.
Serves 3 to 4
1 1/2 cups quinoa (red, white or a mixture of both, like I did in this recipe)
2 cups chicken or vegetable stock
Pinch of salt
2 tablespoons butter
Lots of mushrooms, sliced
2 scallions, roughly chopped
Salt and freshly ground pepper
3 cup mixture of baby spinach, beets and arugula leaves, rinsed and drained well
2/3 cup goat cheese, crumbled
2/3 cup or more sunflower seeds, lightly toasted
Poached eggs; use desired amount
Rinse the quinoa under running water while rubbing it together in a sieve.
Place the quinoa in a small saucepan or pot with the stock and salt, and bring to a boil. Lower the heat, cover the pan and simmer until the stock is no longer visible, for about 15 minutes. Remove from the heat and let stand for 5 minutes.
In the meantime, sauté the mushrooms and scallions with the butter in a small pan over medium high heat until softened. Adjust with salt and pepper.
Combine the quinoa and the mushroom mixture in a large mixing bowl and set aside.
Poach eggs and set aside. When eggs are ready, add the salad leaves, goat cheese and sunflower seeds to the quinoa mixture and stir to combine. In this way, baby greens will wilt nicely but not overly.
Serve the quinoa in individual bowls and top with the poached eggs. Sprinkle with freshly ground pepper.