Pulled Pork and Coleslaw Dinner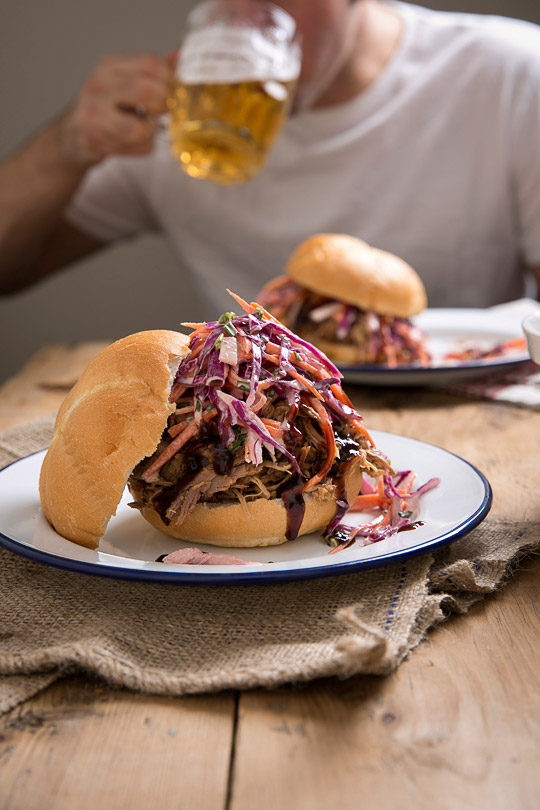 Rain is finally here. My garden has been replenished after the long dry months but it's been pouring all day (and for the past few days too). A day like this makes me feel like going back to using the oven. I want to savour the aromas of a roast and feel the comforting warmth of the fireplace. Also, I needed to use up cabbages that I just harvested from the garden. So I made a brightly coloured coleslaw salad, then I started wondering what could accompany it. Given my craving for an oven roast, pulled pork immediately came to mind. I tend to work backward all the time. Luckily, I have the perfect man to take charge when it comes to supervising long oven roasts. It is indeed a very important quality in a man.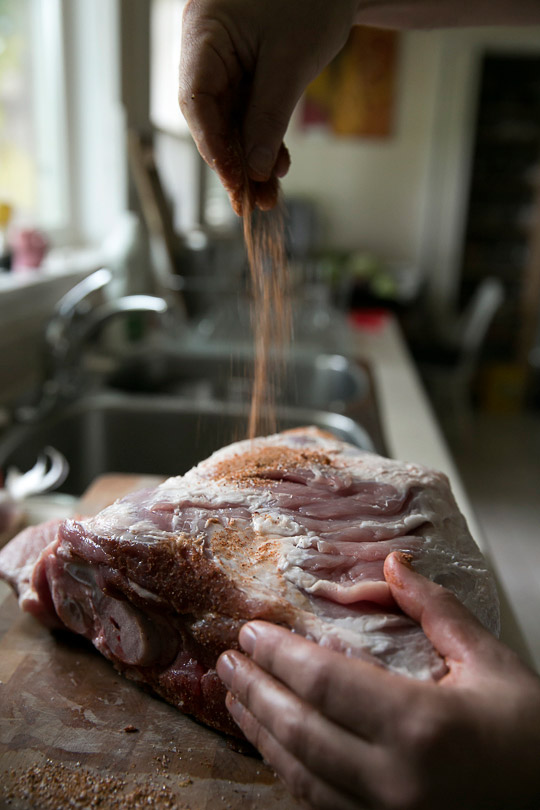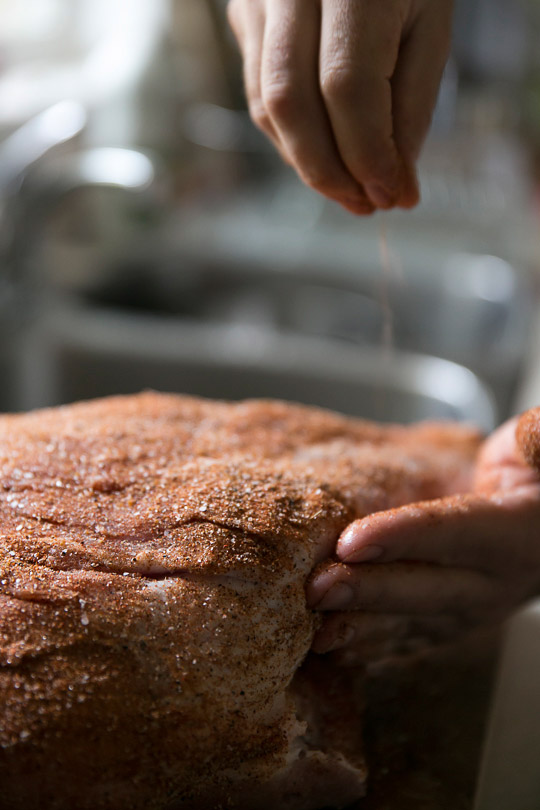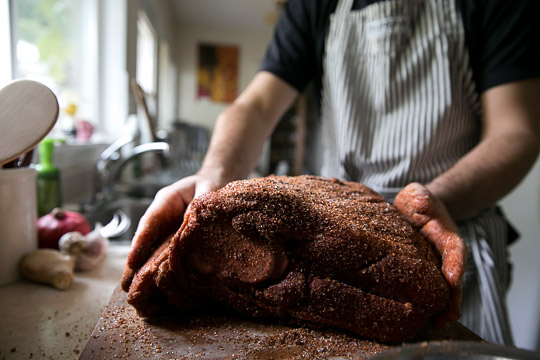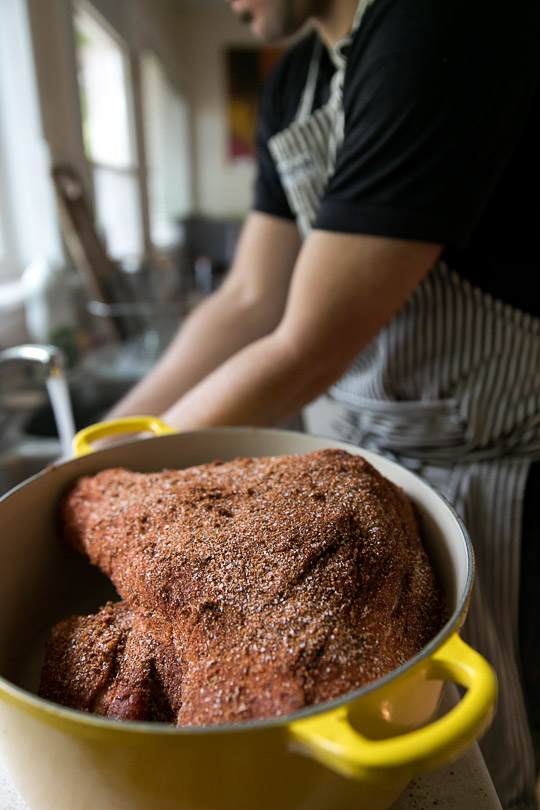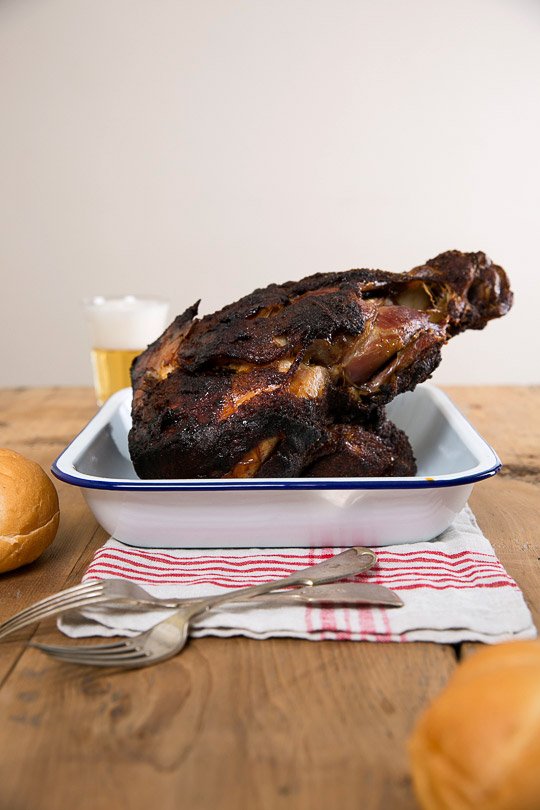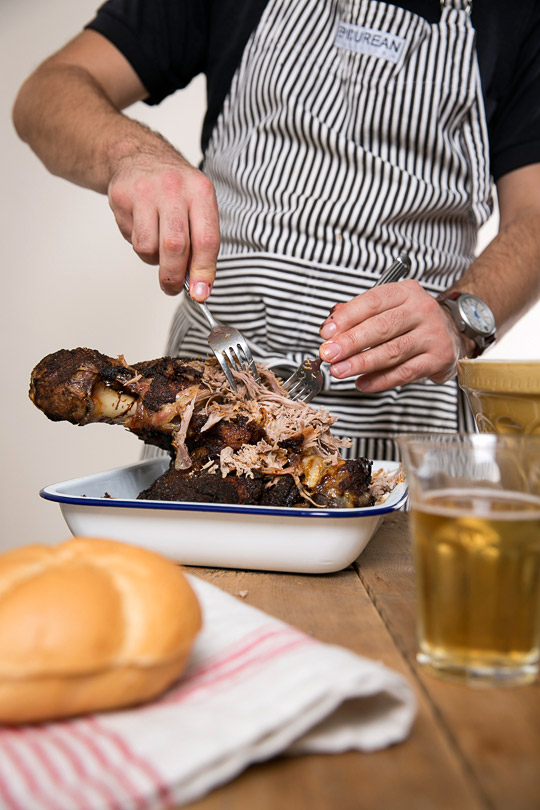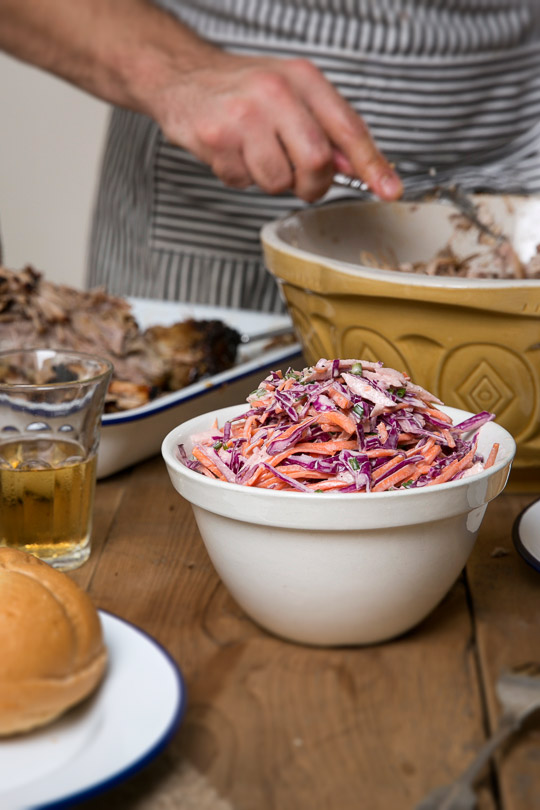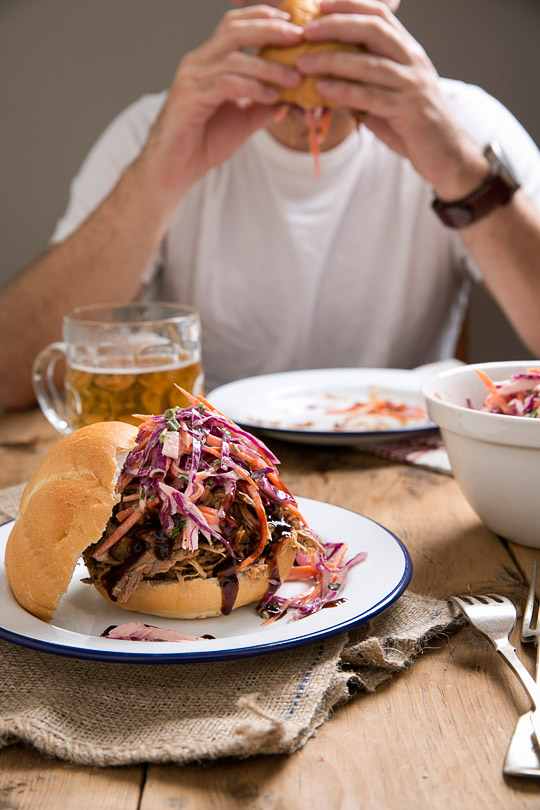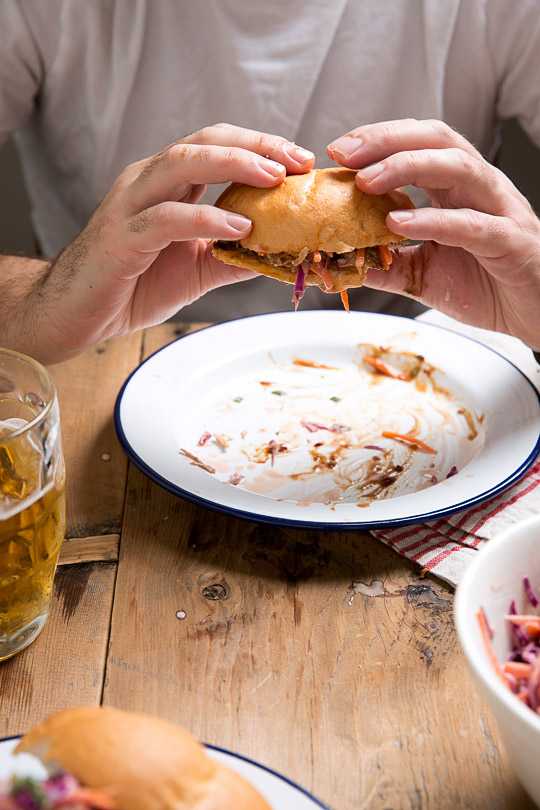 Oven-Roasted Pulled Pork and Coleslaw Sandwiches
8 to 10 hungry people
2 tablespoons ground cumin
2 tablespoons chili powder
2 tablespoons freshly ground black pepper
1 tablespoon cayenne pepper
1 tablespoon paprika
2 tablespoons salt
4 tablespoons cane sugar
10 lb pork shoulder, skin on-bone in
2 cups BBQ sauce
8 to 10 Kaiser buns
Red cabbage coleslaw (recipe follows)
Combine all the seasonings in a small bowl.
Rinse the pork and pat dry. Remove the rind from the pork, rub the spice blend all over and marinate, covered in a refrigerator for about 1 hour.
Preheat the oven to 300 degrees F.
Place the pork in a roasting pan or heavy bottomed pot, and cover with a piece of aluminum foil. Roast for about 6 hours or until falling apart. A meat thermometer inserted into the thickest part of the pork should read 170F.
Remove the pork from the oven, transfer to a large plate and let stand, covered for 20 minutes.
Using 2 folks, pull the pork to form shreds and place in a large bowl.
Pour 1 cup of BBQ sauce into the shredded pork and combine well.
Assemble sandwiches by placing the pork on a half bottom of a Kaiser bun and topping it with coleslaw. Serve with the other half of the bun and the rest of the BBQ sauce on the side.
Adapted from www.foodnetwork.com
Red Cabbage Coleslaw
I always make this salad a day before serving in order to achieve the best taste and texture.
Makes about 4 cups
1 head large red cabbage, shredded or sliced thinly
2 large carrots, julienned
1 apple, cored and julienned
4 scallions, chopped finely
Dressing
2 tablespoons cane sugar
1 tablespoon white wine vinegar
2 tablespoons apple cider vinegar
1 tablespoon Dijon mustard
½ to ¾ cup mayonnaise
Salt and pepper to your taste
Combine the dressing and pour over the prepared vegetables in a large bowl. Mix well and let stand for at least a few hours in a refrigerator before serving.