New Potatoes and Crispy Bacon Salad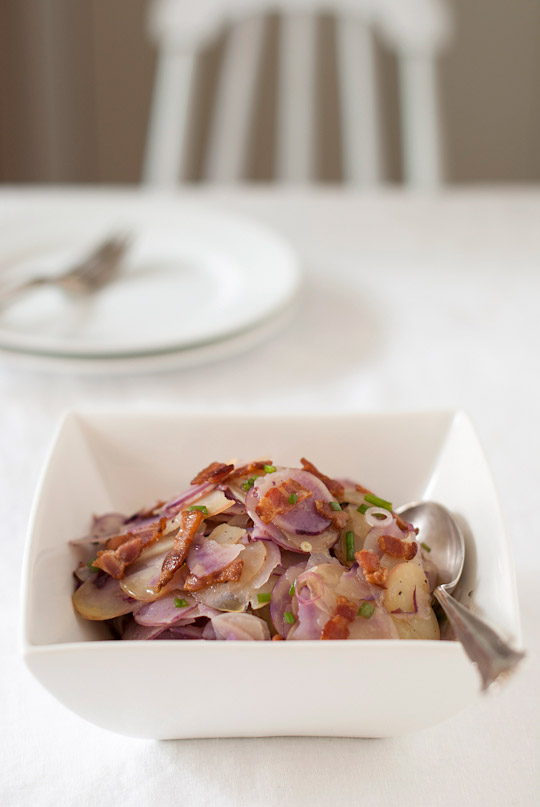 My potato plants are in bloom with purple, pink and white flowers, making me anticipate the abundance beneath the black soil. Yukon Gold, Russian Blue, French Fingerling and Banana Fingerling are the varieties. Almost all are from last year's crop, and it seems that each year, I introduce a new variety to my garden when I see something interesting at a local farmer's market.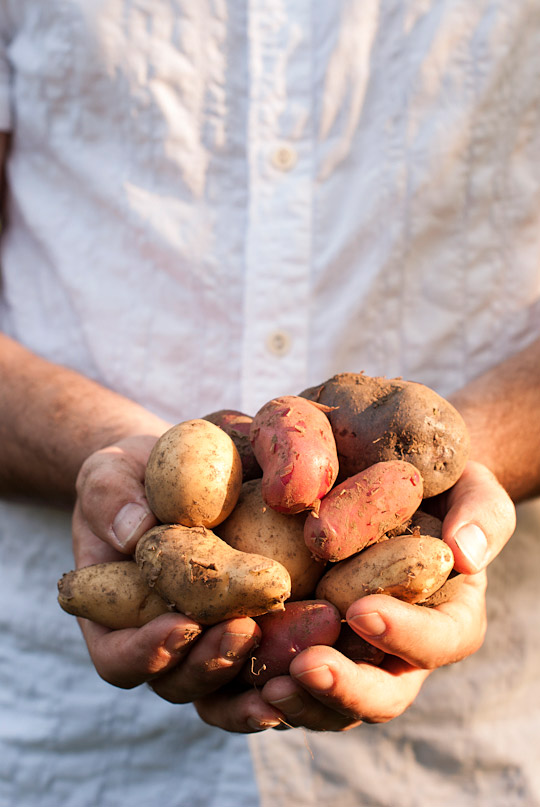 There is something satisfying about harvesting potatoes or root vegetables for that matter. I still remember the amazement of pulling sweet potatoes from the ground for the first time one sunny afternoon when I was on a kindergarten field trip.
Today's recipe is a recreation of a dish that I used to eat when I was working in Tokyo. I could hardly resist picking up my lunch in the food section of a special department store nearby. From corner to a corner, the floor was packed with glass cases full of vibrant coloured salad, delicatessen (okazu), bread, and cakes. If there is a food heaven, indeed, that was it. Be it sweet or savoury, endless delectable options enticed you to a food maze, where you actually hoped to remain lost forever!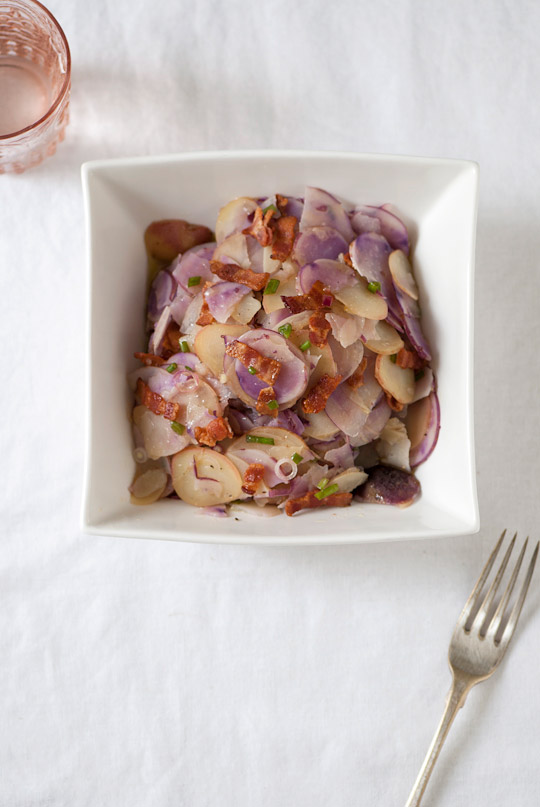 New Potatoes and Crispy Bacon Salad
Serves 4-5
12 strips bacon, cut into ½ inch pieces
3 lb multi coloured new potatoes, thinly sliced
5 red or green scallions, chopped finely
¼ cup red wine vinegar
¼ cup white wine vinegar
½ cup extra virgin olive oil
1 teaspoon salt or more to your taste
1 teaspoon freshly ground pepper
Fry the bacon in a medium skillet. Transfer to a paper towel to remove excess fat. Set aside.
Boil water in a large pot. In the meantime, slice the potatoes using a slicer. Chop the scallions. Combine the vinegar, oil, salt and pepper in a large bowl.
When the water starts boiling, add some salt and the sliced potatoes, and cook for about 5 minutes. Drain well.
Toss the potatoes in the vinegar mixture along with the scallions and bacon. Adjust with salt and pepper to your liking. Marinate at least 20 minutes or so in the refrigerator.