Miso Soup and Brown Rice Balls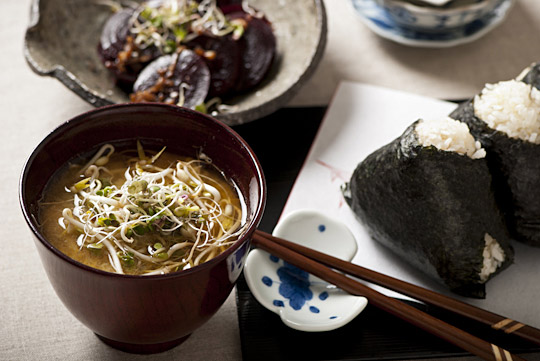 We have been serving this menu item on Sunday nights for a while after consuming some cheese, meat dishes and indulgences during the week. Somehow eating something very simple like this meal seems right to cleanse and restore the body for the coming week. Indeed, how soothing the very first sip of miso soup is!
Miso is well known for its anti-aging properties, cancer prevention and ability to lower the chance of cardiovascular disease as well as intestinal disorders, to name a few. When you shop for miso, I would strongly recommend that you look for organic and non-GMO (genetically modified organism) miso.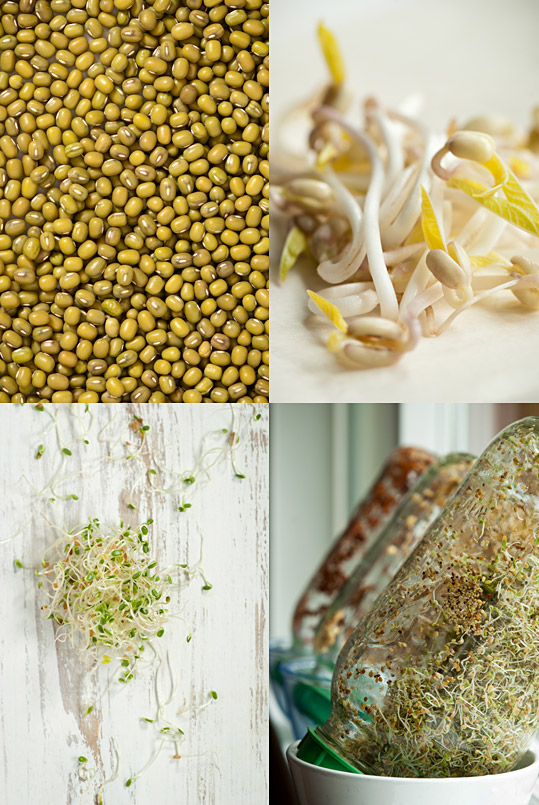 Miso Soup
Serves 2-3
3 cups water
1 cup shiitake, washed and sliced
2 tablespoons white miso
1 tablespoon red miso
1 cup mung bean sprouts
1 cup red clover sprouts
Wash the shiitake, remove any hard part at the end of stems, and slice into 1/4 inch pieces. Put the water in a pot over medium heat and add shiitake, then bring to a boil. Turn heat down and simmer until shiitake is cooked, about 5 minutes. Put the miso in a ladle and submerge it into the simmering water. Whisk the miso gently with two chopsticks until dissolved. Bring to a simmer and continue for a few minutes without boiling. Serve in a bowl and, just before eating, top with a handful of sprouts .
Brown Rice Balls
Serves 2
2 cups brown rice (or 1 cup each of Japanese white rice and brown rice)
2 sheets nori, cut in half, making 4 pieces
Sea salt
A bowl of water for wetting your hands
Cook the rice according to the instructions on the packaging. Spread cooked rice on a big flat plate, separating in quarters, and cool. Wet and lightly sprinkle salt on your hands. Then, scoop the quarter of rice and form into a triangle shape, gently pressing to make sure that the rice does not fall apart. Put a piece of nori around each ball and gently press.
Serve with miso soup.