Matcha, spring's lushness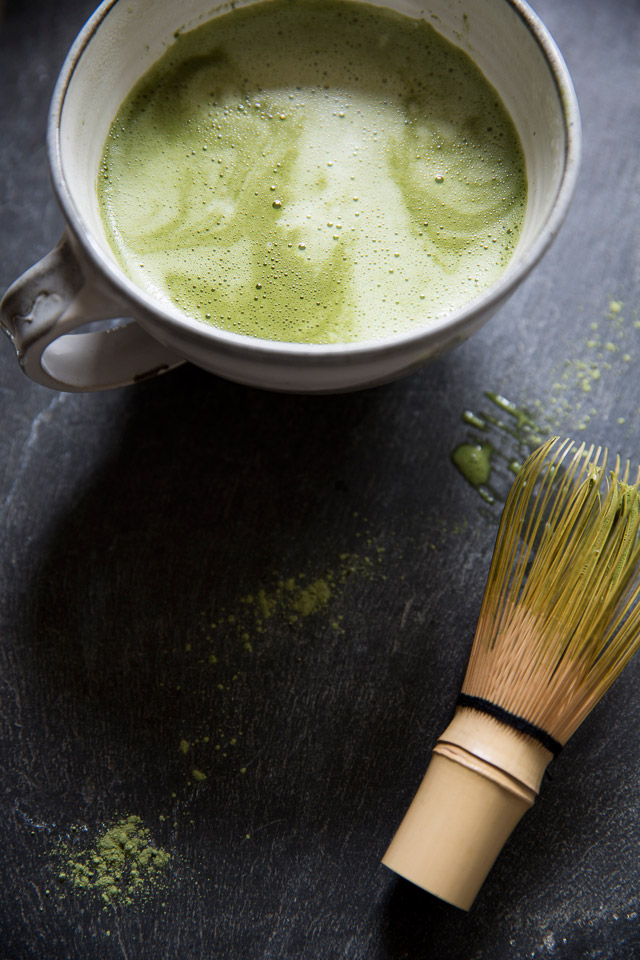 After the Pineapple Express had drenched its way along the Pacific coast last week, my yellow and purple crocuses along with irises and snowdrops woke up to the intense sun in the balmy air of (almost) spring. To some extent, matcha has the same effect on me. The lush, bright green colour and its intrinsic greenish taste awaken all my senses. As I promised last week, I sorted through a few matcha influenced recipes as a counterpoint to the coffee features that I posted previously. I'm also introducing complimentary ingredients/ nibbles that will greatly enhance these matcha delights. On that note, it may be a good idea to purchase a packet of good quality matcha and a bamboo whisk for your kitchen this spring.
For those who are as mesmerized as I am by the beautiful pottery from the last four photos here, I'm happy to share that they are created by Janaki Larsen, a ceramic artist in Vancouver. I picked them up at Le Marché St. George, which she also co-owns. A great artistic café/ grocery containing specialty foods and other goodies!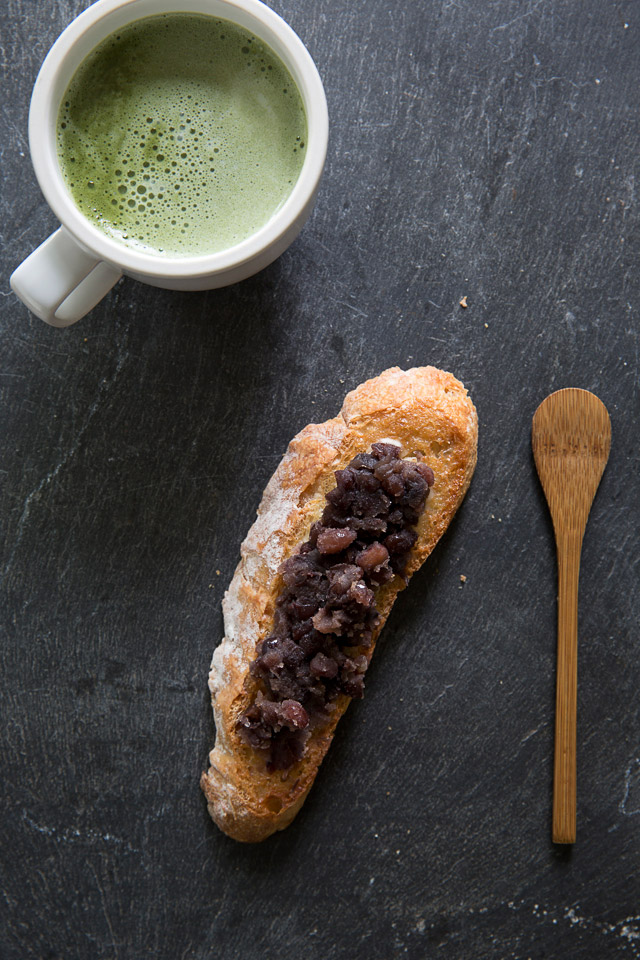 Matcha Latte
Just for you
1 cup almond milk, soy milk, rice milk or cow's milk
1 to 1 ¼ teaspoons matcha powder
Hot water
Sugar *optional
Pour hot water in a wide-mouth cup to keep warm. In a small saucepan, heat the milk over medium heat until small bubbles appear along the edge of the pan, for about 5 minutes. Do not boil!
Discard the hot water from the cup, and add the matcha powder. Add about 1 to 2 tablespoons hot water and whisk intensely until foamy, making sure there are no beads of powder left. Add the warmed milk and serve. Taste it first and adjust with sugar. I like it without sugar when I make the latte with cow's whole milk, which renders enough sweetness so I can taste the lushness of the matcha flavours.
Sweet Azuki Bean Paste with Toast
As I grew up, I came to learn that my father's all time favourite breakfast was buttered toast with smeared sweet Azuki bean paste. I wasn't fond of the coarse texture of Azuki as a child; however, as my palate has matured, I have slowly grown into it and now it's also my favourite thing to wake up to in the morning.
Makes about 2 cups
200g Azuki beans
160g sugar
½ teaspoon salt
You do not need to soak the Azuki beans prior to cooking. Rinse the beans and discard any deficient or diseased ones. Place the beans in a large pot with plenty of water and bring to a boil.
Drain the beans and discard the cooking water. Repeat this process one more time.
Next, place the beans in a pot with a plenty of water and bring to a boil, then continue to cook until the beans become soft, about 40 to 50 minutes. Add water as necessary to keep the beans covered.
Drain the beans and discard the cooking water. Add the sugar, salt and 1 cup water and cook over medium low heat until all the ingredients are well combined. For serving with toast, I cook for about 20 to 25 minutes until the paste becomes a thick mass. For serving as sauce, I cook for about 10 to 15 minutes, keeping it runny. Keep in mind that as the beans cool down, the sugar solidifies and the mixture becomes hard. So, don't cook down too much if you intend to pour over the below chiffon cake.
Serve at room temperature. If you have extras, keep refrigerated up to 1 week. The paste also freezes well for about 1 month.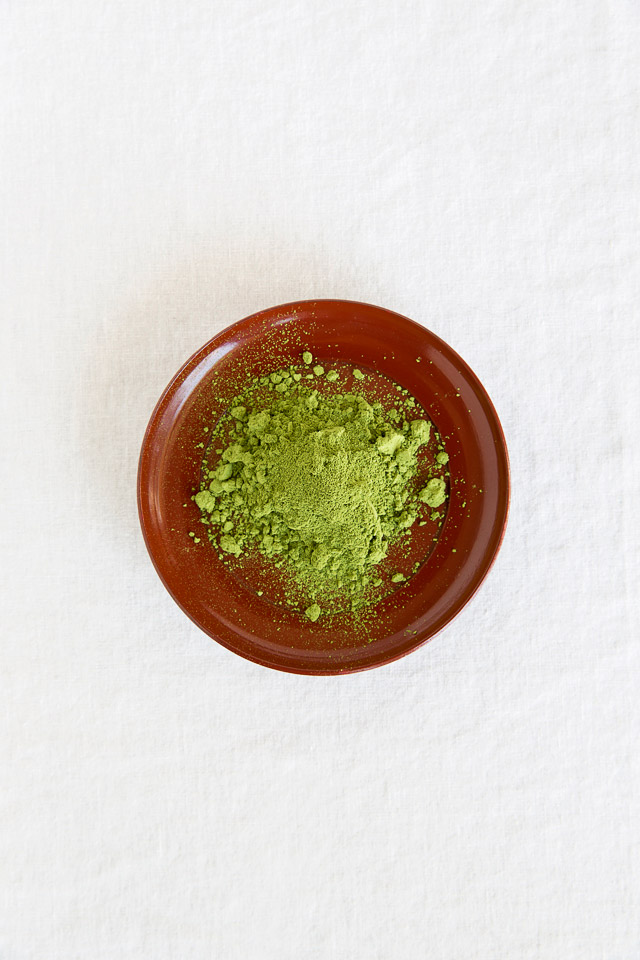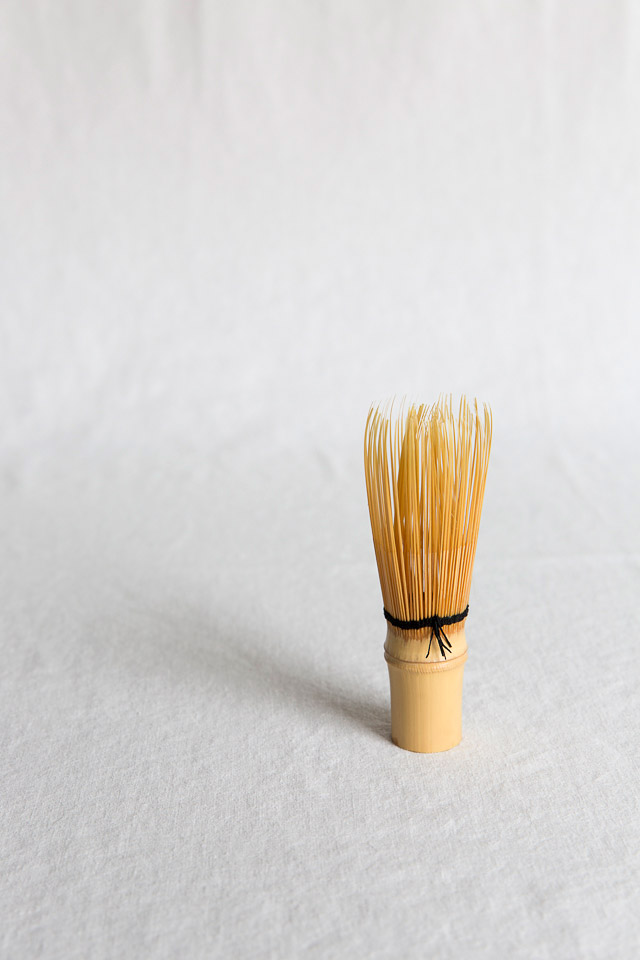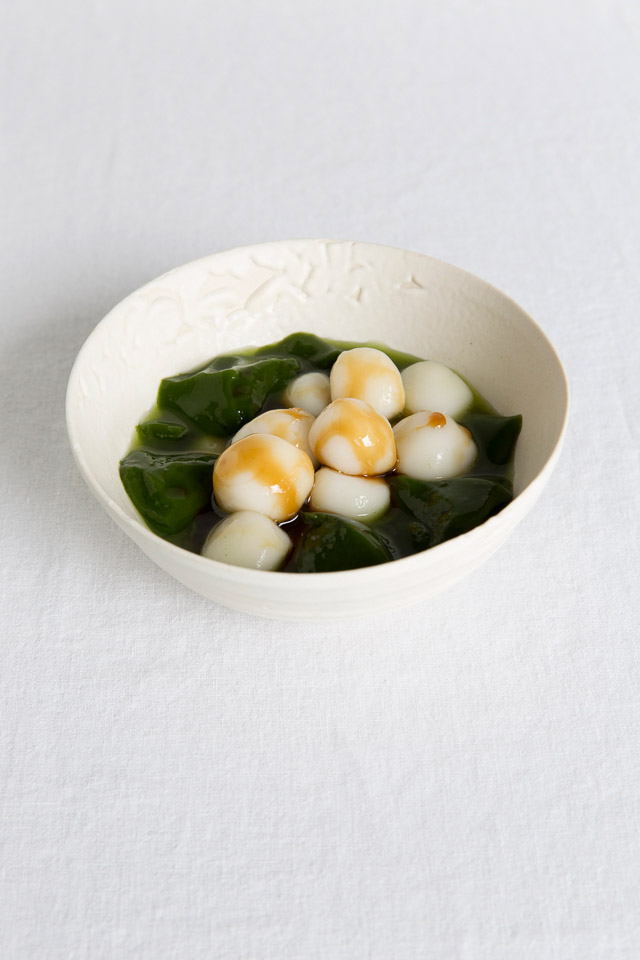 Matcha Jelly and Shiratama with Kuromitsu
Years ago, when I visited the Byodoin temple in Uji, Kyoto, I came across a 150 year old tea company where they also serve a variety of matcha products. I did not visit the area in the recent trip to Japan since the Byodoin was under construction, but I was able to purchase their famous matcha jelly at a souvenir kiosk in Kyoto station. Later I learned that they actually have a café in a department store right next to the station, so if you are near, it would be a nice place to take a break while waiting for a bullet train. All of their products seem wonderful but I particularly fell in love with their matcha jelly so I created this recipe according to my palate's memory. Until you and I can get our hands on their version of jelly, this recipe may satisfy our desire.
Serves 2
300 ml freshly steeped green tea (from loose tea leaves)
1 g agar powder (I like the Japanese brand called Kanten Papa, sourced from a local Japanese grocery store)
2 ½ tablespoons sugar
2 teaspoons matcha
4 tablespoons hot water
Place the matcha and 4 tablespoons of hot water in a wide-mouth cup, and whisk intensely with a bamboo whisk until foamy, making sure there are no beads left.
In a large bowl, strain the freshly steeped green tea (making sure it's over 80C) and agar powder, and stir well to combine.
Add the sugar and matcha paste, and mix well. Transfer to a medium bowl and refrigerate until solidified.
Scoop into serving bowls, and serve cold with shiratama and kuromitsu (recipe follows).
Shiratama and Kuromitsu
(It literally means white balls and black syrup)
Shiratama is typically served in Azuki bean soup as a warm dessert dish, and with the Azuki bean paste and vanilla ice cream together as a cold confectionary. Here, I introduced a refreshing take on the original, served with the above jelly drizzled with kuromitsu.
Serves 2
100g shiratama-ko (glutinous rice flour, available at a Japanese grocery store)
90ml to 100ml lukewarm water
3 tablespoons Okinawa black sugar (or Muscovado sugar or dark brown sugar)
3 tablespoons water
Bring plenty of water to a boil in a medium saucepan.
Combine the shiratama-ko and water in a medium bowl until the texture of an earlobe is achieved. Tear and form into 2/3 inch balls.
Place the balls into the boiling water. When the balls start rising to the surface, continue to cook for 3 more minutes. Dunk into ice water, let cool and drain well.
Make kuromitsu. Combine the sugar and water in a saucepan over medium heat, and stir consistently until the sugar is dissolved and becomes thick and syrupy in consistency.
Serve shiratama with the above matcha jelly and drizzle with kuromitsu.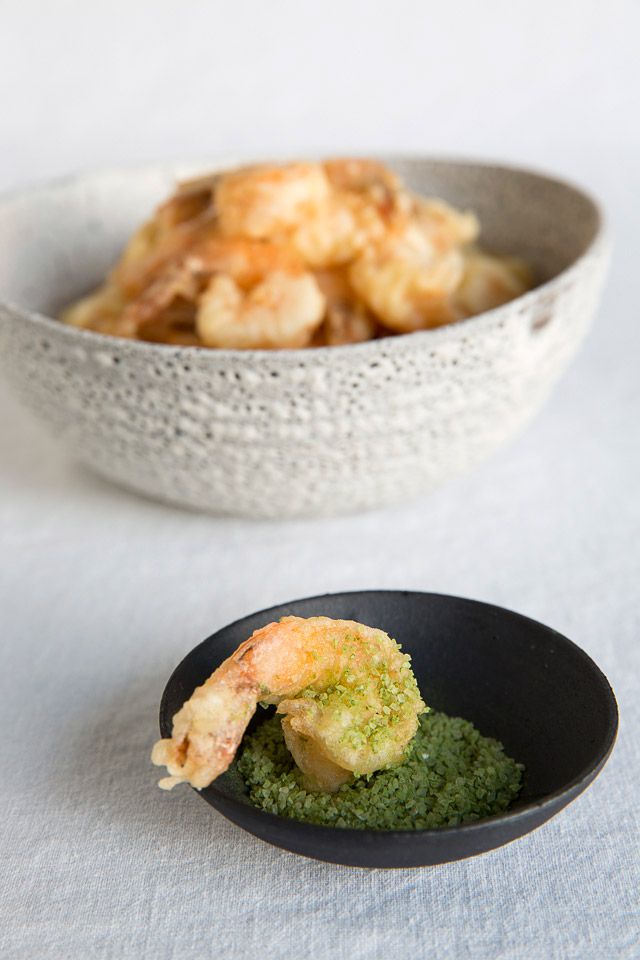 Prawn Tempura and Matcha Salt
I also included this savoury appetizer dish to help highlight matcha's unique flavour. Instead of prawn, you can use fish, like halibut or cod, if you like.
Serves 4
1 lb prawns
1 egg
1 cup all purpose flour
1 cup ice water
Vegetable oil for deep-frying
¼ teaspoon matcha
1 teaspoon coarse or fine sea salt
Prepare the prawns. Rinse them first and remove shells, leaving the tail on. Cut off the sharp tips of the tails with a knife and then pat dry.
Heat plenty of oil to 350F in a wok or deep-rimmed pan. If you don't have a thermometer to check the temperature, the rule of thumb is that the oil is ready when a dropped piece of batter should quickly sink mid way into the oil and then quickly come back to the surface and float.
Combine the egg, flour and ice water very lightly in a large bowl (a few strokes with a pair of chopsticks is good enough, and it's okay that you can still see powdery flour). Do not stir too much as you will create a glutinous, and thus heavy, batter.
Quickly dip the prawns in the batter, remove excess and deep-fry them in the prepared oil until golden.
Rest the prawns on a paper towel to remove excess oil. Serve with combined matcha and salt.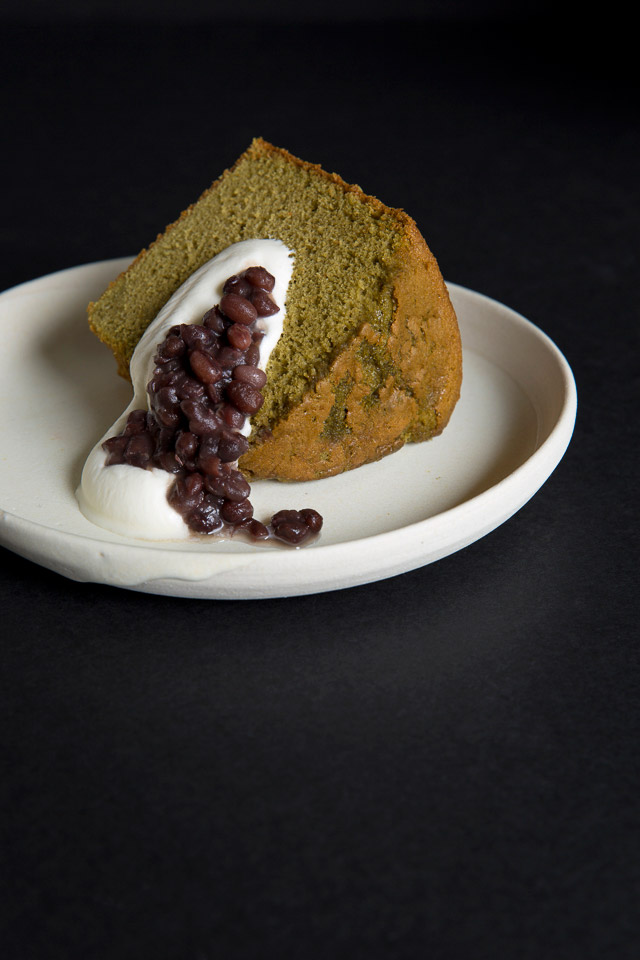 Matcha Chiffon Cake
Use 9 ¼ inch diameter x 4 inch high Angel food cake pan
2 ¼ cups all purpose flour
1 ½ cups granulated sugar, divided
2 ¼ teaspoons baking powder
¾ teaspoon salt
½ cup grape seed oil
7 large egg yolks
9 large egg whites
2/3 cup whole milk
4 tablespoons matcha
4 tablespoons hot water
Toppings
1 ½ cups Azuki bean sauce (see Sweet Azuki Bean Paste)
1 cup whipping cream
2 tablespoons sugar
Preheat the oven to 325F. Whisk together the flour, 3/4 cup granulated sugar, baking powder, and salt in a large bowl.
Whisk the matcha and hot water intensely in a small bowl with a bamboo whisk until it becomes paste-like, making sure there are no beads left.
Whisk together oil, egg yolks, and milk in a large bowl. Add the matcha paste into the egg yolk mixture and stir to combine. Whisk flour mixture into egg yolk mixture.
In the bowl of a stand mixer, beat the egg whites until soft peaks form on high speed. Add the remaining ¾ cup sugar in 3 installments. Continue to beat until a stiff glossy peak forms. *If you have a problem, such as that your egg whites won't solidify, try to cool the bowl by placing ice packs around it.
Whisk 1/3 of the egg white mixture gently into the batter, and then fold in the rest of the egg white mixture with a rubber spatula.
Transfer the batter into a cake pan. Bake until the top of the cake springs back when touched, for about 55 to 57 minutes. Let cool upside down for about 1½ hours.
Release the cake by running a knife around the edge of the tube and the side of the pan. Transfer to a cake stand or a large flat plate.
Beat the whipping cream with sugar to a desired consistency.
Slice into individual portions, and serve with a dollop of whipping cream. Spoon the Azuki bean sauce over top.
Adapted from MarthaStewart.com