Lovage Salmon Chowder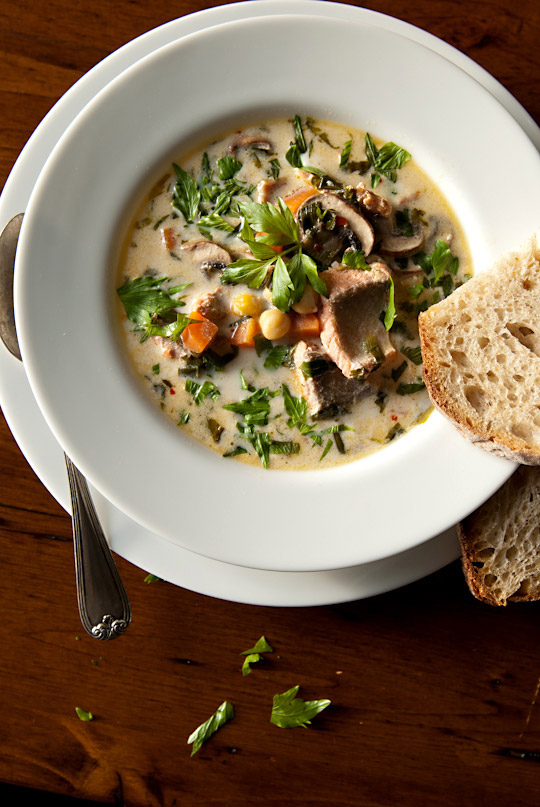 To tell you the truth, I'm not sure why I kept the lovage plant in my small, semi-shady backyard vegetable garden where every square inch is very precious and utilized for carefully selected vegetables (usually spinach, carrots, bok choy, arugula, etc. make the cut). Although the plant is located in an isolated area in a functionally designed garden, because it reaches 7 or so feet in height, it still cascades some shade on other plants and sprays its seed heads to the surrounding area at the end of the season, making my weeding chore painful during the following year… When it comes to the taste department, after sprinkling thin slices of leaves on salads or stirring into omelettes, I was still not too crazy about the overwhelmingly strong taste. The little plant that I received as a gift had now become a monster! I probably kept the plant just because I continued to believe that I would  find a good use for it later…and three years went by.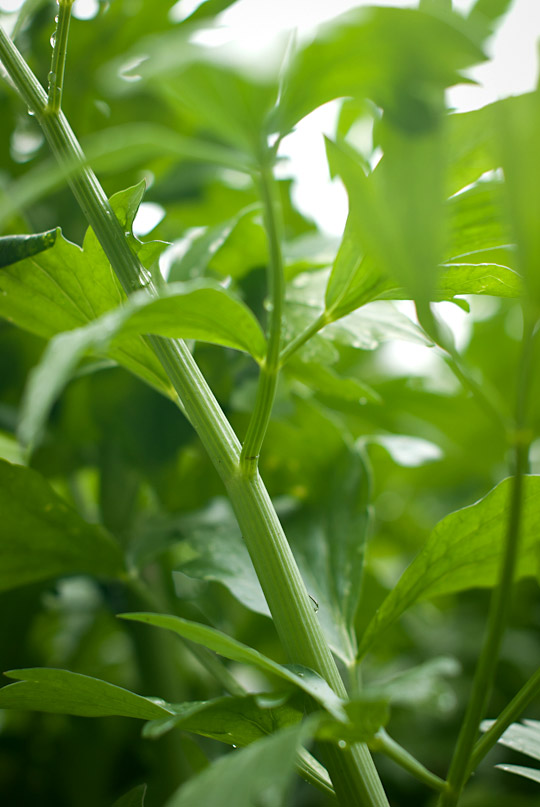 However, Hugh Fearnley-Whittingstall, a British celebrity chef, known for being the lead personality in the River Cottage series, came to rescue this indecisive gardener. He extolled the virtues of the lovage plant, suggesting that one of its best uses is in soup recipes. He even tantalized us by introducing the use of a hollow lovage plant stem as a stirrer for Bloody Marys! Needless to say, Hugh quickly won me over and I began thinking about which recipes would go best with lovage.
As a side note: lovage self sows at the end of season, scattering seeds all over the place, making it difficult to manage weeding if you plant with other perennials (just like fennel plants do!). I would strongly suggest that you isolate lovage in the back of garden if you don't intend to harvest the seeds from the plant in time. The upside is that a lovage plant doesn't seem to mind my half shady garden.
I thought something creamy would tame the lovage's strong flavour and give body to a subtle fish dish. So I came up with this salmon chowder recipe. I used a wild Sockeye salmon that we froze after purchasing from a local fisherman last September, and of course my garden chives, which have been screaming to be eaten. It was, to my mind, surprisingly one of the best soups I have ever made! It was even better the next day, since the lovage lost its distinctive strong flavour but still lent richness and backbone to the soup. We ate with slices of sourdough country bread and, at the end of the meal, mopped the soup bowls!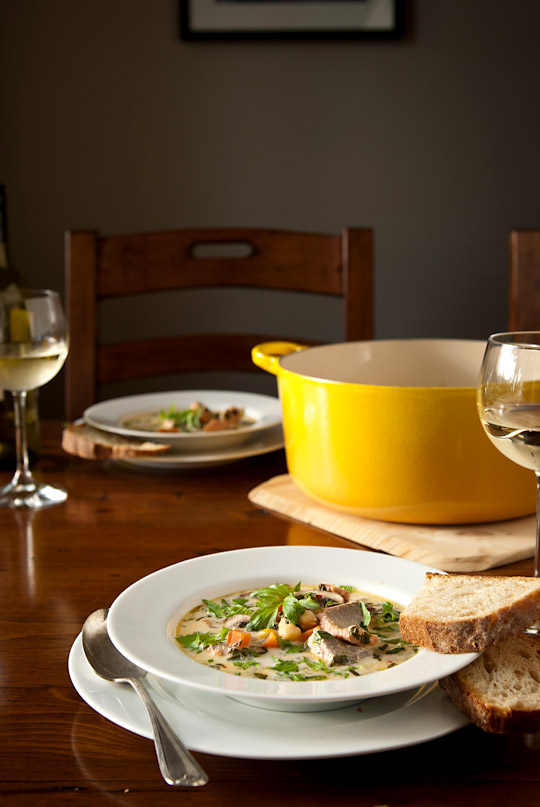 Lovage Salmon Chowder
If you use potatoes instead of chickpeas, it'll thicken the soup and will sure be good. But my potato plants haven't sprouted from the ground yet…
Serves 4-6
2 tablespoons butter
2 strips bacon, cut into 1/2 inch pieces
2 garlic cloves, finely chopped
1 teaspoon crushed red pepper
1/2 cup chives, chopped
2 medium carrots, cut into 1/2 inch pieces
A few young stalks of lovage plant, thinly chopped
2/3 cup tightly packed lovage leaves, chopped
A handful of lovage leaves, thinly sliced for garnish
1 L chicken stock or vegetable stock
1 cup mushrooms, sliced into 1/4 inch pieces
1 bay leaf
2 sprigs fresh thyme
2 cups organic whole milk
400g wild sockeye salmon, pin-boned, cut into 1 inch pieces
2 cups freshly cooked or canned chickpeas
1/2 cup organic heavy cream
Salt and freshly ground pepper
Wash the vegetables, rinse, pat dry and cut according to the instructions above. Place a large heavy bottomed pot over medium high heat and melt the butter. Stir fry the bacon until almost crisp, then add garlic and crushed red pepper and continue cooking until nicely coloured. Add the chives, carrots and lovage and continue stir-frying until the vegetables become nicely coloured.
Add the stock to the pot and bring to a simmer. Skim and let simmer for 10 minutes. Add the mushrooms, bay leaf and thyme, skim if necessary, and let simmer for another 5 minutes or so.
Add the milk and the salmon, bring to a gentle boil and turn the heat down. Simmer for about 10 minutes or until the salmon is cooked. Add the chickpeas when the salmon is halfway cooked.
Add the cream, simmer for a few more minutes and adjust the taste with the salt and pepper. Serve in a bowl and sprinkle the lovage leaves on top. Serve with a loaf of good rustic bread.