Gobo Root Appetizer (kinpira)
Although gobo is one of my favourite vegetables, I hadn't eaten it for a long time since coming to Vancouver. Fortunately, my friend gave me some seeds that she had harvested from gobo plants she grew. Despite its huge nutritional benefits, I feel that North Americans still do not know how to eat this beautiful vegetable. It contains a lot of minerals and fibre, which cleanses the stomach and intestines,  serving as a mild laxative to purify the body and eliminate toxins and  waste. What else do you need, right? So here is the recipe for you to reap the benefit of this rather conservative looking veggie that nonetheless contains impressively healthful attributes.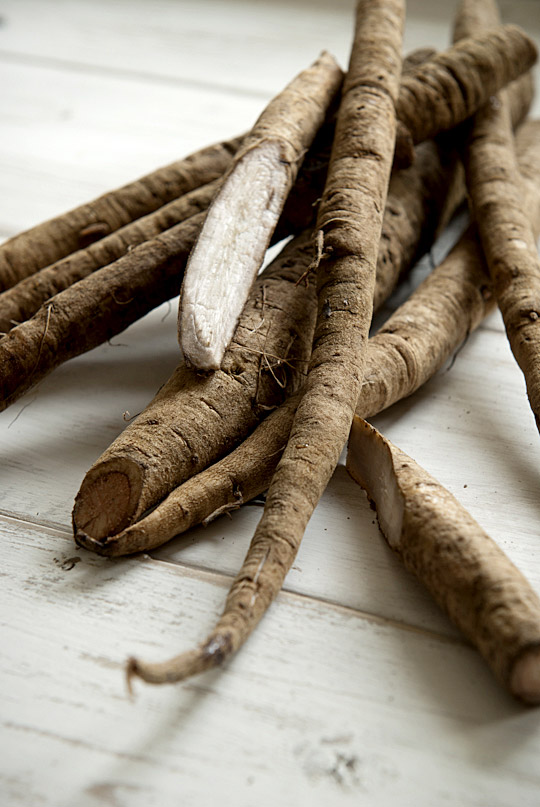 Last summer, I was away and missed the timing to sow the gobo seeds. However, I decided to take a chance and sowed the seeds in late August. The new growth was lush but sadly it disappeared during the winter months. So I couldn't help getting giddy when I found the new growth today in my garden. I bought the organic gobo, pictured above, from a health store (cost me $18 for two pounds! It makes me realize even more how precious it is to grow them in my garden).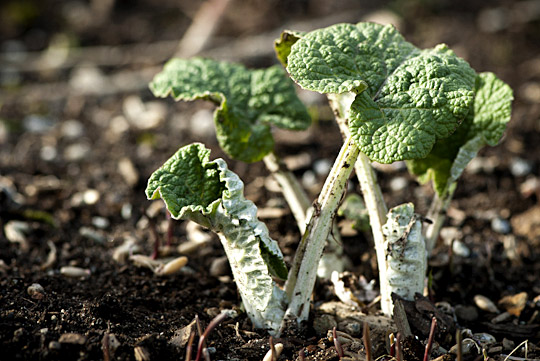 I like to make plenty of this dish because it's always the best next day! We ate some for dinner with rice and the next day, I stumbled upon the idea to serve the leftovers on Wisecrackers as an appetizer– it was delicious!
Kinpira
Serves 4-6
1 lb organic gobo (burdock roots)
1 lb of organic carrots
5 small dried chilli peppers (I grew and stored 'Thai Dragon')
2 tablespoons sesame oil
2 tablespoons vegetable oil
3 tablespoons organic cane sugar (or brown sugar)
6 tablespoons soy sauce
1 tablespoon mirin (Japanese cooking sweetener)
3 tablespoons toasted sesame seeds
Brush the gobo clean, jullienne and soak them in water with a few drops of vinegar for 30 min. Julienne carrots and chop chilli peppers to create thin rings. Change the water and continue to soak gobo for another 10 min. Drain gobo and remove moisture well. I do this ahead of time so they are fairly dry when I cook.
Heat a large pan with oil until smoking hot, then stir fry gobo and chilli peppers for 15 min. Add carrots and stir fry for another 10 min until carrots are cooked but not soft.  The secret is to cook in high heat by continuously stirring to ensure nothing burns and keeping the vegetable mixture dry, not wet. Add sugar and soy sauce to the carrot mixture, and continue to stir till sauce starts bubbling. Add mirin and sesame seeds and combine well for a few minutes. Mirin burns easily, so as soon as the sauce thickens and becomes bubbly, take the pan off the heat. Serve with rice and save some for the next day to serve on crackers as an appetizer.