Chive Crêpes with Miso Flavoured Ground Beef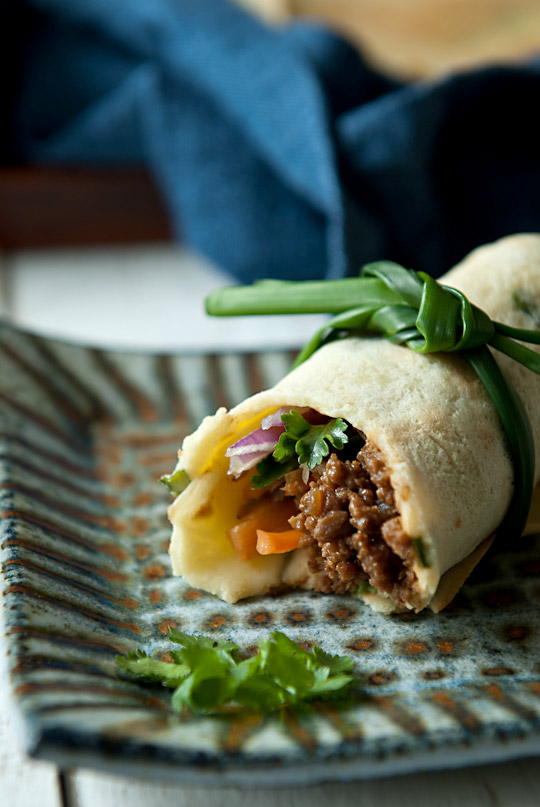 Having lived with a man of French descent for many years, crêpes are what we used to eat every Saturday morning. Ham and cheese with Béchamel sauce as a savoury breakfast, and ham and cheese generously drizzled with the best quality maple syrup as a sweet breakfast. I prefer the latter very much for each ingredient brings out the other's flavour. But today, I'd like to introduce you to a Japanese twist to savoury crêpes. Or should I say, it's a type of Japanese spring roll with a French flair… Either way, it's delicious and fun to serve to your guests because they have to work in order to eat them!
A part of my job in this household is to be a creative cook, which entails using up what's abundant in my garden. You might see a chive dish, a rhubarb dessert, and then another chive dish with a rhubarb dessert… until other produce finally matures in the garden. I transplanted lettuce, peas and onion seedlings a couple weeks ago but some lettuce plants have already disappeared due to attacks from pesky slugs! I ask myself the same question every day, "What can I cook with what I have in the garden for supper this evening?" The gobo leaves are lush. The tomato seedlings are only two inches high, and the spinach is only one inch tall with true leaves just emerging. My potatoes went in the ground last week but it's been pouring outside so hard that I'm worried that they might get diseased. Luckily, I have a total of nine vigorously growing chive plants in the front and backyards…
Side note: chive flowers are edible. You can make pesto with flowers and leaves, the same way you do with basil, or simply toss with a salad to brighten up the colour and the flavour. It is also time for harvesting excess chives, which you can rinse, pat dry, and chop then use to fill ice cube trays. Once the cubes are frozen, transfer to an airtight container or Ziplock bags and use when you don't have any onion family plants growing in your garden. Add them to your soups, stir fries or crêpes. They are very convenient in winter months!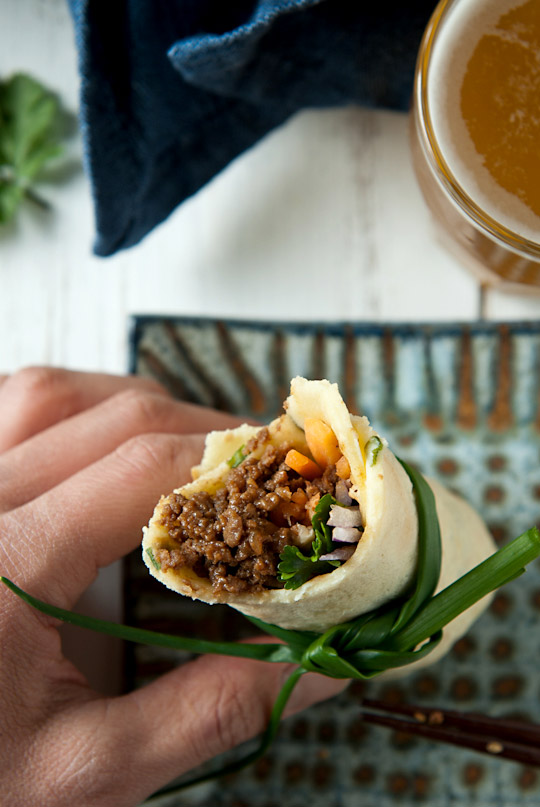 Chive Crêpes with Miso Flavoured Ground Beef
Makes about 12 pieces of 6 inch circles
Chive Crêpes
2 egg yolks
2 1/3 cups all purpose flour
2 1/2 cups water
¼ teaspoon salt
1 ½ cups chives, finely chopped
Vegetable oil
A bunch of strings of chives for tying
For fillings
2 carrots, julienned
½ red onion, thinly sliced
A bunch of cilantro, rinsed, drained and torn in pieces
20 mushrooms or more, rinsed and sliced into ¼ inch pieces
1 tablespoon sesame oil
1 tablespoon toasted sesame seeds
Pinch of salt
5 tablespoons Haccho miso (it is different from the typical red miso, with a much darker, richer and sweeter flavour)
5 tablespoons white wine, water or mixture of both
3 tablespoons brown sugar
1 tablespoon soy sauce
1 tablespoon vegetable oil
2 cloves garlic, finely chopped
A small knob of ginger, finely chopped
1 lb lean ground beef, room temperature
Mix the egg yolks, flour, water, salt and chives in a large bowl and stir well until the mixture is smooth without lumps. Let sit in the refrigerator for about half an hour.
Prepare the carrots, red onion, and cilantro (if the temperature is really warm in the room, store in a container or if you are using a plate, use a piece of saran wrap to cover and keep cool in the refrigerator). Prepare the mushrooms and set aside.
Make the miso sauce. Set a small pan over medium heat and combine the miso, the white wine or water, the sugar and the soy sauce. When the mixture starts bubbling, turn the heat down. Stir steadily so as not to boil the miso sauce, for about 8 minutes.
Set a large pan over medium high heat. Add the sesame oil and sauté the mushrooms for about 5 minutes. When the mushrooms become soft and moist, add the sesame seeds, adjust with the salt and transfer to a serving bowl. Use the same pan over medium high heat and add the vegetable oil. When the oil is hot, stir-fry the garlic and the ginger until nicely coloured. Add the ground beef and stir-fry until there is no bloody juice left. Add the miso mixture to the beef, stir well and let the beef absorb the sauce for a few minutes. Transfer to a serving bowl.
Set a medium sized well-seasoned pan (preferably non-stick)  on medium heat. Oil the pan if necessary and, when the pan is really warm, pour the crêpes mixture inside using a ladle. Quickly swirl the mixture to create a 6 inch circle. Bake for a few minutes or until the bottom looks nicely coloured. Flip to bake the other side. As you make crêpes, keep them warm in a tea towel. Repeat the process.
Serve the carrot, red onion, cilantro, mushrooms and beef in separate bowls along with the crêpes. Roll the crêpes as you eat or let a guest(s) experience the rolling. Place a crêpe on a plate and put the fillings on the end that's the closest edge to you. Start rolling from where you placed the filling.  Tuck both ends then roll to the other edge of the crêpe. Tie with a few strings of chives (see photographs). Enjoy!