Zucchini Salmon Pasta and Raspberry Parfait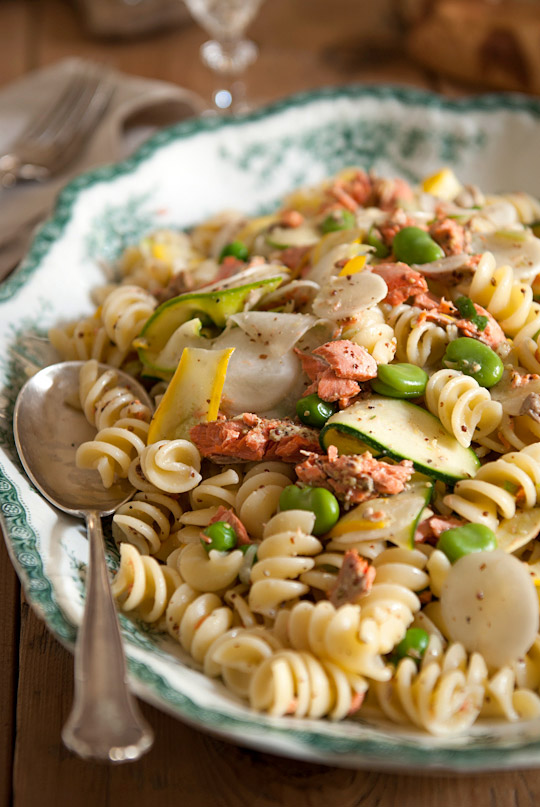 How do I decide on what to cook for supper today? The answer for us is straightforward. Just step out the door and see what's ripened in the front and backyard. As summer rolls in a full swing, this is how we eat. But hey, as much as I love cooking and eating good fresh food, there are times I don't want to bother (yes, I said it) in the heat. Today's post is a solution for my dilemma. Keep it simple, fresh, nutritious and yet exciting! You can still entertain your guests with the following easy recipes. This is also the perfect time for us to appreciate the artistry of the local artisans after a weekend farmer's market visit.
Zucchini Salmon Pasta
Serves 3-4
A piece of wild salmon fillet (about 1lb)
2 tablespoons Dijon mustard
2 tablespoons grain mustard
1 tablespoon olive oil
1 tablespoon dry white wine
1 tablespoon fresh rosemary, chopped finely
2 tablespoons garlic cloves, finely chopped
Salt and freshly ground pepper
2 cups fusilli or rotini pasta
2 green onions, finely chopped
4 baby zucchinis, thinly sliced
2 lb fresh broad beans in the pod, shelled
Good handful of shelling peas, shelled
5 turnips, thinly sliced
In a small bowl, combine the mustard, oil, wine, rosemary, garlic, salt and pepper. Stir well, set aside.
Preheat the broiler. Line a baking sheet with a piece of aluminum foil. Place the salmon on the sheet, sprinkle with the salt and pepper, then broil for 2 minutes.
Spoon the mustard mixture over the fillet and continue to broil for about 5 minutes until the fillet becomes flaky when tested and the top golden brown. Let cool and set aside.
Cook the pasta in well-salted boiling water till al dente. In the meantime, prepare the vegetables. Boil water in a small pan and cook shelled broad beans and peas for 2 minutes. Plunge in cold water and remove thin films from the broad beans. Drain well. Chop the green onions, and slice the zucchinis and turnips.
Rinse the pasta in cold water and drain well. In a large bowl combine the salmon, vegetables and pasta. Transfer to a large platter. Serve immediately.
Brie and Strawberry Balsamic Black Pepper Jam with Baguette Slices
I could not help but serve the Strawberry Balsamic Black Pepper Jam that I picked up last weekend from my farmer's market friend Kathy of de la Bouche Specialty Foods. So here is what I did with it.
Serves 4
Half of regular baguette, thinly sliced and lightly toasted
A wheel of Brie cheese, wedged
Kathy's Strawberry Balsamic Black Pepper Jam
Assemble all together, using generous portions. Indulge yourself with a glass of well chilled Chardonnay!
Raspberry Parfait
I like taking a stroll in the garden in order to forage for a dessert after eating a main dish. Summer enables me to pick food right off plants and turn it into beautiful dishes in a matter of minutes. Bake the dough ahead of time so you can assemble the parfaits together with your guests (forage if you have a raspberry patch)!
Serves 4
Spelt rhubarb squares dough, broken into fine pieces (recipe here)
A container of Liberté Méditerrantée Lemon Yogurt, well stirred
A big bowl of freshly picked raspberries, rinsed and drained well
Chill tall parfait glasses in the freezer for 15 minutes or so. Layer the spelt rhubarb squares dough, yogurt and raspberries in a tall chilled glass. Serve immediately.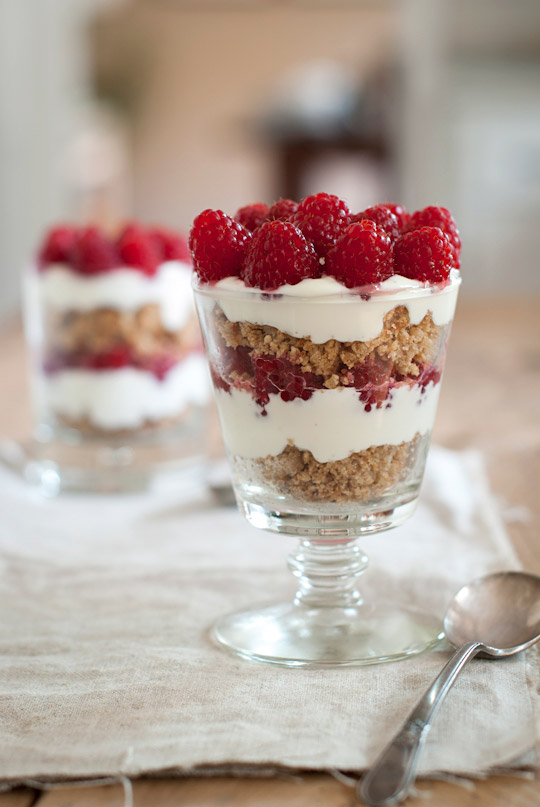 Broiled salmon, adapted from giada's family dinners.