Vietnamese Sandwich (Banh Mi)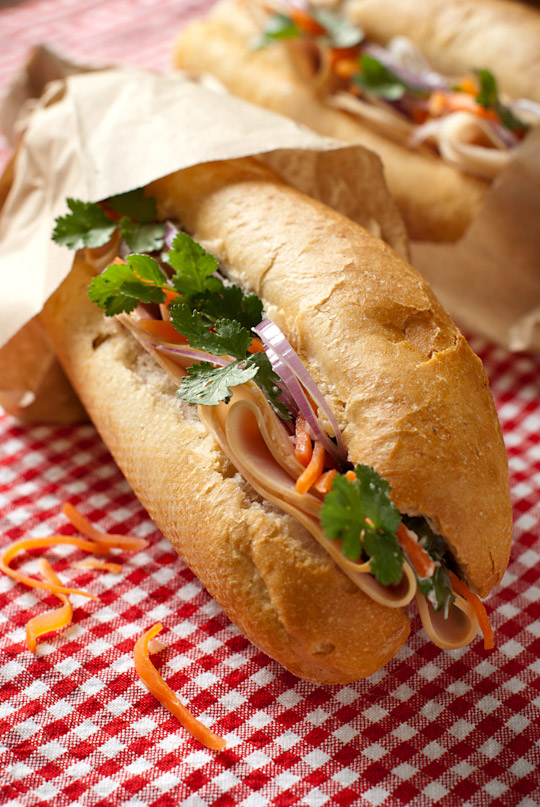 When fresh cilantro leaves, green onions, vinegary pickled homegrown carrots, a luscious piece of meat and a generous amount of mayonnaise meet with a crusty baguette, the result is heaven! We used to live just around the corner from a place called Au Petit Cafe on Main Street, Vancouver. They make the most delicious, freshly made Banh Mi (Vietnamese sandwiches). We would purchase a few for picnics at Queen Elizabeth Park, one of Vancouver's best viewing spots, and would feed to leftovers to the ducks at the nearby pond. It was a perfect way to spend a sunny weekend!
Now that we live a little farther away from the cafe, I was determined to experiment in order to create a sandwich at home that resembled Au Petit Café's Banh Mi. It will never be as good as their sandwiches, but in its own right, it is the freshest and tastiest sandwich, made with seasonal organic ingredients that I grow myself. And that matters to me. I'm proud to say that I have dedicated a section of my garden exclusively to grow cilantro all year round just for making this sandwich! There are so many ways to use the cilantro in various dishes but how else can you really eat a lot of this plant in its raw stage? Tacos, guacamole and pozole! My friend would be screaming in Mexico where cilantro is king. I like the simplicity of this sandwich, which allows me to savour its distinctive flavour of cilantro. So you must grow your OWN cilantro! And it is easy.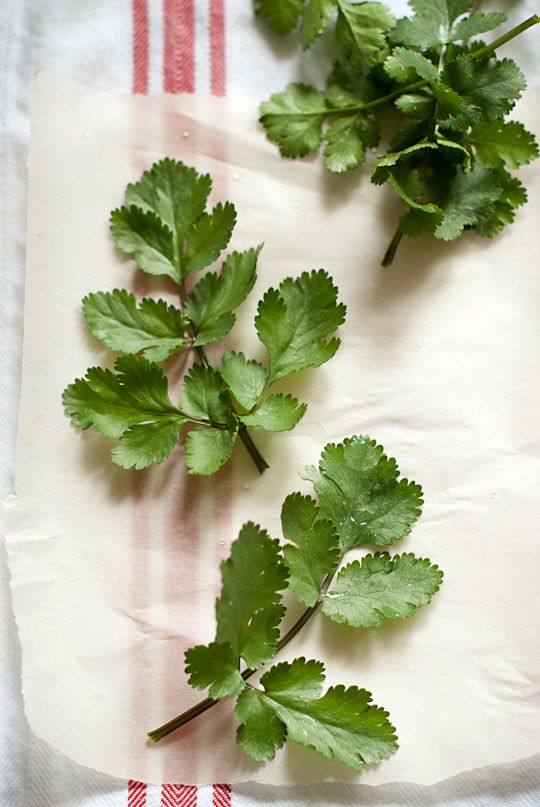 Once you sow seeds, they faithfully self seed every year and look cozy in the same location for as long as I remember (a few seasons or longer!). You can let the plants go to seed, and then either you harvest the seeds after they dry out as coriander for cooking or let them fall on the ground. Then, harvest the leaves in the following spring as they mature to plants.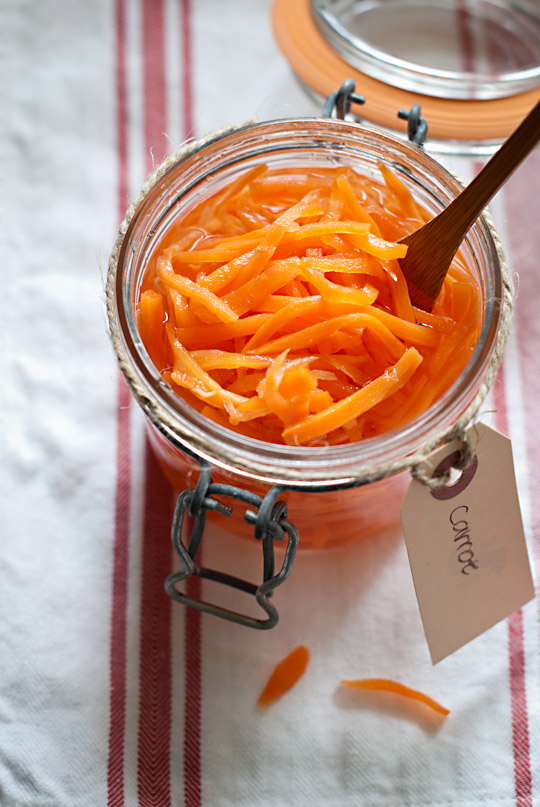 I have tried many different recipes for carrot and daikon pickles in order to create the perfect Banh Mi, but so far I like this recipe by Viet World Kitchen best. I used only carrot this time because my daikon hasn't emerged from its  seed packet yet this year! This is my way of gardening. I do things when I remember and repeat this every season and every year!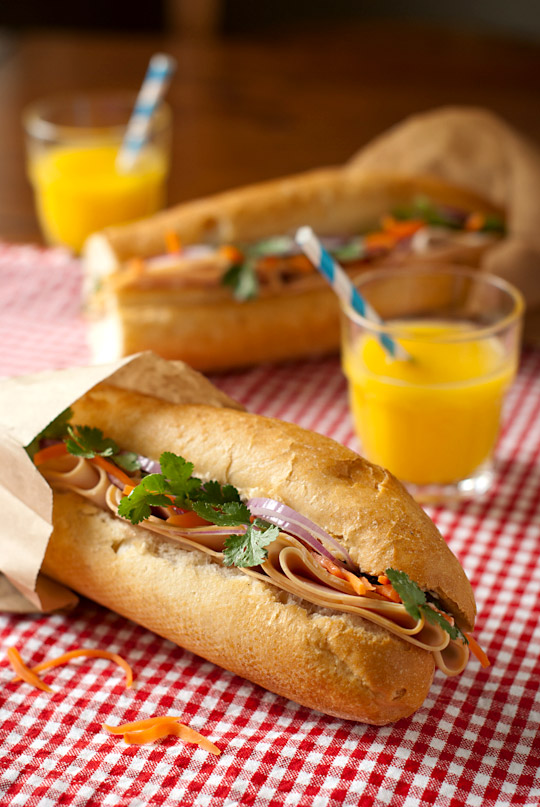 To warm up a baguette, just mist the bread all around and place in a 350F preheated oven for 5 to 7 minutes. It will give you a freshly baked texture! I learned this technique years ago from my twin sister who was at the time working as a baker in one of Tokyo's most famous Italian restaurants. She even started having her own clients who came begging for her creative and sweet delectable treats. She used to treat me with a big plate of assorted desserts that she made including baked cheese cake with framboise sauce, cassata, panna cotta with caramel sauce, tiramisu, torta di ricotta, and a special caramel gelato with something to do with caramelized purple potato and mascarpone cheese… It is a distant memory but I just remember how fantastic every single dessert tasted!
Vietnamese Sandwich (Banh Mi)
For each sandwich
1 small baguette or a section of a regular baguette
Generous amount of mayonnaise
Meat of your choice (I use cooked turkey ham or regular ham for its convenience)
2 pieces green onions or few slices of red onion
Carrot pickles (see the link above)
A bunch of cilantro
Cucumber, sliced (option; I add cucumber when they are in season in my garden)
Hot pepper, sliced (option)
Warm up the baguette in the oven (instructions above) and slit the bread lengthwise. Spread the mayonnaise on both sides of the bread. Layer all the ingredients starting from the bottom part of the bread; the meat, the onion, the carrot pickles and the cilantro. Put the other half of the bread on top. Bite immediately!