Thoughts About Eating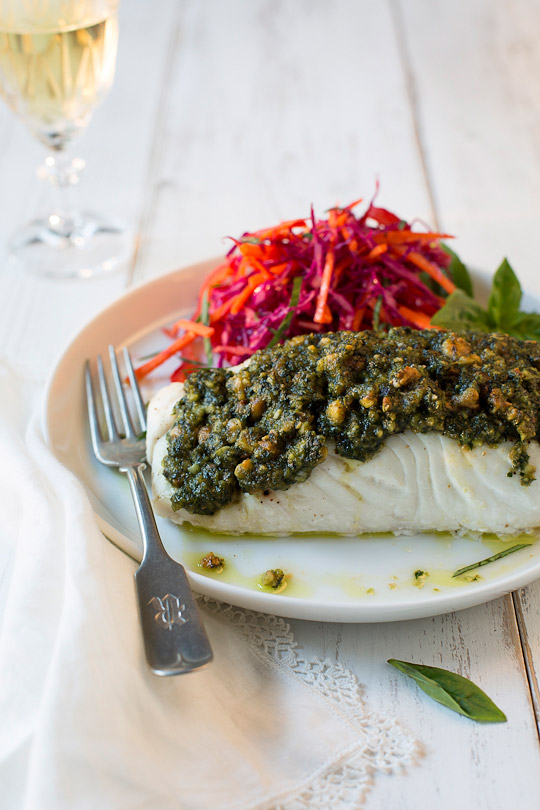 By now, you know I like food. In fact, I enjoy the act of eating as much as the food itself. It takes a wee bit of courage to share my feelings here but lately, I have found it difficult to maintain equilibrium in the act of "eating." Do I eat to sustain myself or do I eat to please my mind as well as savouring the taste of delicious food? I recently realized that I was in the latter situation. I was drowning in a big bowl of food.
However, I had an opportunity to participate in a Reiki class last weekend where I learned a great deal about myself. When I was told by a Buddhist Reiki master practitioner that "Anything is normal" and "Everything is okay in this world," I thought whew, what a relief: after all, it is okay to be myself. It is okay to be just me. In this fast-paced society, it is hard to gasp a breath in order to try to catch up with the rest of the crowd. When I started to become overwhelmed by this rhythm is when I started losing balance in the act of eating. The same could be said in photography too. I remember reading Brian Ferry's post "Honesty" in which he talks about how photographers are trying to be similar in terms of styles in the hopes of succeeding as others did. I totally agreed with what he stated. It is not necessary to make our work look like someone else's because we have our own voices. This is what I learned at the meditation class. I have so much energy within me and I can redirect this energy for healing my tired soul. I have everything I need in me. I have all the tools I need within "Me."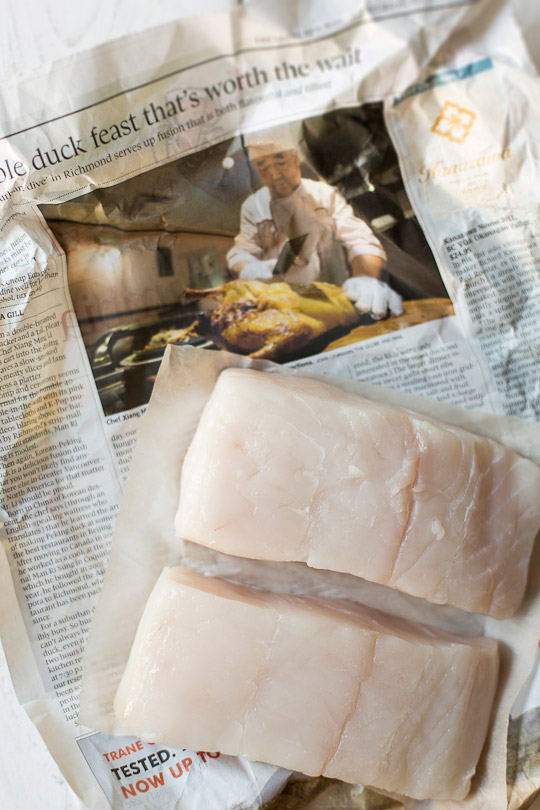 This class not only taught me that we have energy within us to heal illness or pain by redirecting the energy where needed with intention but also made me realize the importance of mindfulness in every aspect of our life. Such as: eating mindfully. What a coincidence to learn something I was having trouble with. The eating experience starts from when I harvest food, and then continues as I prepare, cook and serve it. Observe the food, smell the aroma, feel the texture, hear the subtle sound and taste umami. And most of all, appreciate every bite of it. Rest your chopsticks, forks or knives while discerning the flavour of food. Chew it and be mindful of what you are eating. Good nutritious food makes these actions very enjoyable.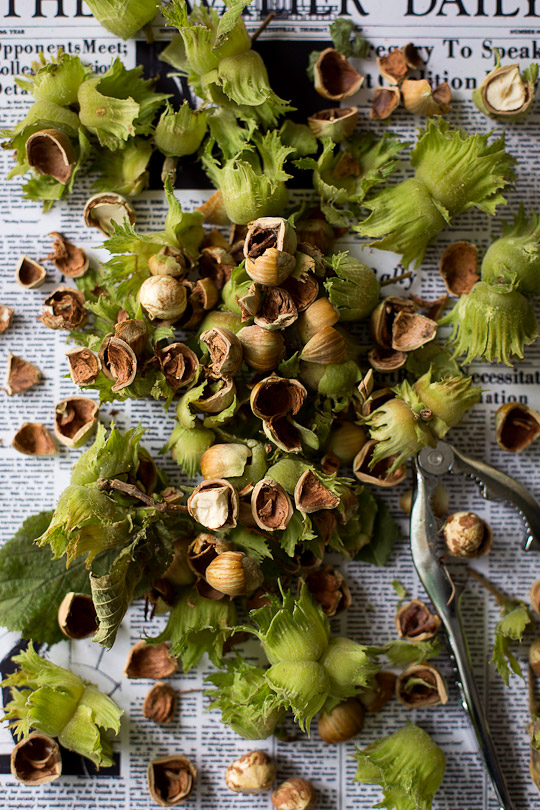 With this in mind, I started to practice slow eating, which led to satisfaction with just the right amount my body needed. Indeed, the old adage that less is more was proven in this moment. No more thinking about something else or flipping on the iPad while eating in order to obtain inspiration for the day. There is something more to this act of "eating." This is what we do everyday whatever you do and wherever you are as long as the human being exists. So far the experience has resulted in building a good relationship between food and myself. This is how I've come to find peace and happiness in my food life. The class was an eye-opening experience. We all know about mindfulness but how easy it is to forget if we are not aware of it.
We do eat everyday but the question is how do you eat each meal in your day?
Have a great mindful Thanksgiving to everyone in Canada!!!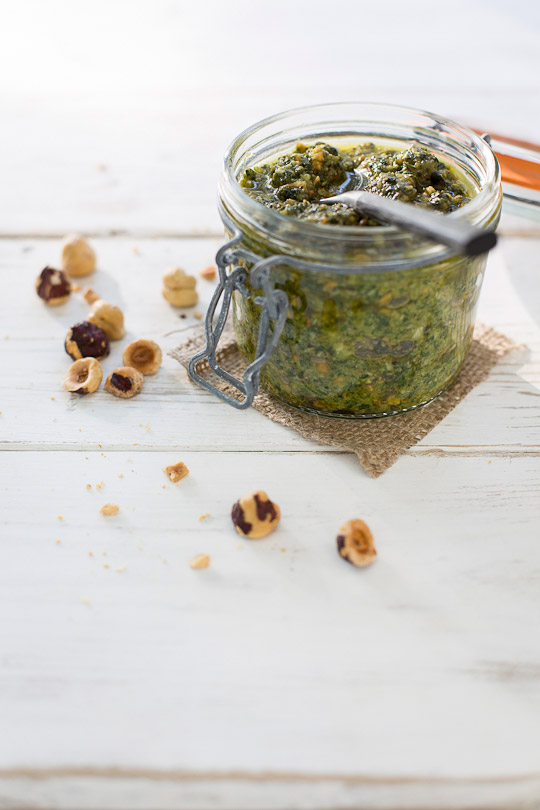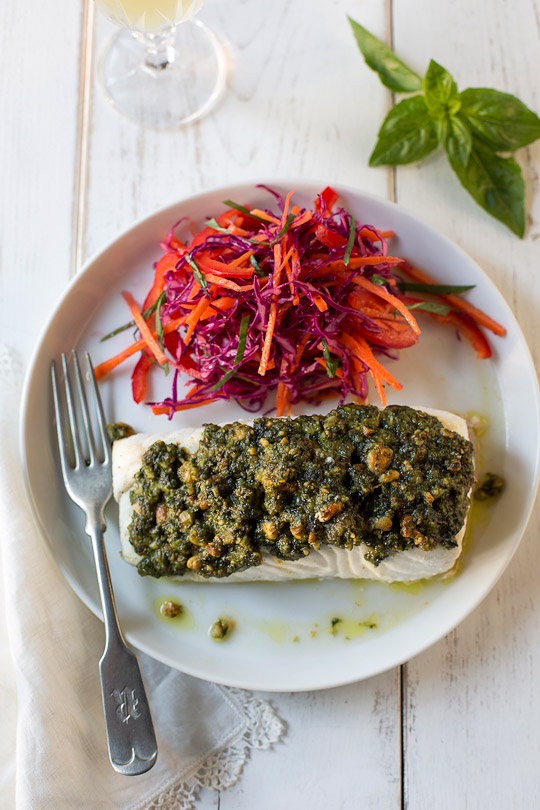 Halibut with Genovese Pesto
Serves 2
2 pieces halibut
Salt and Pepper
6 tablespoons or more Genovese pesto (recipe follows)
Lightly sprinkle the halibut with salt and pepper and lay on an oiled baking sheet.
Broil at 400F until flakey, for about 7 minutes or so depending on the thickness of the fish. Take the baking sheet out of the oven and test with a knife. The centre may still look slightly pink but that's okay.
Smear the pesto on top of the fish and broil until top nicely browned and the centre of the fish is no longer pink but moist, for about 5 minutes. Don't overcook. Take the fish out of the oven, cover with a piece of aluminum foil and let stand for a few minutes.
Serve immediately.
Genovese Pesto
Thank you to the Heather Hills Farm Society for taking me on a tour and showed me around their beautiful hazelnuts trees and vibrant coloured heathers. It was fun picking the nuts off the branches too. I ate the fresh nuts in a salad on the same day, and they had a texture reminiscent of water chestnuts; however, I used the roasted nuts that I purchased from them in this recipe.
Makes 1 x 350ml jar
2 cups fresh Genovese basil leaves
1 cup parmesan cheese, grated (I mix Padano and Romano half and half)
2/3 cup hazelnuts
5 garlic cloves, peeled
7 tablespoons olive oil
Salt and black pepper
Roast the hazelnuts lightly on a baking sheet in the 350F oven until a nice aroma emerges, for about 5 to 7 minutes.
Place the basil, cheese, hazelnuts and garlic in a food processor and pulse until the mixture becomes coarse paste. In the meantime, add oil in a steady stream. Pulse a few more times until emulsified and stop when your favourite consistency is achieved (I like keeping some hazelnuts in large chunks). Adjust with salt and pepper.
Store in an airtight container and refrigerate it for up to a week. Or you can freeze any leftovers right away.
Adapted from Linda Collister's Sensational Sauces.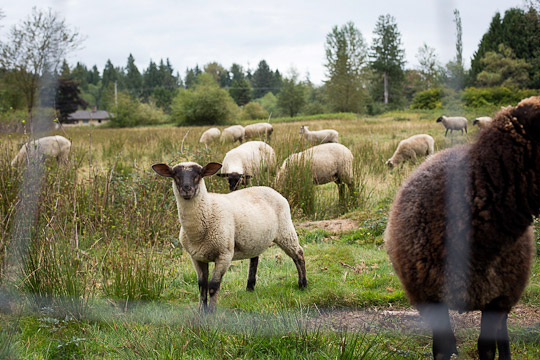 Red Cabbage Carrot Salad
Serves 2
2 large carrots, peeled and julienned
½ small red cabbage, thinly sliced
½ red bell pepper, sliced thinly
A few leaves of Thai basil, cut in strips with scissors
Juice of 1 lemon
A pinch of cane sugar
3 tablespoons extra virgin olive oil
1 teaspoon toasted sesame oil
1 teaspoon Tamari soy sauce
Salt and black pepper
Mix all the vegetables in a large bowl.
Make the dressing by combining the lemon juice, sugar, oil and soy sauce in a small jar. With a lid on, shake well until emulsified. Adjust with salt and pepper.
Drizzle the vegetables with the dressing. Toss and let stand for about 10 minutes.
Serve immediately.