Stuffed Kabocha with Quinoa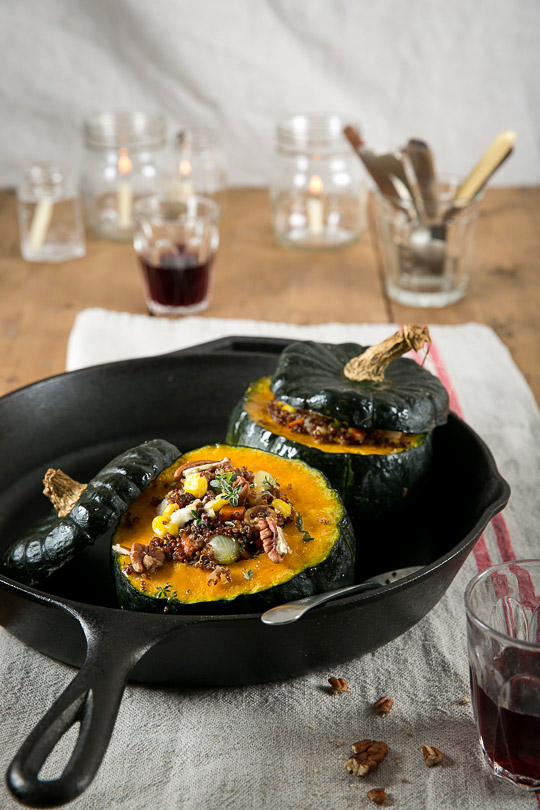 Autumn is really about cooking with wisely stored summer goodies; anything from frozen corn, dried herbs and hazelnuts to just harvested winter squash. This is a delicately flavoured dish where the sweetness of autumn fruits meets the warm savouriness of herbs and vegetables. The dish is simple yet possesses an entertaining visual appeal. Kabocha's nutty dense meat completes this plate as a main dish, keeping you fulfilled and satisfied, while the lightness of the quinoa salad helps balance the meal.
I have been trying for quite a while to create a super healthy yet fulfilling treat to settle into the new season, and with this recipe, I am confident that I have achieved one of many delicious winter dishes yet to come!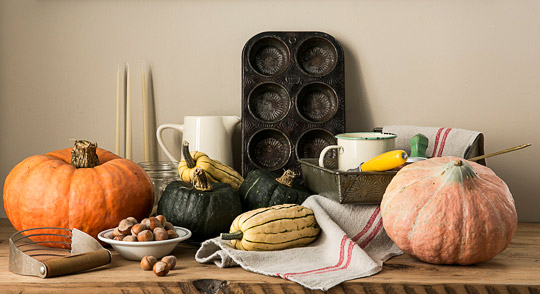 If you are interested in storing herbs for winter use, I recommend a magazine, KINFOLK for its herb drying section and beautiful photography.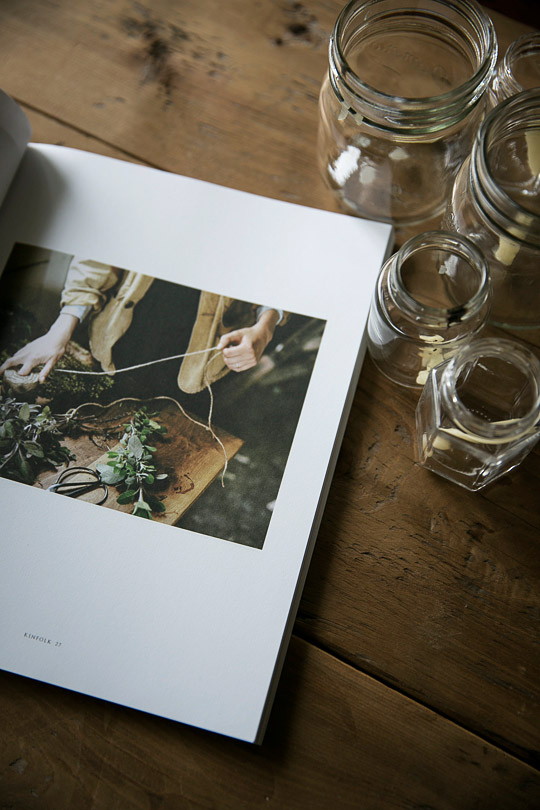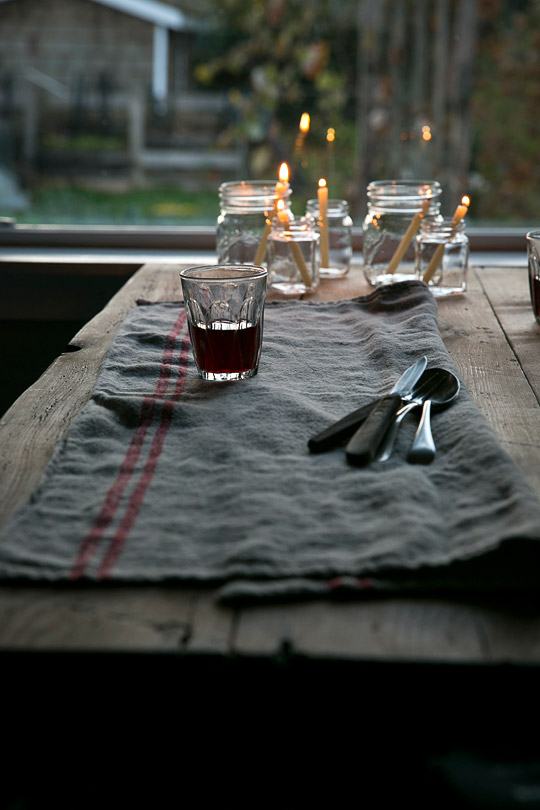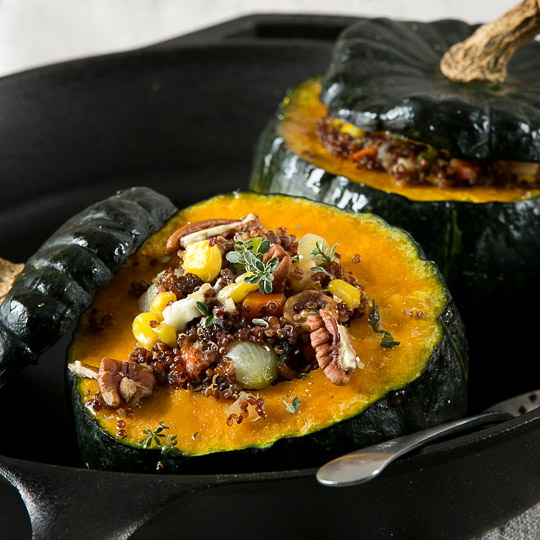 Stuffed Kabocha with Quinoa
Serves 2
2 small kabocha (or buttercup squash)
½ cup red quinoa
1 cup chicken stock or vegetable stock
¼ teaspoon salt
1 teaspoon butter
1 teaspoon vegetable oil
1 garlic clove, finely chopped
1 small knob of ginger, finely chopped
½ onion, cut into ½ inch pieces
1 small carrot, cut into ½ inch pieces
½ rib celery, cut into ½ inch pieces
2 scallions, cut into ½ inch long pieces
2 sprigs thyme
½ small apple, cut into ½ inch pieces
½ cup thawed corn
1/3 cup raisins
A small handful of roasted hazelnuts and pecans
A dash of nutmeg
Salt and pepper
1/3 cup Parmesan cheese, freshly ground
1 teaspoon butter
Rinse the outside of the kabochas well, cut the tops off and spoon the seeds out. Save the tops as lids for roasting.
Rinse the quinoa in a fine mesh strainer to remove the saponin, and drain well. Bring the stock to a boil in a medium saucepan. Add the quinoa and salt. Lower the heat, cover with a lid and simmer for about 12 minutes or until the liquid is absorbed. Remove from heat and let stand for a few minutes.
Preheat the oven to 350F.
In a large pan, sauté the garlic, ginger, onion, carrot, celery and scallions with the butter and vegetable oil over medium heat until the vegetables are softened. Add 1 sprig of thyme plus the apple, corn, raisins, and nuts; continue to sauté for the next 5 minutes. Adjust the flavour with the nutmeg, salt and pepper. Add the cooked quinoa and cheese, and stir well.
Stuff the kabochas with the quinoa mixture, put the kabocha tops back on, place in a large oven-proof pan or on a baking sheet, and roast for about 1 hour.
When the kabocha is soft, it is done. Open the lids of the kabochas, and place ½ teaspoon butter inside each. Then, scatter the rest of the thyme leaves on top of the quinoa for decoration. Serve immediately.