Spot Prawns with Radish and Lemon Aioli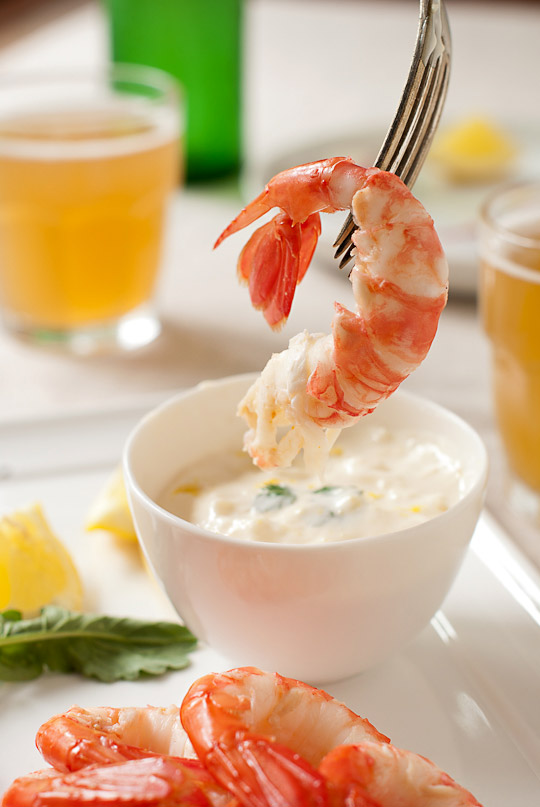 It's May, and there are a few things that come to my mind when I think of the month in food, gardening, or cooking terms (my brain always thinks around food). One item that stands out in particular among the rest is that of the shiny, fresh reddish-orange wild spot prawns that I have been longing for over the last 10 months. They are indeed one of the West Coast's tastiest seasonal treats. Combining various greens from the garden and spot prawns, the sky's the limit!  However, first, I keep the preparation to a minimum so it allows me to taste the prawn's subtle sweet flavour and its meaty succulent texture of the season. Then, I purchase another batch for more complex dishes and repeat this process for the next few weeks.
One of things I truly miss about when I lived in Japan is stopping by a supermarket and seeing shelves filled with dozens varieties of fresh, seasonal fish. I used to choose whatever I wanted according to the mood of that evening as I made my way back home. Mackerel, sea bream, mackerel pike, yellow tail, black cod, Japanese sea bass, smelt, halibut, etc. were all common offerings  Raw, deep fried, sautéed, braised, stewed or dunk in a hot pot, I would prepare them according to their characteristics. The quality was excellent, which I could tell by their clear shiny eyes, and the price was usually decent. Most importantly, it was easily accessible.
My routine has somewhat changed, as I now walk down the hill to the German meat shop and pick up a few dry sausages and a piece of Gruyère. In Japan, my favourite mid-day snack was a bag of dried tiny anchovies (I admit that North Americans think it's weird), dried squid or anything to do with fish. This is why when May arrives, it is the time to go to False Creek by Granville Island and wait in a line in order to get those precious spot prawns, and from there fully immerse myself into the world of spot prawns.
Spot Prawns with Radish and Lemon Aioli
Serves 4-5 as an appetizer
3 lb BC wild spot prawns
3 bay leaves
A pinch of sea salt or more to your taste
A bunch of multi-coloured radishes, washed, cut in half in lengthwise
1 garlic clove
A pinch of salt
1/3 cup mayonnaise of your choosing
1 tablespoon lemon zest
1 tablespoon lemon juice
Wedge of lemon for serving
Bring water to a boil in a large pot that can accommodate the prawns. Add the salt and bay leaves and dunk the prawns to cook for about 3 minutes. Lift the prawns, let cool and reserve the cooking water.
Crush the garlic in a mortal with a pestle till creamy. Add the salt and continue till the mixture obtains a paste-like consistency. Transfer the garlic to a small bowl. Add the mayonnaise, lemon zest and lemon juice, and stir well to combine.
When the cooked water becomes lukewarm, return the prawns to the liquid until serving time so that they soak up the subtle saltiness and stay  moisturized. Lift in a colander and drain well.
Remove the heads by gently squeezing and twisting the body and head. Remove the shells by opening where the legs are with your thumb, and pulling off the entire shell, leaving the tails intact. You can save the heads and shells to make fish stock.
Serve the radish, prawns and the lemon aioli on a big platter. I like serving lemon wedges as an option to simply drizzle over the prawns.