Spinach Soufflé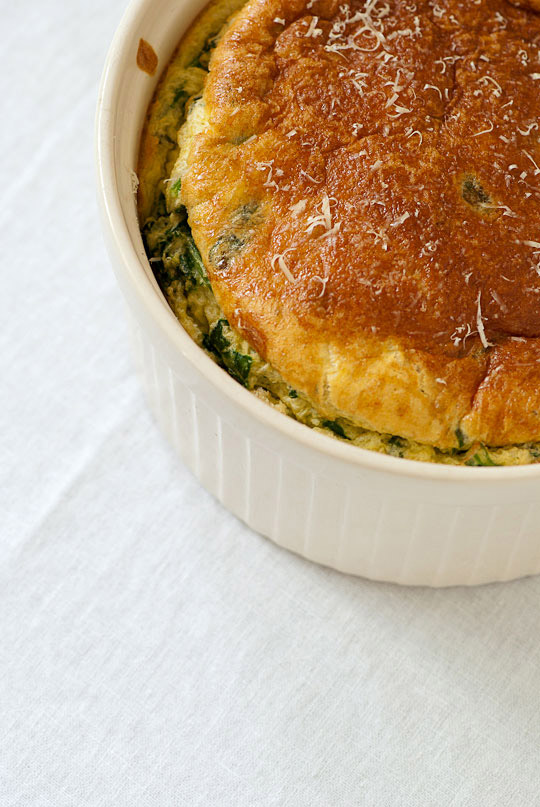 After years of living on the West Coast, I came to the conclusion that we have three choices when the rain doesn't stop. A. Do exactly what we normally do regardless of the rain, B. Go south where we can feel the heat on our skin under the scorching sun, C. Create our own sunshine. While my friends choose B, I choose C. So here is the brightest sunshine in the kitchen for you. What's your take?
Spinach Soufflé
Fills 6 inch soufflé mould
2 cups firmly packed spinach, rinsed, pat dried and chopped
3 tablespoons salted butter
¼ cup unbleached white flour
1 cup 2% milk
1 teaspoon fresh thyme
½ teaspoon sea salt
3 egg yolks, beaten
4 egg whites
1 tablespoon grated Parmesan cheese such as Grana Padano
Extra butter for greasing a mould
Preheat the oven to 350F. Grease a soufflé mould with butter.
Make roux. Melt the butter in a large frying pan over low heat. Then, gradually add the flour and, while constantly moving a spatula, fully integrate until it bubbles, then continue for a couple more minutes.
Add the milk, a small amount at a time, and stir well to combine. Boil for a couple of minutes. Add the thyme and salt. When it becomes smooth, remove from the heat.
Add the spinach to the roux, stir well and add the egg yolks gradually. Continue stirring till well combined. Set aside and cool.
Place the egg whites in the bowl of a mixer with a whisk attached. Beat until stiff peaks are formed. The peaks should fall over when the whisk is withdrawn. That's the right texture.
Add half of the egg whites to the spinach mixture, and gently combine in a circular motion. Then, fold in the rest of the egg whites, being careful not to over stir. Be very gentle.
Pour the spinach mixture into the mould, sprinkle the cheese over top and bake for about 40 minutes. If you are using small moulds, bake for about 20 minutes or until tops become nicely golden.
Serve while warm.
Adapted from basic-recipes.com.