Spelt Rhubarb Squares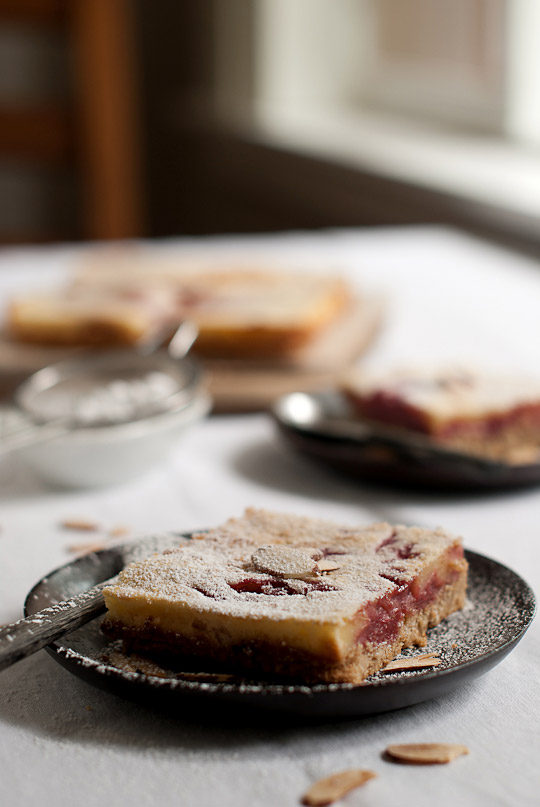 When I came to Canada years ago, one of things that amazed me was the variety of sweets that this country offered. Coming from Tokyo, I was accustomed to rather fancy pastries that had a lot of French influence, and which were only consumed on somewhat special occasions. Since arriving in Canada, I have tried everything from brownies to Nanaimo bars, all kinds of squares to cookies, but to me they all tasted pretty much the same due to the dominant flavours of refined sugar and white flour. Within a year, I gained 20 pounds and decided that it was time to make some changes to my diet!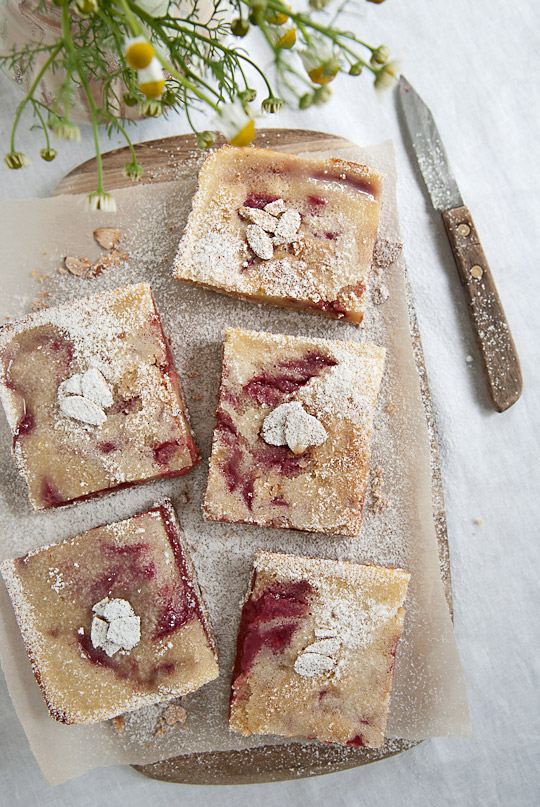 Since then, I have introduced whole grains into my kitchen and started baking with ingredients that are not only healthier but also endow character and depth of flavour to my baked goods. I appreciate the taste of whole grains in every bite, and therefore I love thoughtfully home baked goods. However, I still welcome occasional fancy French pastries, as I appreciate their intricate artistry.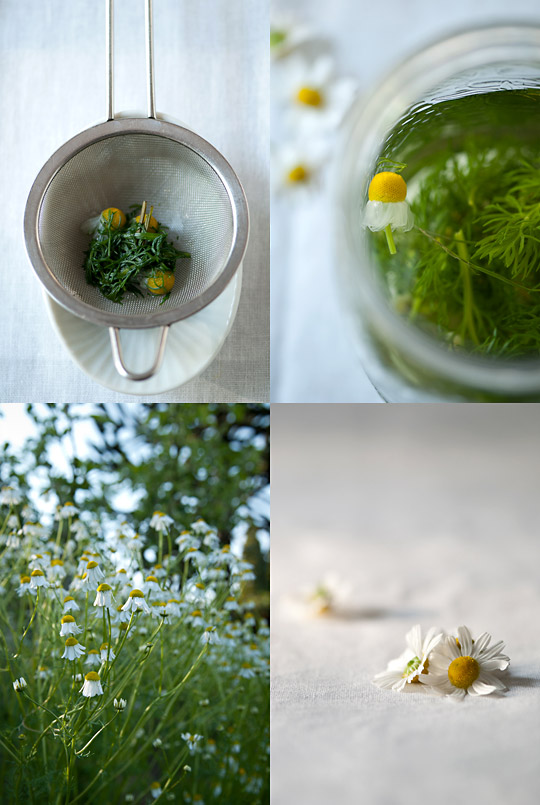 Garden updates: picking baby lettuce, spinach, radishes and Asian greens (bok choy, tah tsai and mizuna, etc.) everyday to catch up with the speed of their growth. They will bolt in time, and then they won't be as good in texture and taste. My head lettuces are plump in their centres, the peas are tall with flowering buds, my Japanese plums are the size of olives, the zucchini plants are being eaten by wood bugs, and the slugs have been super annoying on my cole crops (cabbage family). I remove a bunch of the slugs daily when they come out to munch my greens in the dusk. I toss the slugs in the compost bin since they make good compost. The garden is quiet and serene this time of day so visiting it is a type of meditation. Eggplant, basil, and tomato plants are patiently waiting for the heat of summer. Alliums are in their full stage and peonies are giving off a sweet scent, perfuming the whole garden.
As you can imagine, in the corner of my garden, rhubarb plants with their huge leaves are creeping up upon the surrounding vegetables. So my job is to keep whipping up rhubarb desserts in the kitchen or sharing the stalks with my friends as they make such a great seasonal gift.  Of course, my favourite task of all is to eat the completed rhubarb dishes! As for rhubarb desserts, I like serving them with a pot of chamomile tea. Rhubarb and chamomile grow at the same time in the garden so it seems just right to serve them together.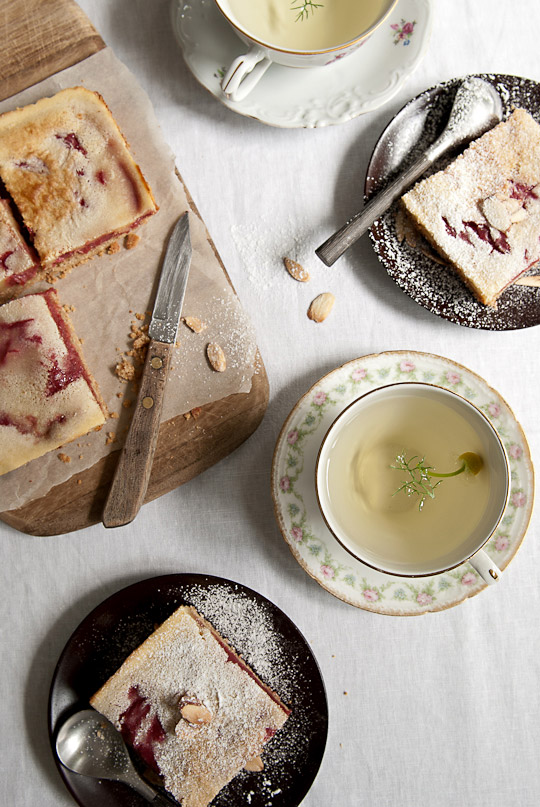 Spelt Rhubarb Squares
8 inch square cake pan
Dough
¾ cup spelt flour
¼ cup ground almonds
2 tablespoons cane sugar (I use granule organic cane sugar so for this dough, I put the sugar in a food processor to create a powdery consistency)
Lemon zest from 1 large lemon
100g salted butter, cold, cut into pea size pieces
Rhubarb mixture
1 ½ cups rhubarb, chopped into ½ inch pieces
1/3 cup cane sugar
½ teaspoon cornstarch
Lemon custard mixture
2 eggs
1/3 cup cane sugar
80 ml lemon juice (about 1 large lemon)
3 tablespoons all purpose flour
½ teaspoon baking powder
A handful of sliced almonds, slightly toasted
Confectioner's sugar
Butter an 8 inch cake pan, toss a little bit of flour to coat evenly and remove the excess. Or place a piece of parchment paper on the bottom and the sides.
Make the dough. Add the spelt flour, ground almonds, cane sugar and butter to a large baking dish or bowl. Grate the lemon over top. Using a kitchen scraper (I use a stainless steel scraper/chopper), cut the butter in order to combine the mixture until it reaches a fine texture.
Spread the mixture evenly in the cake pan and press firmly with fingers to make the bottom of the squares. The dough should look levelled across the pan. Rest it in the refrigerator or freezer for 10 minutes.
Preheat the oven to 350F (320F with a convection oven).
In the meantime, make the rhubarb mixture. Place the rhubarb and sugar in a small pan over medium heat and cook until stewed. Add the cornstarch, mix well and set aside.
Take out the cake pan from the refrigerator or freezer and bake for 15 to 20 minutes, or till light golden.
Make a custard mixture. In a large bowl, combine the eggs, sugar, lemon juice, flour and baking powder. Whisk till sugar is dissolved and obtains a creamy consistency.
Take the cake pan out of the oven, spoon the rhubarb mixture on the dough randomly in a big dollop, and flatten using the back of a spoon. Fill in the empty space with the custard mixture. Don't worry if you end up with more mixture than the empty spaces. Just pour evenly over the rhubarb mixture. Using the tip of a knife, swirl the custard mixture into the rhubarb mixture to incorporate it, creating a marble effect.
Bake for another 25 minutes. Let cool. Cut in preferred sizes, place the almond slices on top and sprinkle the sugar over it all. Serve with chamomile tea.
Chamomile Tea
Pick a handful of chamomile flowers and leaves (I use stalks too). Wash well to remove any insects. Discard any diseased flowers. Boil the water and pour it over the chamomile in a teapot or jar. Steep for a few minutes. Strain into cups.