Shiso Croquette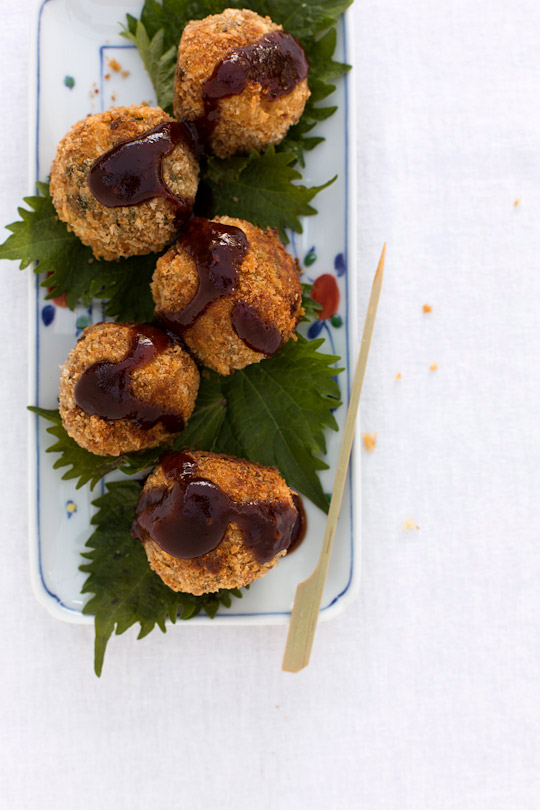 One of dishes I clearly remember eating in my grandma's kitchen as a child is croquettes. They were always made of ground beef, seasonal vegetables and, of course, potatoes all year round. A heap of cabbage, sliced paper thin, a few croquettes drenched with BBQ sauce and a bowl of white rice: this combination is a winner in every household in Japan.
As my garden has started to wind down, I have found a way to incorporate more shiso into my recipes. Shiso, as you may recall, is commonly served underneath sashimi at decent Japanese restaurants. It boasts a distinctive fragrance and flavour, and supposedly also possesses antibacterial properties. As such, I think it's no coincidence that shiso has been served together with raw fish like sashimi for decades in the Japanese culinary world. I feel it is my job to bring more attention to this wonderful plant here in my blog! The characteristics of shiso can be easily recognized even after it is mixed into the potatoes in a croquette: in fact, shiso would be a good substitute for the ground beef, as it would still keep the flavour interesting.
With nostalgic, fuzzy memories on my mind, I recently made grandma's croquettes and savoured the moment when the shiso and creamy potatoes burst out of the crispy deep fried skin all in one in my mouth. Don't forget to grab a bottle of your favourite BBQ sauce!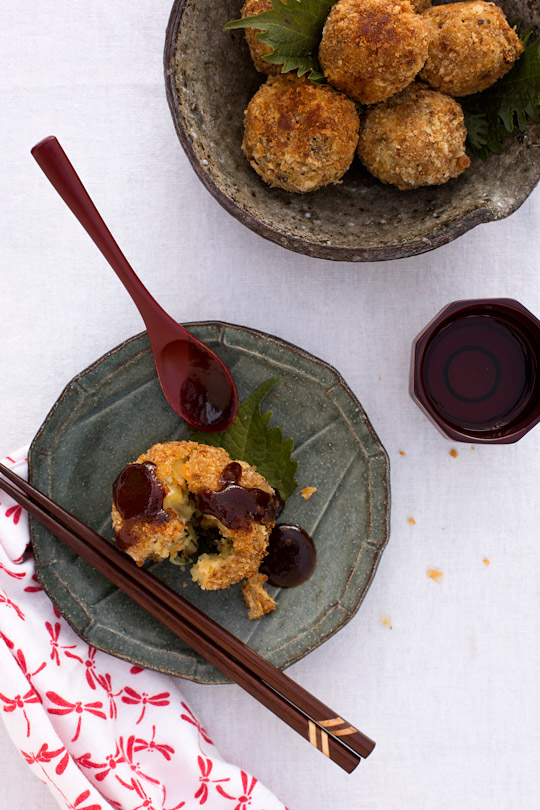 Shiso Croquette
Makes about 15 golf ball size pieces
1 ½ lb Yukon Gold potatoes, boiled and mashed with a dash of salt
1 large carrot, cut into ¼ inch cubes
1 medium onion, finely chopped
1 tablespoon vegetable oil
15 shiso leaves and extras for decoration, rinsed and pat dried
Salt and pepper
¼ teaspoon ground nutmeg
¼ all purpose flour
1 egg + a little bit of water, beaten well
1 cup freshly ground Panko (bread crumbs)
Vegetable oil
In a medium pan, stir-fry the carrot and onion with the oil until nicely browned, and then adjust with salt and pepper.
Combine the stir-fried carrot mixture and the potatoes with the nutmeg. Using a pair of kitchen scissors, cut the shiso leaves into thin strips and stir gently into the potatoes.
Divide the potato mixture into golf ball sized pieces or smaller if you prefer.
In a well organized breading station (see a picture above), flour the ball lightly, then dip in the egg mixture, and coat with the Panko. Form by gently pressing with both hands.
You can cover and rest the breaded balls in the refrigerator until cooking time. Or, if you want to eat them right away, warm the oil to 340F (170C) in a deep frying pan with oil about 1/2 inch high.
Deep fry them by turning all around until golden brown. Rest on a paper towel for a couple of minutes to remove excess oil.
Serve immediately with BBQ sauce.