Roasted Beet Borscht Soup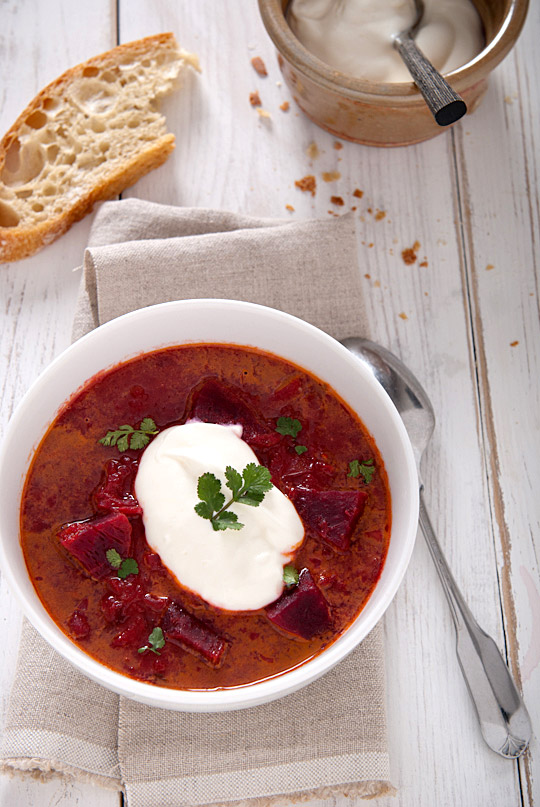 This is a big pot of soup for a cold rainy afternoon, which can literally occur anytime here in the Vancouver area at this time of year!  You can serve this hearty soup for your guests or simply cook for two and take a day or two off from cooking over the next couple of days. The longer it cooks, the better the flavour gets so it is perfect for rainy afternoons when you can spare time for a cozy homemade meal to replenish your soul.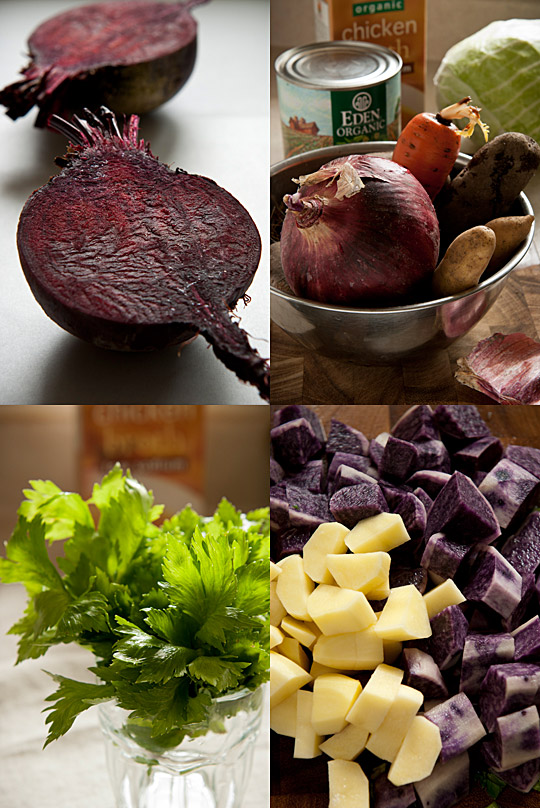 Some baby celery leaves from the previous year's plant that I started from seeds have survived the freezing temperatures, and have now started to show the signs of spring! I like this soup slightly creamy but not too much. When I use heavy cream, I might omit sour cream or vice versa. It totally depends on your liking; feel free to adjust.
Roasted Beet Borscht Soup
Serves 6-8
1 pound beets
2 to 3 tablespoons olive oil
Sea salt and freshly ground pepper
2 tablespoons butter
2 cloves garlic, finely chopped
1 large onion, chopped
2 carrots, chopped
1 stalk celery, chopped
3/4 cup potatoes, diced
8 cups chicken stock (or vegetable stock)
2 1/2 cups canned diced tomatoes
2 cups cabbage, shredded
1/3 cup heavy cream
1 teaspoon or so salt
Freshly ground pepper to taste
Sour cream, for garnish
2 tablespoons fresh dill, chopped (I use whatever green leaves are available in my garden such as cilantro or chives)
Scrub the beets and remove the leaves, leaving a 1 inch stub from the top. Place them on a large piece of aluminum foil and season with salt and pepper. Drizzle with oil and seal the foil tight, then roast until they are tender when tested. Large beets may take an hour or so. Set aside and let cool
In the meantime, chop the vegetables, and heat a large heavy bottomed pot over medium-high heat to melt the butter. Sauté garlic, onion, carrots, celery and potatoes until softened and starting to colour, about 15 to 20 minutes. Add the chicken stock and bring to a boil. Turn down the stove top to medium-low heat and skim off the foam that floats on top. Add diced tomatoes, bring to a boil and repeat the process to remove unwanted foam on the surface of the soup. Remove the skins from the beets, chop into cubes and add to the soup. Let simmer over medium-low heat for an hour with a lid, stirring occasionally.
This is the time to serve yourself a glass of wine if you haven't yet. Take a break for a while.
The last thing to do is to shred the cabbage and add it to the soup after simmering for 1 hour. Then, let simmer for another 20 minutes. Add cream and adjust the taste with salt and pepper to your liking.
Serve in bowls, garnished with sour cream and dill.