Rhubarb Cream Cheese Cornmeal Muffins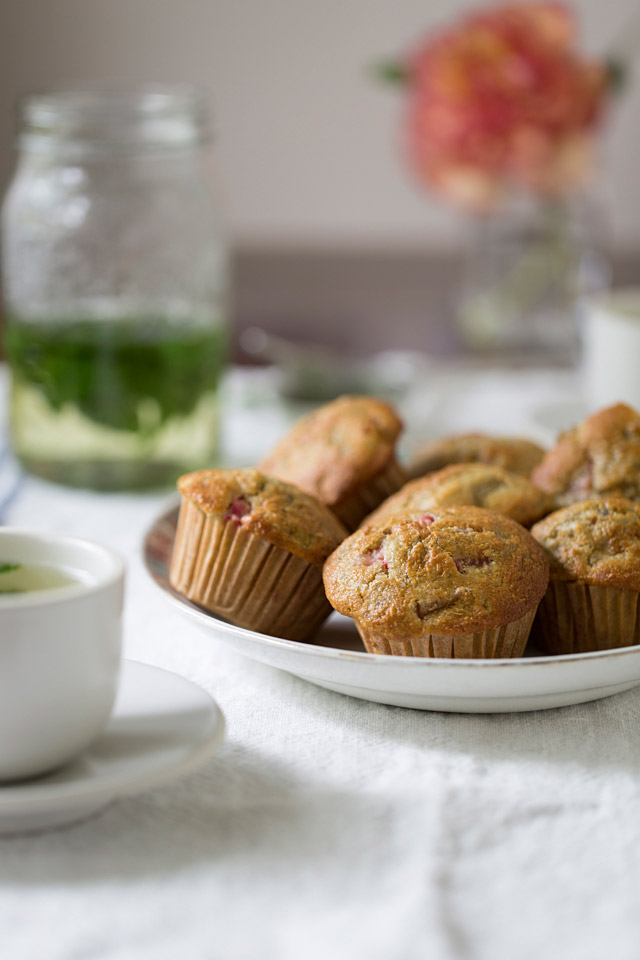 It's getting a bit difficult for me to create yet another rhubarb recipe after having already included several in my blog. Nonetheless, I came up with this cornmeal muffin idea in a delightfully whimsical manner.
I knew I wanted to cook some rhubarb from the garden so I started daydreaming and burrowing my face into the fur of one of my Labradors. If you are a dog owner, you know what I'm talking about! "Oh, you smell like cornmeal behind your ear…" Yes, the light bulb went off! Another strange coincidence was when I opened my food recipe journal and the first thing I saw was this old wrinkled handwritten recipe that read "Blueberry cornbread muffins." I'm not kidding you here. It must be a 12 year-old-recipe because I used to hand copy recipes from food magazines just after I came to Canada for the sake of improving my English! I don't remember ever having baked it though. Haha, it's really funny… it appeared at just the right time to give me a clue as to what recipe I should share next.
Rhubarb Cream Cheese Cornmeal Muffins
Makes 12 small muffins
2 cups rhubarb, cut into ½ inch pieces
6 tablespoons cane sugar
½ package (250g) cream cheese, room temperature and cut into cubes
¼ cup sugar
1¾ cups cake flour (I used this instead of all-purpose because it ran out)
¾ cup cornmeal (fine textured)
2/3 cup cane sugar
½ teaspoon salt
1 tablespoon baking powder
1 teaspoon baking soda
1 1/3 cups 2% milk
1 large whole egg plus 2 egg whites
2 tablespoons canola oil
Place rhubarb and the sugar in a small saucepan over medium high heat, cook to dissolve sugar and continue until just before the rhubarb loses its shape. Strain the excess juice for another use (see below). Let cool.
In a bowl, beat the cream cheese and sugar until smooth.
Preheat the oven to 375F.
Combine the flour, cornmeal, sugar, salt, baking powder and baking soda well in a bowl. In a separate mixing bowl, combine all remaining ingredients except cream cheese and whisk until smooth.  Then, pour the wet ingredients into the flour mixture. Mix just until all the ingredients are moist. Add the rhubarb and lightly mix with a spatula.
Pour the batter into a muffin cup-lined tin and spoon a big dollop of the cream cheese into each muffin cup. Bake until golden brown, for about 20 minutes. A cake tester inserted into the centre should come out clean. Let cool.
Serve warm or at room temperature. Store any leftovers in an airtight container and refrigerate.
Mint Tea
A bunch of mint leaves
Hot water
Wash the mint and cut into 1 inch pieces. Place the mint in a teapot (a jar in my case), pour hot water over top and steep for a few minutes. Strain into individual cups.
Rhubarb Refresher
Ice cubes
Extracted rhubarb juice (from above recipe)
Dash of lemon juice
Carbonated water or club soda and/or rum!
A sprig of mint leaves
Freestyle to accommodate whatever one's heart desires.