Rhubarb Bars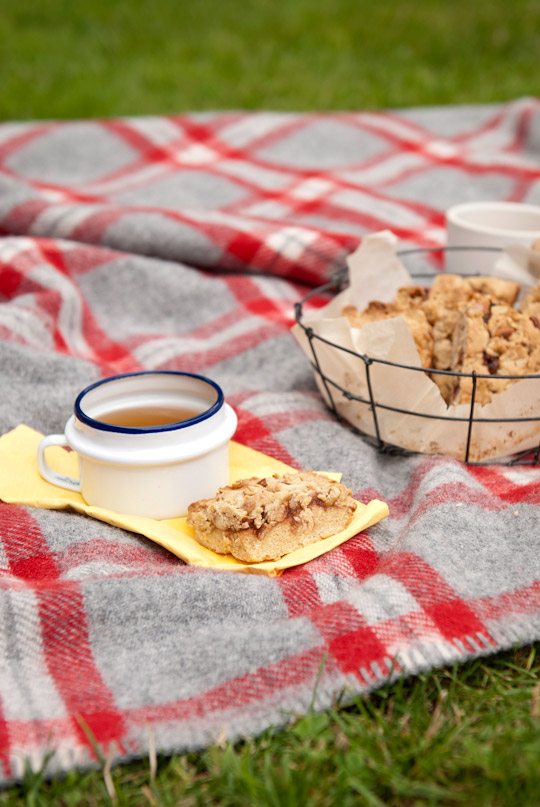 Okay, I promise that this is going to be the last post for rhubarb desserts since I already posted many lately, and I should probably leave my rhubarb plants alone to recuperate for next year so I can bake all these rhubarb goodies all summer long! But who can resist those intense ruby red stalks?
These bars are perfect to take on trips, thanks to their solid texture. We ate them on a ferry and brought them to a picnic too. As Deborah Madison suggests, you can use any kind of jam to add variety.
Rhubarb Bars
9 x 9 square pan
110g salted butter
½ cup cane sugar
¼ cup powdered sugar
1 teaspoon vanilla extract
1 egg
½ teaspoon baking powder
½ teaspoon ground cinnamon
11/2 cups unbleached white flour
¼ teaspoon salt
1 cup mixed chopped almonds, pecans, walnuts and rolled oats
¾ to 1 cup rhubarb jam or more (recipe below)
Extra butter and flour for greasing and dusting the pan
Preheat the oven to 350F. Butter a 9 x 9 pan and dust with some flour. Remove excess flour. Alternately, line the pan with a sheet of parchment paper.
Cream the butter, add the sugar gradually, and beat until fluffy. Add the egg and vanilla, and continue stirring until the egg incorporates. Add the dry ingredients except the nuts mixture.
Leaving ¾ of the dough, press the rest evenly in the prepared pan.
Spread the rhubarb jam in a thick layer over the dough.
Mix the nuts into the reserved dough, and spread over the jam layer.
Bake about 40 to 45 minutes.
Let cool and cut into squares.
Adapted from Deborah Madison's Vegetarian Cooking for Everyone.
Rhubarb Jam
I make this jam thinking of crisp cold winter mornings when I spread it generously over toast smeared with cream cheese, all served with a warm pot of tea or coffee.
Makes 7 x 250 ml jars
2 kg rhubarb, cut into 1 inch pieces
850g cane sugar
2 tablespoons lemon juice (about 1 small lemon)
Place all the ingredients in a heavy bottomed pot and cook until the rhubarb loses its shapes and becomes thick, about 1 hour or so.
Bring plenty of water to boil in a large pot that is taller than the jars. Sterilize the jars, lids and screw bands for a few minutes. Let them dry.
Pour the jam into the sterilized jars, leaving 1/4 inch from the brim. Wipe any spilled jam from the brim. Screw on bands snugly but do not over tighten them. Make sure that lids are not damaged or bent so that they seal properly during the canning process.
Place a heavy tea towel in the pot to keep the jars from having direct contact with the bottom. Submerge the jars. Make sure that there is enough water to cover them by at least 1 inch.
Boil for about 25 minutes.
Remove the jars without tilting, place them on a tea towel and cool undisturbed for 24 hours. In the mean time, remove the screw bands, wipe and dry them and replace on jars.
You can test the jars to find out if they are sealed properly. You can lift the whole jar by grabbing only the lids if they are properly sealed.
The preserves last about one year or longer. Refrigerate once opened.