Rainbow Swiss Chard Quiche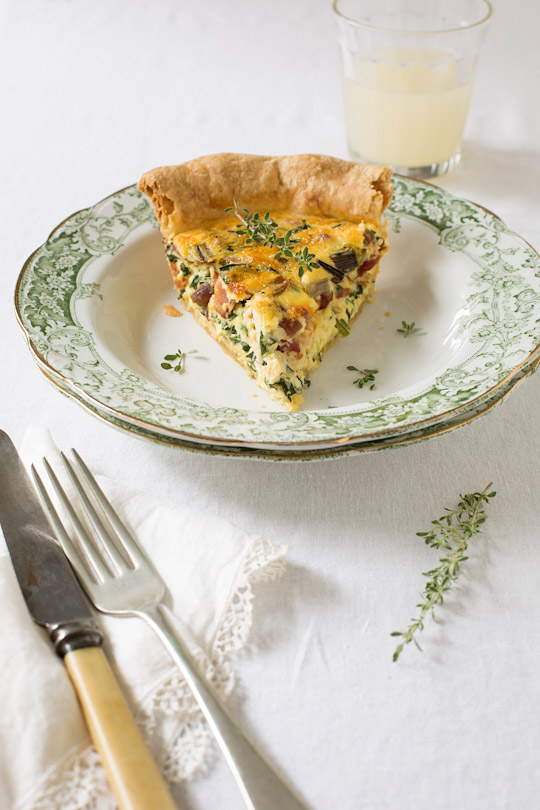 Nothing brightens up my garden like rainbow Swiss chard. Their dark ruby- red and Canary yellow stalks keep their colour even after being cooked, therefore they earn the best spot in the garden every year along a highly trafficked pathway. What a special way to welcome guests to our front door. They are temptations like those found in a candy store, but thankfully they are healthy ones. Rainbow swiss chard can be cooked the same way as spinach. Bake, sauté, boil, steam and eat as much as you want. They won't give you a sugar rush!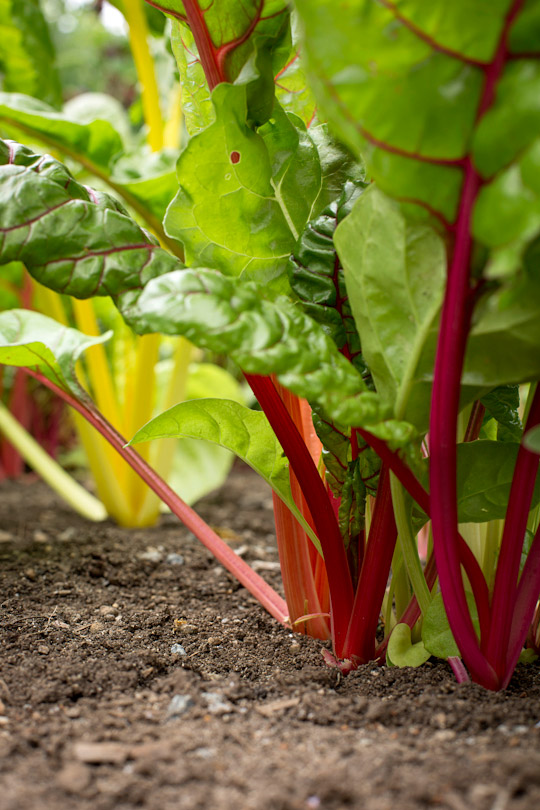 When I have an abundance of chard, I normally store it for winter. Or if you do succession sowing during summer months, at the latest in early August, the chard can stay in your garden with a protection in the Lower Mainland area (plant hardiness zone 8) all winter long.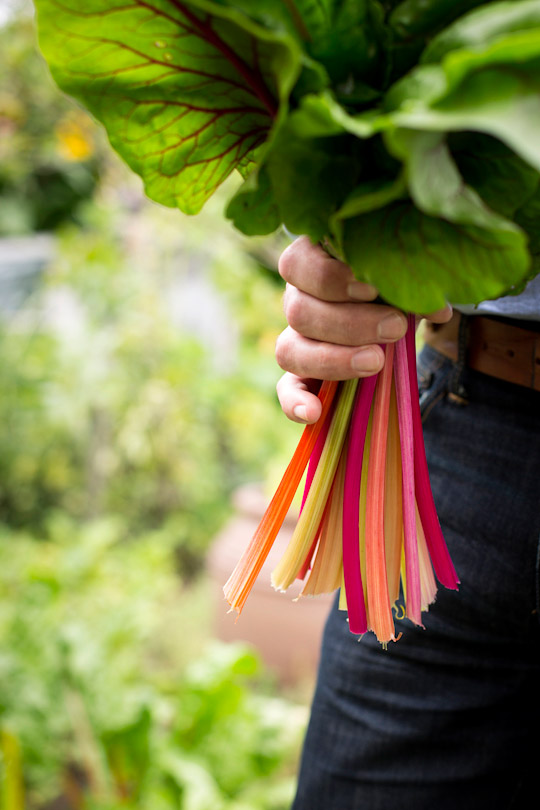 If you store the abundance, just blanch in boiling water for about 2 minutes, dunk in cold water and squeeze out the excess moisture. Then, cut into an inch length and freeze in a plastic bag in a small portion. You can throw chard into lasagna, stew, soup, or pie etc., and it is indeed one of my favourite items for our macaroni and cheese dish in winter months because it's flavours are reminiscent of summer memories.
Rainbow Swiss Chard Quiche
Makes 9-inch pie dish (I use an Emile Henry 9 inch fluted pie dish)
Dough
1½ cups all-purpose flour
¼ teaspoon salt
½ cup cold butter, cubed
1 egg yolk
1 teaspoon vinegar
Ice water
Extra butter and flour for the pie dish
Filling
6 slices bacon strips
5 stalks rainbow Swiss chard, chopped into 1/2 inch pieces
3 big leaves of rainbow Swiss chard, chopped into thin strips
A sprig of thyme
½ teaspoon freshly ground pepper
¼ teaspoon salt
5 eggs + 1 egg white
1 cup milk
½ cup heavy cream
2 tablespoons Dijon mustard
¾ cup Gruyère cheese, shuredded
Butter the pan and dust with some flour, then remove excess flour. Keep it refrigerated.
In a large bowl, whisk the flour with salt. Place the butter and the flour mixture in a food processor, and pulse until fine crumbles form, scraping down the sides of the bowl as necessary (you can do this by using a pastry blender or 2 knives in a large bowl). In a measuring cup, whisk the egg yolk with vinegar and add enough ice water to make 1/3 cup. Drizzle over dry ingredients and pulse until the mixture just starts to come together into a ball. Gently press the ball into a disk, wrap with a piece of plastic and refrigerate for at least 30 minutes or until chilled.
On a floured surface, roll out the dough to ¼ inch thickness. Fold twice gently, transfer to a prepared pie dish and unfold to cover the dish leaving a 1-inch overhang. Fold the edge inside the rim and flute if using a pie dish. Prick all over with a fork and refrigerate for 30 minutes.
Preheat the oven to 400F. Line the pie shell with a piece of parchment paper and fill with pie weights or dried beans. Bake in the bottom third of the oven until the rim is light golden for about 15 minutes.
Remove weights and parchment paper, then let cool on a rack.
In a large skillet, fry the bacon over medium high heat until crisp. Drain fat from the pan. Sauté the chard and thyme until softened about 3 to 4 minutes, and add salt and pepper to taste.
In a large bowl, whisk together eggs, milk, and cream. Crumble the bacon and add to the egg mixture along with the chard.
Brush mustard over the pie shell and sprinkle with the Gruyère cheese evenly. Pour in the egg mixture.
Bake in the centre of a 375F oven for about 35 minutes, or until cooked. Let cool on a rack for 10 minutes. Serve immediately (if you would like to make ahead, let cool, cover and refrigerate up to 24 hours. Reheat in a 350F oven for about 20 minutes).
Dough recipe adapted from Canadian Living Magazine