Plum Upside-Down Cakes + Grand Marnier Ice Cream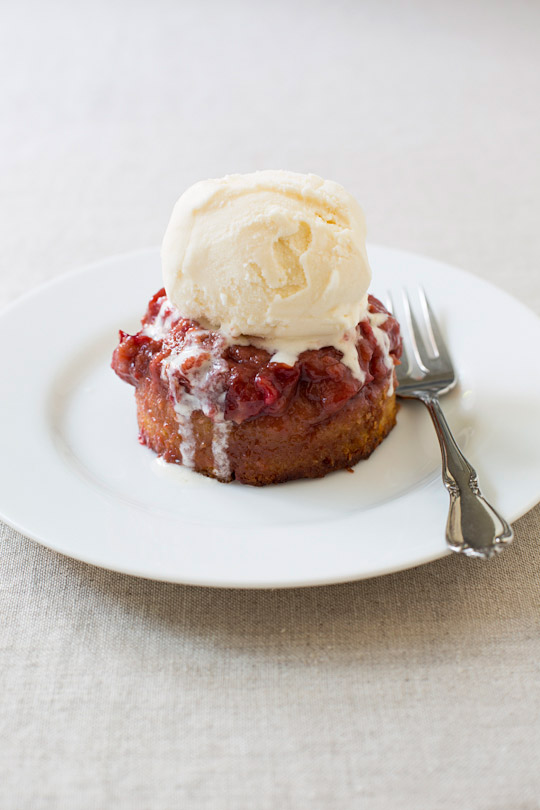 Has your long awaited dream come true recently? One of mine just did with the sweet and juicy fragrance of Japanese plums wafting all over our house and garden. The name of the plum tree "Beauty" somehow coincides as if celebrating a realization of my will. I have kept a twelve-year-old fine COOKING magazine, the September issue to be exact, that features two pastry chefs in a challenge to improvise a plum dessert using a limited number of ingredients. From there, one recipe particularly grabbed my heart so much that I was determined to plant my own plum tree(s) in a future garden and bake this recipe with the very fruits from the tree. I have baked this recipe a number of times but now that I can finally harvest my own hard-earned fruits, I can report that it was a splendor well worth waiting for! You undoubtedly have your own dreams. Let them come true by maintaining a strong will, desire and a little patience.
Plum Upside-Down Cakes
The recipe calls for smallish plums that are ripe but firm. I used my Japanese "Beauty" plums, and they worked wonderfully with their nice balance of sweetness and acidity to accompany a big dab of Grand Marnier ice cream.
Makes eight 8-oz ramekins
10 oz. (2½ sticks) unsalted butter, softened at room temperature
Extra butter for greasing the ramekins
¾ cup firmly packed brown sugar
6 medium-size red plums, pitted and sliced 1/8 inch thick
½ cup plus 1 tablespoon milk
1 tablespoon fresh lemon juice
6 oz. (1½ cups) cake flour
1 teaspoon baking powder
¼ teaspoon baking soda
½ teaspoon ground cinnamon
¼  teaspoon salt
1 cup sugar
Grated zest of 1 orange
2 large eggs
2 teaspoons vanilla extract
Butter the ramekins. Heat the oven to 350F.
In a medium saucepan over medium heat, combine 6 oz. (1½ sticks) of butter with the brown sugar, whisking until smooth and combined. It's okay if you still have sugar granules.
Immediately pour into the bottoms of the buttered ramekins, dividing evenly. Arrange a layer of plum slices in each ramekin, overlapping them slightly, using smaller slices to fill any gaps.
In a small bowl, combine the milk and lemon juice. The mixture will curdle and that is okay.
In another bowl sift together the cake flour, baking powder, baking soda, cinnamon and salt.
Cream the remaining 4 oz. (1 stick) of butter with the sugar and orange zest in a mixer. Add the eggs and vanilla, and mix to combine.
Alternately add the dry ingredients and the milk mixture, mixing just to combine.
Divide the batter among the ramekins. Arrange the ramekins on a rimmed baking sheet and bake until the cakes are firm to the touch and the juices are bubbling, 35 to 40 minutes, rotating the sheet midway through baking to ensure even cooking.
Let cool on a rack until warm. Run a paring knife around the inside edge of each ramekin, invert onto a plate, and gently lift it off the cake. Top each cake with a scoop of Grand Marnier ice cream (recipe below).
*If you've baked the cakes ahead, heat the oven to 350F, set the ramekins on a rimmed baking sheet and heat until just warmed, about 2 to 3 minutes.
Adapted from Karen Barker's recipe from fine COOKING.
Grand Marnier Ice Cream
This dessert is a perfect way to chill out during hot summer afternoons. It also happens to be a perfect match for the Plum Upside-Down Cakes.
Makes about 1L
3 eggs
1 cup sugar
2 cups whipping cream
2 cups whole milk
¼ cup to ½ cup Grand Marnier
Beat the eggs and milk together in a large saucepan. Add sugar and cook over low heat, whisking constantly until thickened, about 15 to 20 minutes. This is the time to dream about your future. Instead of yesterday's thoughts, let's imagine and dream, not necessarily about a plum tree but whatever suits your fancy; and of course, don't forget to keep whisking! The mixture should smoothly coat the back of a spoon.
Strain into a large bowl and cool. Then, add the cream and Grand Marnier starting from a small portion. Taste it and adjust the amount of liquor.
Refrigerate at least 4 hours or overnight. Churn the mixture according to the manufacturer's instructions. You can transfer the ice cream to an airtight container and store in a freezer to encourage further solidification.
See more ice cream recipe here.