Pea Shoots and Beet Salad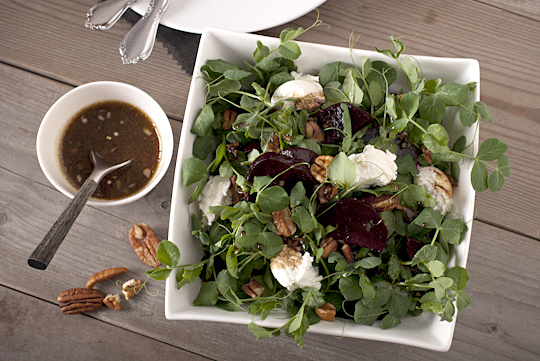 I have a garden in the front yard and the back yard, where we rely on our produce all year round. But when food becomes scarce, a kitchen window sill becomes my garden; jars of sprouts, trays of pea shoots and sunflower sprouts are nestled on shelves with grow lights. We rely on these tiny yet powerful greens to get through the winter. Sprouts give us the freshest, the rawest and the most nutrient-rich food in a small package. I used to consult Mark M. Braunstein's book called Sprout Garden until I got the  hang of the procedure. Once I learned, it became second nature. Another book I really like is called Microgreens, which has photographs of individual sprouts and information about them. Now we eat different kinds of sprouts everyday. Anyone can start a small indoor garden in a cupboard or a pantry in the kitchen.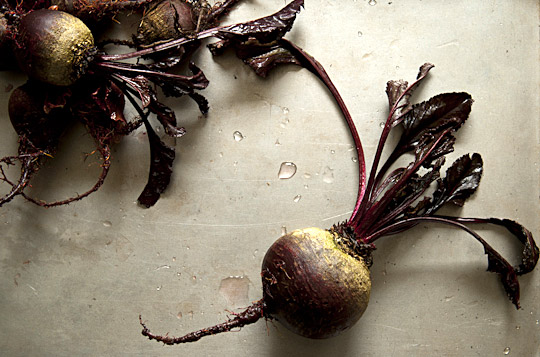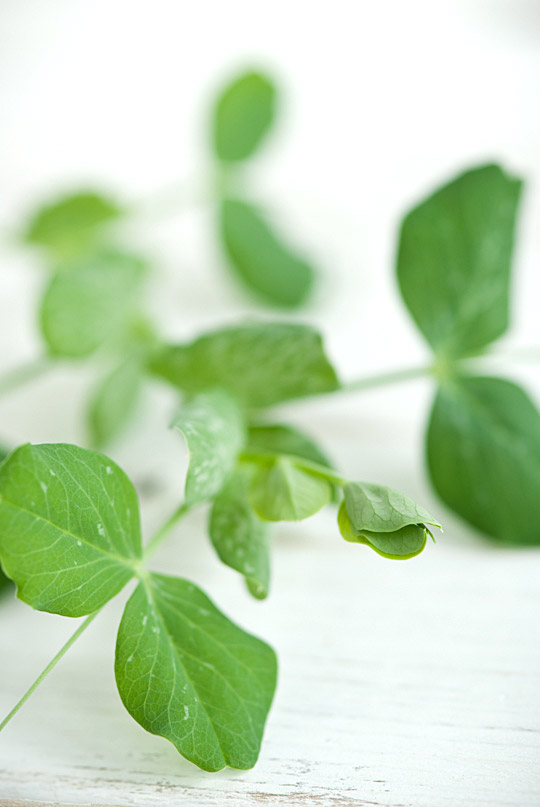 Pea Shoots and Beet Salad
Serves 4
6 medium beets
1/2 pound pea shoots
200 g goat cheese
3/4 cup pecan halves
Wash the beets and remove leaves, leaving 1 inch of stem on the beets.  Place them in a pot, cover them with cold water and bring to a boil. Cook for 40 minutes to 1 hour until tender. When the beets are done, plunge them in cold water and remove the skin. Pat dry and slice into 1/4 inch thick pieces.
Prepare the salad by washing, draining, and patting dry the pea shoots. Place the pea shoots in a large bowl, spoon the goat cheese on top, and add the sliced beets. Sprinkle the pecan over top of the salad. Serve with balsamic vinaigrette.
Balsamic Vinaigrette
Makes about 1 cup
1/3 cup balsamic vinegar
2/3 cup extra virgin olive oil
1/2 shallot, chopped
2 teaspoons brown sugar
1/2 teaspoon sea salt
1/2 teaspoon freshly ground black pepper
Combine all the ingredients in a screw-top jar and shake well. Taste and adjust the seasonings.