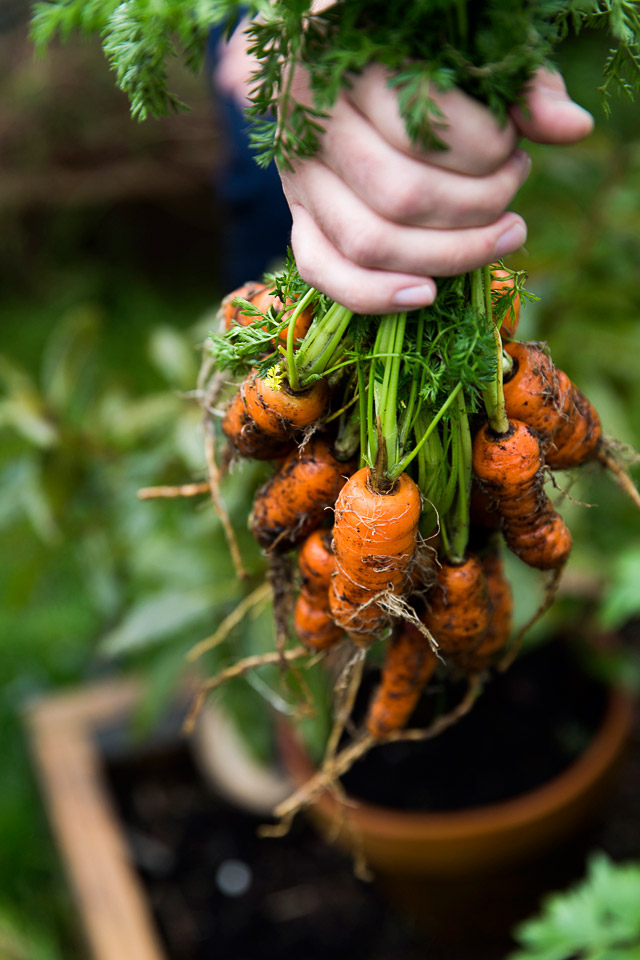 If you are like me you may tend to fall into a routine and continue for a long time without a clear purpose: in this case, I'm talking about the drinking coffee routine. When mindlessly following a routine, you may lose sight of the fact that what you're doing isn't at all healthy. Examples of this phenomena are shown in the movie "Food Matters," which sends a strong message that what you eat is what you are. In the last few years since I started my garden, my partner and I have totally changed the way we live and eat, mostly for the better. However, if we are not paying attention, our best efforts to live more healthfully and consciously could be subverted.
For the longest time, I've woken up in the mornings and immediately begun looking forward to a cup of coffee. That is, until my friend suggested that I cut back on my morning intake to improve my health. For sure, I love coffee's aroma and richly sweet taste, but mostly I love the idea of enjoying a cozy morning routine, which for so long has featured a cup of coffee.
After discussing "Food Matters" with yet another friend, we both decided to majorly cut back on coffee. We still haven't finished watching the whole movie yet, but definitely got the message in the first 20 minutes. My routine shifted from a cup of coffee to a cup of matcha latte and then to freshly made raw juice, thanks to our friends' influences. However, I still allow myself a cup of coffee now and then when I have the chance to visit BEAUCOUP BAKERY & CAFÉ, Le Marché St. George, or a few other neat places in Vancouver whose artistry and cozy atmospheres are just too hard to resist! So try this juice, slaw and if you need the coziness, I also baked for you a decadent cake made with another harvest from the spring cleanup.
Carrot Juice
Serves 2
1cup carrot, washed, peeled and roughly chopped
1 small apple, peeled and cored
2 large oranges, peeled
¼ of whole pineapple, rind removed, cored and roughly chopped
2 ice cubes
Place all the ingredients in a blender (we adore our Vitamix for this), and blend until smooth. Add water to achieve your preferred consistency and serve.
Carrot Slaw
Serves 4
4 large carrots, peeled and julienned
2 garlic cloves, roughly chopped
1 small knob ginger, chopped
A handful of chives, roughly chopped
¼ cup rice vinegar
½ teaspoon cane sugar
1 tablespoon plus 1 teaspoon soy sauce
1 tablespoon toasted sesame oil
2 tablespoons white sesame seeds, roasted in a skillet
2 tablespoons tahini
Combine garlic, ginger, chives, vinegar, sugar, soy sauce, sesame oil and tahini in the bowl of a food processor and proceed to blend well. If you don't have a food processor, don't worry, but just chop everything fine, place in a jar and shake well to blend.
In a large bowl, mix the carrots and the dressing well and chill. You can serve in a couple of hours. If you have leftovers, the dish is indeed very tasty the next day. I would sneak this slaw into a sandwich made with leftover cold pork tenderloin sliced along with lots of cilantro leaves or whatever is on hand (or in the fridge) the next day.
Carrot Lemon Cake
Makes 9 x 5 x 3 inch loaf pan
1 cup butter plus extra for greasing, room temperature
1/3 cup plus 1 tablespoon sugar
3 large eggs, room temperature, beaten
1 cup grated carrot
2 tablespoons sour cream
Lemon zest from 1 lemon
1 tablespoon fresh orange juice
1 ½ cups cake flour plus extra for dusting
2 teaspoons baking powder
¼ teaspoon salt
Icing
2 to 3 tablespoons lemon juice
¾ cup icing sugar
Combine the flour, baking powder and salt, mix well and set aside. Grease the pan with extra butter, dust flour removing the excess and keep refrigerated until the batter is ready. Preheat the oven to 350F.
Cream the butter with an electric beater in a large bowl until fluffy. While continuously beating, add the sugar in a few installments and beat until well combined. Add eggs gradually and beat to blend. Switch to a whisk, add the carrot, sour cream, ½ lemon zest and orange juice, and stir to combine. Proceed rhythmically by beating the batter each time you add an ingredient.
Add 1/3 of the flour mixture into the batter and incorporate. Switch to a spatula, add the rest of the flour mixture and gently combine until no flour is visible.
Bake until tested skewer comes out clean, for about 50 minutes. In the meantime, make icing. Place the sugar in a small bowl and add the lemon juice and the rest of the lemon zest a small amount at a time. Stir well, making a smooth consistency.
Let the cake stand for 10 minutes, and then remove from the pan to cool. Drizzle the icing over top. Slice and serve at room temperature.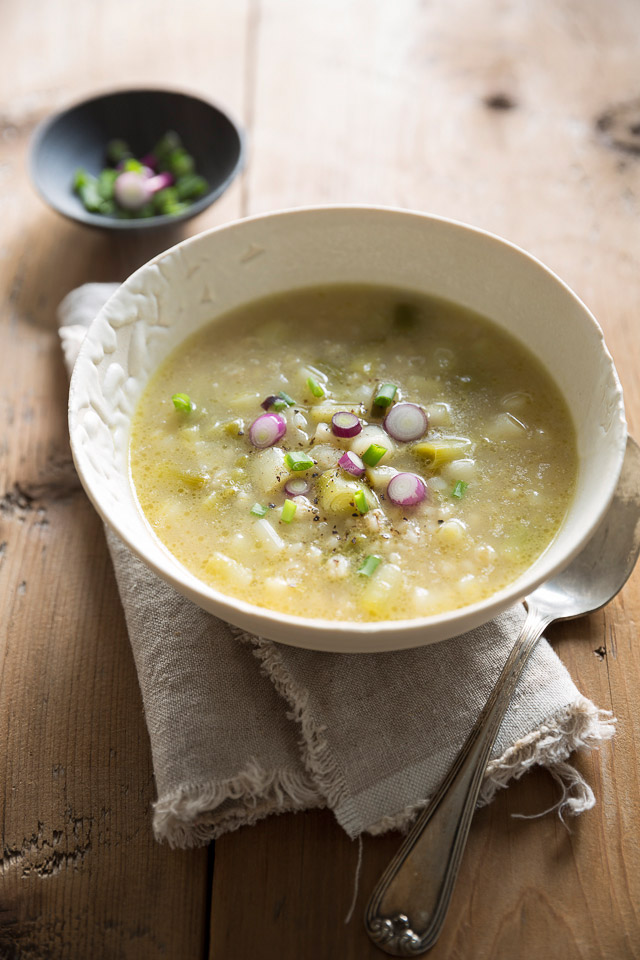 I enjoy the time when I lift remnants of the last year from the garden, in order to prepare the beds for a new cycle to come. Every year, I am reminded of some of the amazing and sometimes mysterious works of Mother Nature. Lots of hopes, failures, disappointments, frustrations, patience, joy, appreciation, peacefulness and simple happiness–I get these feelings through gardening. Yet all sensory experience really physically kicks chemicals in my brain when working with living plants. They are something so basic and organic yet fundamental in humans' life in this ever changing world. It is indeed as if I am learning about life itself. This experience has become so much more than just gardening to me. And at the end of the day, I know that there is always a good meal to follow using what's in season. In fact, it is most exciting to transform these bits and pieces into something hearty and tasty. I begin to feel a sense of triumphant satisfaction regardless of the type or amount of produce on hand, be it a huge bunch of leeks or a handful of cilantro leaves.
In this post, I'm excited to share this soup made with the leeks that just came from a few feet away as a result of my spring cleanup. It was such a reward to turn the last bits of the "onion family bed" into something easy, delicious and soothing. Plus, indoor cleanup created this cobbler dessert thanks to some of last year's precious blueberries.
Leek Barley Soup
Serves 4
2 cups leek, sliced into ½ inch rounds
½ teaspoon ginger, finely minced
1 heaped tablespoon butter
4 cups chicken or vegetable stock
4 cups water
½ cup pot barley, washed and drained
Salt and freshly ground pepper
Chopped scallions for garnishing
Melt the butter in a large pot and sauté the leek and ginger until softened.
Add the chicken stock, water and barley and bring to a boil. Turn the heat down to medium low and simmer until the barley is soft, for about 40 minutes. Skim as necessary.
Adjust with salt and pepper and serve hot with scallions.
Blueberry Cobbler
Serves 6 to 8
Filling
1 ½ lbs frozen blueberries, thawed
Lemon juice from ½ lemon
1 teaspoon lemon zest
3 tablespoons cane sugar
1 tablespoon flour
Crust
1 cup all purpose flour plus extra for dusting
½ cup rolled oats
¼ teaspoon salt
2 teaspoons baking powder
4 tablespoons cane sugar
1 teaspoon lemon zest
1/3 cup cold butter, chopped into pea sized cubes plus more for greasing
1/3 cup 10% fat plain yogurt
1 tablespoon milk for brushing
Sour cream (optional)
Mix the blueberries, lemon juice, zest, sugar and flour in a large bowl. Transfer the blueberry mixture to a greased 9 inch round baking dish or shallow dish similar in size.
Preheat the oven to 375F with a rack in the centre.
Thoroughly combine the flour, salt, baking powder, and 3 tablespoons cane sugar in a bowl. Combine the remaining 1 tablespoon cane sugar and lemon zest in a small bowl and set aside.
In a food processor, pulse the rolled oats until coarsely ground. Add the flour mixture and pulse a few times to blend. Add the butter and pulse until the dough becomes flaky. Then, add the yogurt and pulse until the dough comes off from the side of the bowl of the food processor and becomes a mass.
Dust the work surface with flour and knead the dough a few times, forming into a ball. Flatten the dough with a rolling pin into a 2/3 inch thick disk. Cut the dough into squares.
Place the squares on top of the blueberries. Brush the squares with milk and sprinkle with the lemon zest sugar mixture. Bake until cobbles become golden and juice becomes bubbly, for about 40 minutes.
Serve warm with a dollop of sour cream.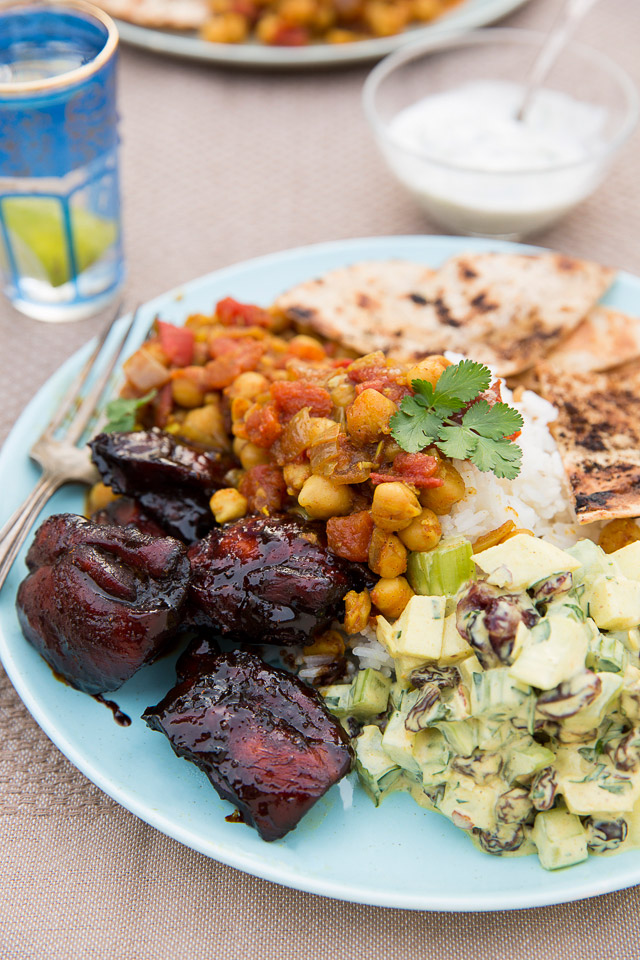 A big thank you to my friend Paula, who recently threw a beautiful Bollywood-themed birthday party, for kindly sharing some of her delicious recipes. This event also inspired me to create a wonderful curry dish. Now I'm able to pass these delights on to you!
At Paula's party, all of the guests appeared in colourful, gorgeous saris and brought with us tasty dishes to share. The night was filled with Paula and her talented musical friends' tunes; in fact, Paula possesses an extraordinarily beautiful voice and melted all of our hearts with her singing. Sunshine, good company, irresistibly tasty food, enthusiastic music–what more can you ask for? Thank you again for the wonderful time, Paula!
Chana Masala
Serves 6
2 tablespoons butter
1 tablespoon canola oil
Spices
1 teaspoon fennel or anise seeds
1 teaspoon ground coriander
1/8 teaspoon ground cardamom
1 teaspoon ground cumin
1 teaspoon Garam masala
½ teaspoon ground cinnamon
Pinch ground clove
1/8 teaspoon cayenne pepper
¼ teaspoon chili powder
1 teaspoon turmeric
1 large bay leaf, torn in a few pieces
1 large onion, finely chopped
2 garlic cloves, finely chopped
1 small knob ginger, finely chopped
4 tomatoes, finely chopped and juice saved (makes about 2 cups)
About 3 cups cooked chickpeas (I use cooked ones from 1 cup dried chickpeas)
1 ½ cups chicken stock or water
1 teaspoon salt or to taste
Freshly ground black pepper
3 cups cooked Basmati rice
In a large heavy bottomed pot, melt the butter, add the oil and fry all the spices over medium heat. When the spices give off a nice scent, add the onion, garlic and ginger and sauté until soft and onion becomes translucent.
Add the tomatoes and their juice, and cook until softened. Add the chickpeas, salt, generous amount of black pepper and chicken stock, and bring to a boil. Lower the heat and cook for 15 to 20 minutes.
Serve with Basmati rice.
Spicy Blackstrap Chicken
This chicken is quite sweet, but adds a nice caramelized smokiness to a plate of Indian cuisine. Combined together with the curry and the below salad, it is just perfect.
Serves 6-8
6 to 10 pieces of boneless, skinless chicken thighs, cut in about 2 inch pieces
1/3 cup unsulfured molasses
¼ cup cane sugar
½ teaspoon salt
½ teaspoon chili powder
½ tablespoon turmeric
½ tablespoon ground saffron
½ tablespoon ground cumin
½ tablespoon whole coriander seeds, freshly ground
Preheat the oven to 375F. Rinse the chicken and pat dry. Combine the molasses, sugar, salt and all the spices. Place the chicken in a large cast iron pan and pour over the molasses mixture. Roast until chicken produces a caramelized look, for about 35 to 40 minutes.
Serve hot along with below dishes.
Curried Apple and Celery Salad
Serves 6-8
¾ cup slivered almonds
4 sticks celery
2 medium apples (I like this salad with Granny Smith)
½ cup raisins or dried cranberries, or mixture of both
3 tablespoons parsley, chopped finely
Dressing
1/3 cup sour cream
2 tablespoons mayonnaise
1 teaspoon curry powder or a mixture of small amount of following spices;
Turmeric
Ground ginger
Ground coriander
Ground cumin
Garam masala
2 tablespoons freshly squeezed orange juice (from ½ orange)
Chop the celery stalks into ¼ inch pieces or, using a food processor, make small slivers. Peel, core, and chop the apples into ¼ inch pieces. Make dressing by thoroughly combining all the ingredients in a bowl.
Combine the almonds, celery, apples, raisins, parsley and the dressing in a large bowl. Keep refrigerated until serving time. Serve with the curry and the chicken.
Fried Cumin Tortilla and Cucumber Raita
Make a large platter
2 packages of whole wheat tortillas
Olive oil
Ground cumin
Coriander, freshly ground is preferred
Brush a cast iron frying pan with 1 tablespoon of olive oil, and add ¼ teaspoon of each cumin and coriander. When the pan is hot, add tortilla and fry until golden brown. Flip over and fry the other side. Repeat for the rest. Cut into wedges and serve around a small bowl of raita (recipe follows) on a large platter, pointy part facing toward the raita for a pretty presentation.
Cucumber raita
½ cup grated cucumber
¾ cup plain yogurt
¼ tablespoon ground cumin
½ tablespoon cane sugar
Salt
Combine all the ingredients in a bowl and stir well. Adjust the sugar and salt to your liking. Chill and keep refrigerated until serving time.