Peanut Butter Cookies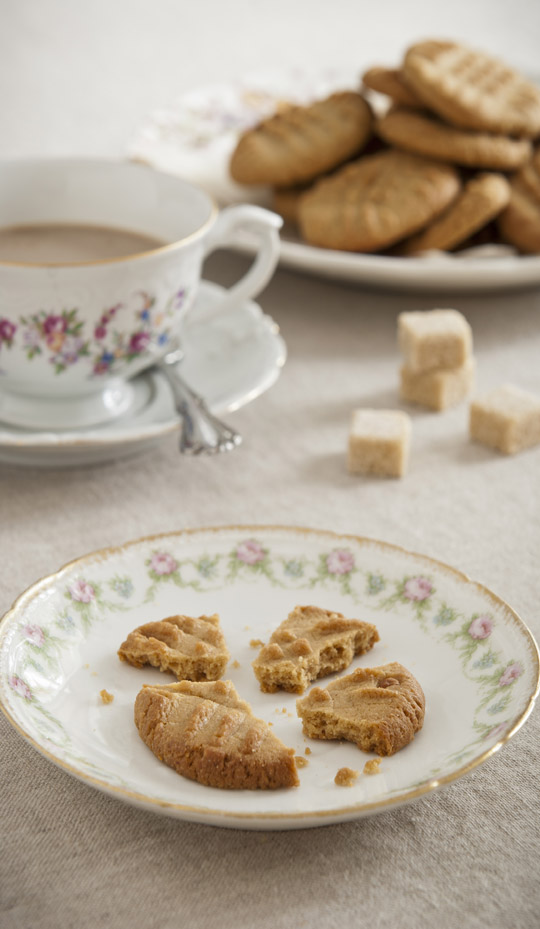 My partner, Pascal, was craving sugar and decided to bake something at 10:00 pm! All we had was a jar of organic peanut butter in the fridge. So I pulled an old baking book from the cupboard that I had brought from Japan and been using for over twenty years! I love this recipe because it's not too sweet. The key is to use a nice quality peanut butter.
Peanut butter cookies
Makes about 35 cookies
80g Butter, room temperature
80g Crunchy peanut butter
100g Brown sugar
1 egg
160g Unbleached all-purpose flour
1/2 teaspoon baking powder
*I use salted butter, but if you use unsalted, you might want to add a little bit of salt, say 1/4 to 1/2 teaspoon.
Preheat oven to 335 degrees F (300 degrees F for a convection oven). In a medium bowl, whisk butter and peanut butter until it becomes creamy. Add brown sugar little by little and whisk until pale and fluffy.
Beat egg into the peanut butter mixture. In a separate bowl combine flour and baking powder and add to the peanut butter mixture and blend in. If the mixture is too sticky, put in the fridge till it becomes hard.
On a lightly floured surface,  form the dough into a log about 5 cm in diameter and cut into 35 pieces.
Shape the pieces into rounds by hand and place on a cookie sheet lined with parchment paper. Crisscross mark them with the back of a fork.
Bake for 20 minutes, until brown. Let them cool on rack.