Nira-Tama (Garlic Chive Omelette)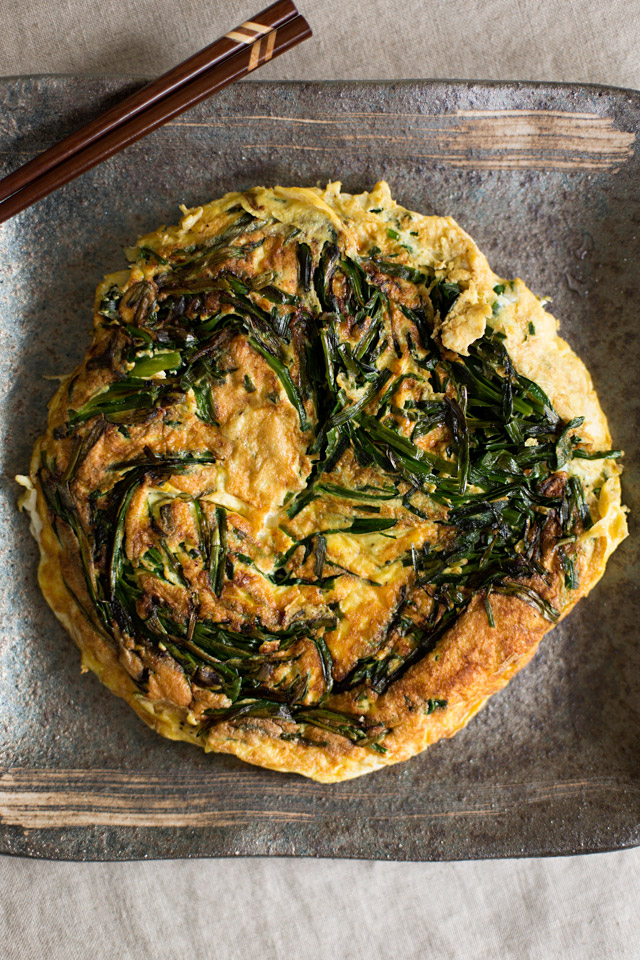 Garlic chive is one of vegetables I started to grow due to a lack of organically grown supply at my local market. It is important for me to know where food comes from and how it is grown (or treated) before it comes to my kitchen, and ultimately ends up on my plate. That's one of two reasons why I started my garden, beginning with a 12 x 15' community garden plot and expanding to my current front and back yard spaces. The other reason? I LOVE growing plants, and I love talking to my plants. Besides, how can I go back to conventional produce after tasting freshly-picked tomatoes still warm from the sun's energy or sweet, brightly coloured carrots that I have just dug from the ground myself and which possess the concentrated flavours of home?
Garlic chive is a staple ingredient in Japanese/ Chinese cuisine; toss it into miso soup with thinly cut abura-age (deep fried tofu), stir-fry with pork liver and mung sprouts, or combine with cabbage for gyoza or to create aromatic dumplings.
Nira-Tama was my childhood favourite when my grandma used to make it, and later became a before-pay-day meal when I was in a college. Now with home-grown garlic chives, it has become an easy, quick and nutritious dinner solution when I am in a hurry.
Nira-Tama with Ankake (Sweet & Sour Sauce)
I used an ankake recipe that I had jotted down on a piece of paper so many years ago and that I recently rediscovered in my cooking journal. It is probably from my colleague in Tokyo who made amazing meatballs that were dunked in this sauce.
Serves 4
6 eggs, room temperature
Salt and pepper
1 bunch garlic chives, cut into 1 inch pieces
1 tablespoon vegetable oil
Ankake
1/3 cup plus 1 tablespoon water
6 tablespoons rice vinegar
1 ½ tablespoons soy sauce
4 tablespoons sugar
1/3 to 1 teaspoon sea salt
3 tablespoons good quality ketchup
1 tablespoon toasted sesame oil
3 teaspoons corn starch
Make ankake by placing all the ingredients, except the cornstarch, in a small saucepan over medium high heat. Bring to a boil and cook for a few minutes to dissolve the sugar and salt.
In a small bowl, mix the cornstarch well with 3 teaspoons of water. Add to the boiling sauce and stir constantly, cooking for a couple of minutes. Cover and remove from heat.
Place a well-seasoned or non-stick medium sized pan (mine's a 9-inch skillet) over high heat and warm up the oil until smoky hot.
In the meantime, whisk the eggs in a medium bowl and add a hearty pinch of salt and pepper.
Sauté the garlic chives in the pan until wilted. It will only take a minute or two. Then spread the chives evenly on the pan.
Pour the eggs over top, swirling to cover the chives and ensuring that the mixture reaches to the edges of the pan. Turn the heat down to medium, cover and cook until the bottom of the eggs become golden.
Flip carefully with a heat-proof spatula, being careful not to break the eggs. Cover and cook until raw egg whites have just set. Don't overcook because you want to keep the eggs nice and fluffy!
Serve hot with ankake on a large platter or cut into pieces for individual plates.