MEAT & BREAD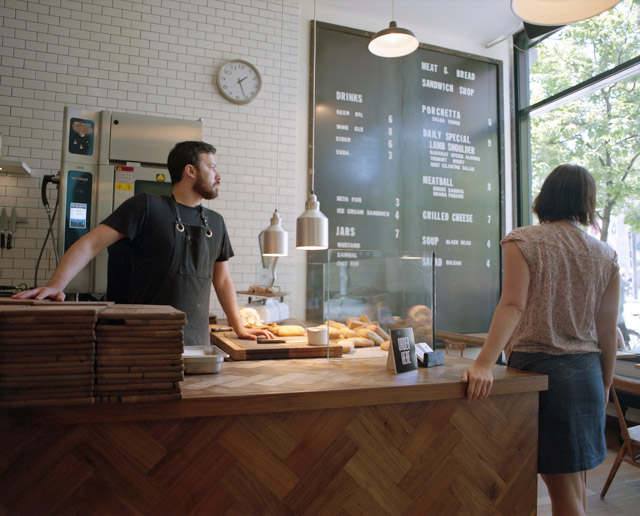 Since there is not much excitement in my garden right now (besides that which I get from snipping arugula and spinach leaves and admiring flowers on potato plants…), I thought I would share my first experience at MEAT & BREAD in Gastown, Vancouver.
As I've always seen long lines plus a huge crowd of people inside and out in front of the restaurant, I was worried that we might not get seats when we arrived around lunch time. Thankfully, it turned out that just before 2 pm was no so bad.
The place was so photogenic that I couldn't stop myself from quickly snapping a few shots. The photographs shown here are only the tip of the iceberg, and I cannot wait to go back with a faster roll of film, especially to capture interesting props in the backside of the space and of course, to try their other sandwich varieties!
My porchetta sandwich, and what seemed a bowl of wheat bulgur (correct me if I'm wrong) salad, were absolutely delightful. The salad reminded me of the dish I used to make with couscous in the heat of summer days. So here I did my best to simulate the delectable salad I enjoyed at this restaurant. Hope you can visit this cool place on your next trip to Vancouver!
Oat Groats and Radish Salad
I substituted wheat bulgur (I think) for oat groats, since this was the only close thing that I could find from my local organic store. In return, the salad got a chewier texture that I really enjoyed! Make sure you have extra, because it is so tasty the next day.
Serves 4 to 5
1 cup oat groats
3 cups chicken or vegetable stock, or water
¼ teaspoon sea salt
½ red onion, thinly sliced
1 cup cucumber, cut into ½ inch cubes
2 tomatoes cut into ½ inch cubes
1 bunch radishes, leaves removed and sliced
A few leaves of parsley, finely chopped
Lemon juice from ½ lemon or to taste
A few swirls of extra virgin olive oil
Salt and freshly ground pepper
Rinse the groats. Bring the groats, stock and salt to a boil. Cover, turn the heat down and simmer for 50 to 60 minutes. Remove from heat and let stand for 10 minutes.
Rinse the groats under cold water and drain well. Place in a large mixing bowl along with onion, cucumber, tomatoes, radish, and parsley.
Add the lemon juice and oil, and adjust with salt and pepper. Mix well and let stand for 20 minutes in a refrigerator or until serving time.