Leek Barley Soup & Blueberry Cobbler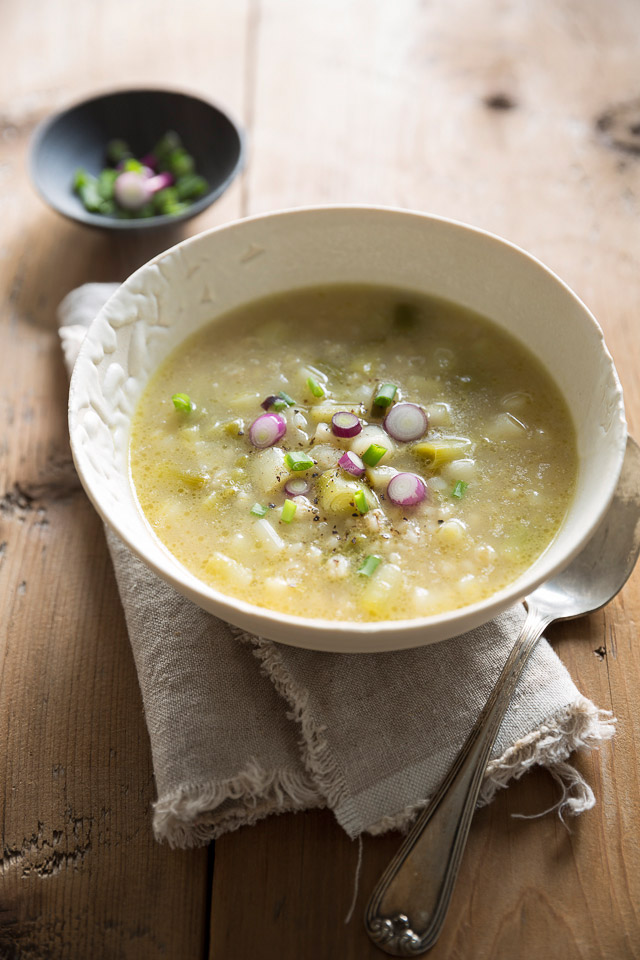 I enjoy the time when I lift remnants of the last year from the garden, in order to prepare the beds for a new cycle to come. Every year, I am reminded of some of the amazing and sometimes mysterious works of Mother Nature. Lots of hopes, failures, disappointments, frustrations, patience, joy, appreciation, peacefulness and simple happiness–I get these feelings through gardening. Yet all sensory experience really physically kicks chemicals in my brain when working with living plants. They are something so basic and organic yet fundamental in humans' life in this ever changing world. It is indeed as if I am learning about life itself. This experience has become so much more than just gardening to me. And at the end of the day, I know that there is always a good meal to follow using what's in season. In fact, it is most exciting to transform these bits and pieces into something hearty and tasty. I begin to feel a sense of triumphant satisfaction regardless of the type or amount of produce on hand, be it a huge bunch of leeks or a handful of cilantro leaves.
In this post, I'm excited to share this soup made with the leeks that just came from a few feet away as a result of my spring cleanup. It was such a reward to turn the last bits of the "onion family bed" into something easy, delicious and soothing. Plus, indoor cleanup created this cobbler dessert thanks to some of last year's precious blueberries.
Leek Barley Soup
Serves 4
2 cups leek, sliced into ½ inch rounds
½ teaspoon ginger, finely minced
1 heaped tablespoon butter
4 cups chicken or vegetable stock
4 cups water
½ cup pot barley, washed and drained
Salt and freshly ground pepper
Chopped scallions for garnishing
Melt the butter in a large pot and sauté the leek and ginger until softened.
Add the chicken stock, water and barley and bring to a boil. Turn the heat down to medium low and simmer until the barley is soft, for about 40 minutes. Skim as necessary.
Adjust with salt and pepper and serve hot with scallions.
Blueberry Cobbler
Serves 6 to 8
Filling
1 ½ lbs frozen blueberries, thawed
Lemon juice from ½ lemon
1 teaspoon lemon zest
3 tablespoons cane sugar
1 tablespoon flour
Crust
1 cup all purpose flour plus extra for dusting
½ cup rolled oats
¼ teaspoon salt
2 teaspoons baking powder
4 tablespoons cane sugar
1 teaspoon lemon zest
1/3 cup cold butter, chopped into pea sized cubes plus more for greasing
1/3 cup 10% fat plain yogurt
1 tablespoon milk for brushing
Sour cream (optional)
Mix the blueberries, lemon juice, zest, sugar and flour in a large bowl. Transfer the blueberry mixture to a greased 9 inch round baking dish or shallow dish similar in size.
Preheat the oven to 375F with a rack in the centre.
Thoroughly combine the flour, salt, baking powder, and 3 tablespoons cane sugar in a bowl. Combine the remaining 1 tablespoon cane sugar and lemon zest in a small bowl and set aside.
In a food processor, pulse the rolled oats until coarsely ground. Add the flour mixture and pulse a few times to blend. Add the butter and pulse until the dough becomes flaky. Then, add the yogurt and pulse until the dough comes off from the side of the bowl of the food processor and becomes a mass.
Dust the work surface with flour and knead the dough a few times, forming into a ball. Flatten the dough with a rolling pin into a 2/3 inch thick disk. Cut the dough into squares.
Place the squares on top of the blueberries. Brush the squares with milk and sprinkle with the lemon zest sugar mixture. Bake until cobbles become golden and juice becomes bubbly, for about 40 minutes.
Serve warm with a dollop of sour cream.