Kuri Gohan & Tonjiru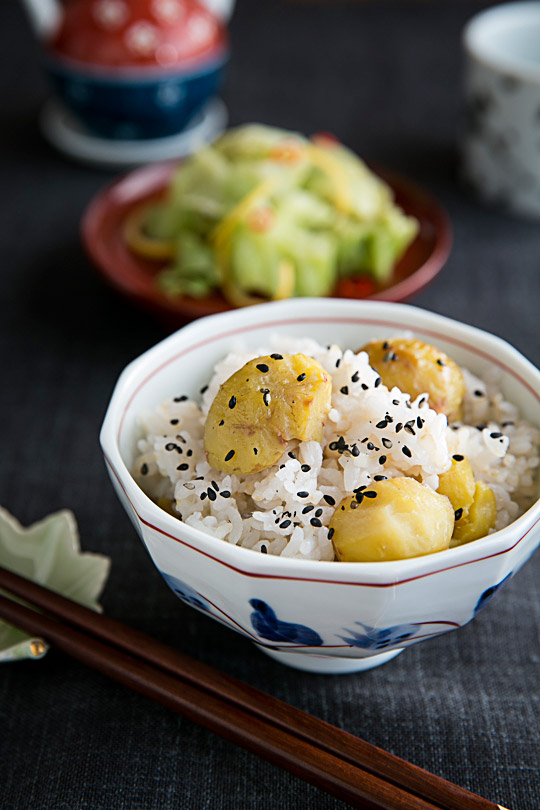 After my mom left, many kind hearts looked after my sister and me. We were consoled by my grandma, our aunties and uncles, and my father's colleague Mrs. Tajima. We were about 8 years old and Mrs. Tajima had children who were in junior high, so sometimes she came to our apartment to help us with chores or brought us to her house after school. This was when I discovered a love of chestnuts. Boiled, steamed or roasted, I loved eating these nuts, as to me they encompassed a whole autumn season on a plate.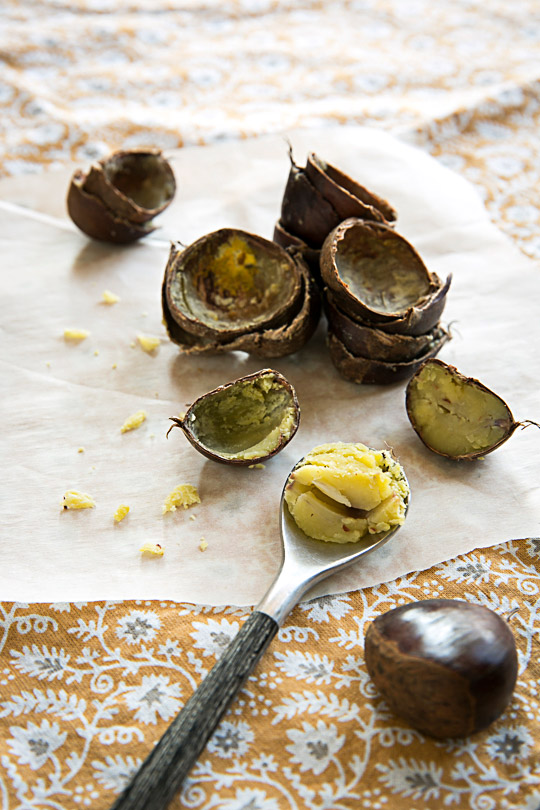 Mrs. Tajima's children taught us how to spoon the nutty dense meat out of the steamy hot chestnuts. My fingernails ended up all yellow and sweet, with hard brown shells piled up on a table. After working hard to extract the chestnut meat, we happily ate the delicious chestnuts with a glass of milk. Today, when I close my eyes and discern the flavour of each chestnut in the rice, I wonder how Mrs. Tajima is doing, and suddenly remember the way she wiped my wet hair in the evening light with me burying my head around her tummy and wondering if this was how my mother would smell. Cooking chestnuts always brings back this memory and the warmth of Mrs. Tajima.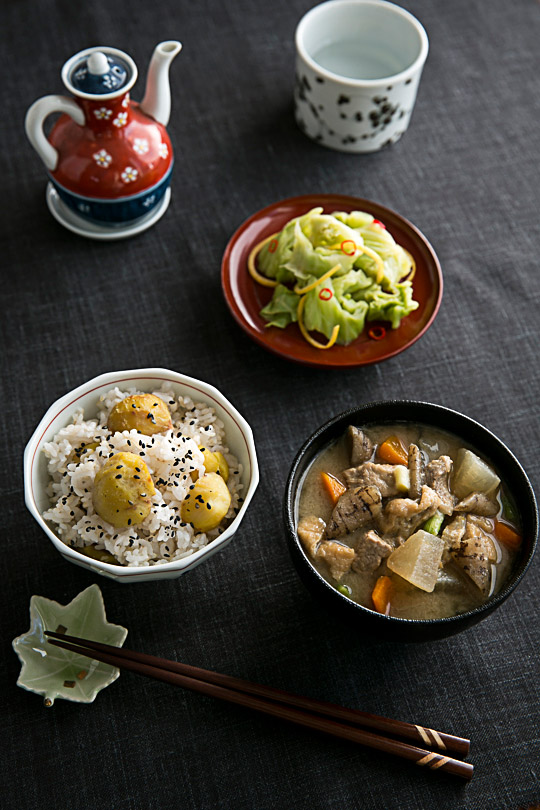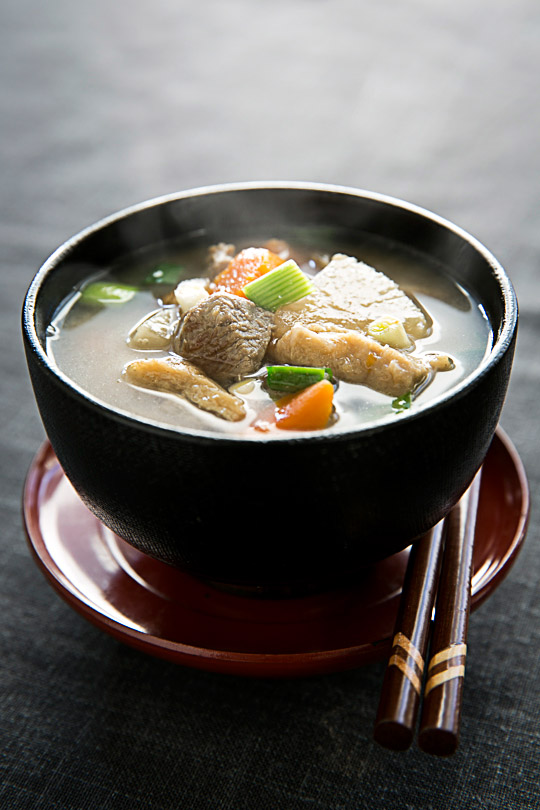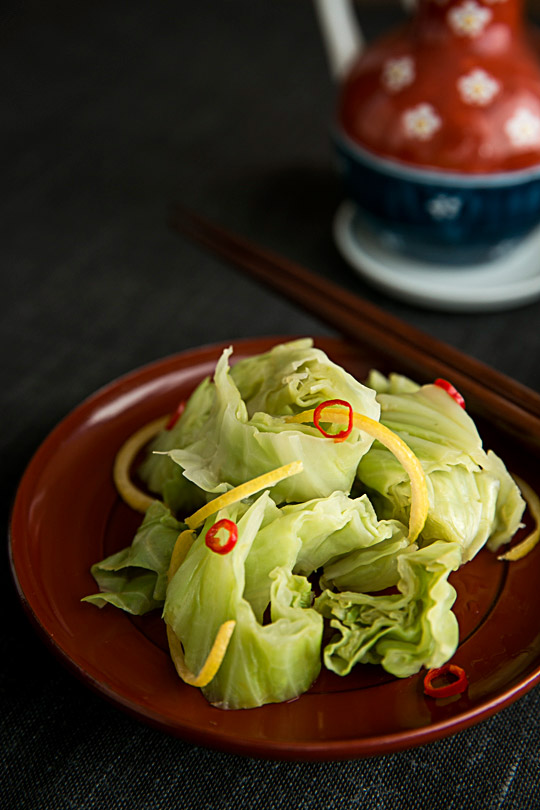 Kuri Gohan (Chestnut Rice)
Serves 6
30 plump chestnuts
1¼ cups white rice
1 cup (250ml) brown rice
2½ cups water
2 tablespoons sake
½ teaspoon salt
For sprinkling
Roasted black sesame seeds
Sea salt
Rinse the chestnuts, place them in a large bowl, and cover with cold water over night.
Next day, rinse the chestnuts and place them in boiling water for a few minutes. Let them cool off in the water. Peel the skin with a small knife, being careful not to break the chestnuts. Soak them in water for 30 minutes.
In the meantime, wash the rice well and change water a few times until water becomes clear. Place in the bowl of a rice cooker with 2½ cups water.
Rinse the chestnuts and drain well. Place the sake and salt in the prepared rice and stir to mix. Lay the chestnuts on top of rice evenly and cook (If you don't use a rice cooker, you can cook the same way you normally cook the rice in a pot).
Combine the sesame seeds and salt in a small bowl. Serve immediately with sesame mixture lightly sprinkled on top.
Tonjiru (Pork & Vegetable Miso Soup)
I always make a plenty of this dish because the flavour gets even better the next day!
Serves 6-8
1 large gobo, skin removed and cut lengthwise and then, into 1 inch pieces
6 inch daikon, peeled and cut into 1 inch cubes
2 large carrots, peeled and cut into 1 inch cubes
1 tablespoon vegetable oil
1 tablespoon roasted sesame oil
1 lb pork centre loin chop, boneless, cut into 1 inch pieces
8 cups water
2 sheets abura age, cut into ½ inch strings
2 leeks, cut into ½ inch pieces
1/3 cup to ½ cup red miso and white miso (I like mixing half and half)
Soak the gobo in cold water, changing the water a couple of times until it becomes clear, about 20 minutes. Drain well.
In a large heavy bottomed pot, heat the oil over medium high heat and sauté gobo. Then, add daikon, carrots and pork until they are nicely coated with oil, for about 15 minutes.
Add water and bring to a boil. Skim occasionally and simmer for 30 minutes.
Rinse the abura age by pouring boiling water to remove the excess oil. When cool, squeeze the moisture out and add to the soup.
Add the leek and cook further, about 10 minutes or so.
Turn the heat down to low heat, place the miso in a ladle and melt gradually into the soup. Never boil miso soup, as this will destroy the subtle umami flavour.
Gentlly simmer for about 10 minutes.
Serve while hot.
Ohitashi with Cabbage
½ head of cabbage
½ organic lemon
1 Thai pepper, chopped thinly
2 tablespoon dashi stock or water
2 tablespoons soy sauce
Boil water in a medium pot and submerge the cabbage for about 5 minutes. Drain well.
In the meantime, extract lemon juice for about 1 tablespoon. Peel the rind and cut into thin strips for ½ tablespoon. Combine the juice, dashi and soy sauce in a small bowl.
When cabbage is cool, squeeze the moisture out and cut into ½ inch pieces.
Mix the cabbage, lemon rind, pepper, and lemon juice mixture and serve immediately.