Katsudon – Pork Cutlet Bowl with Rice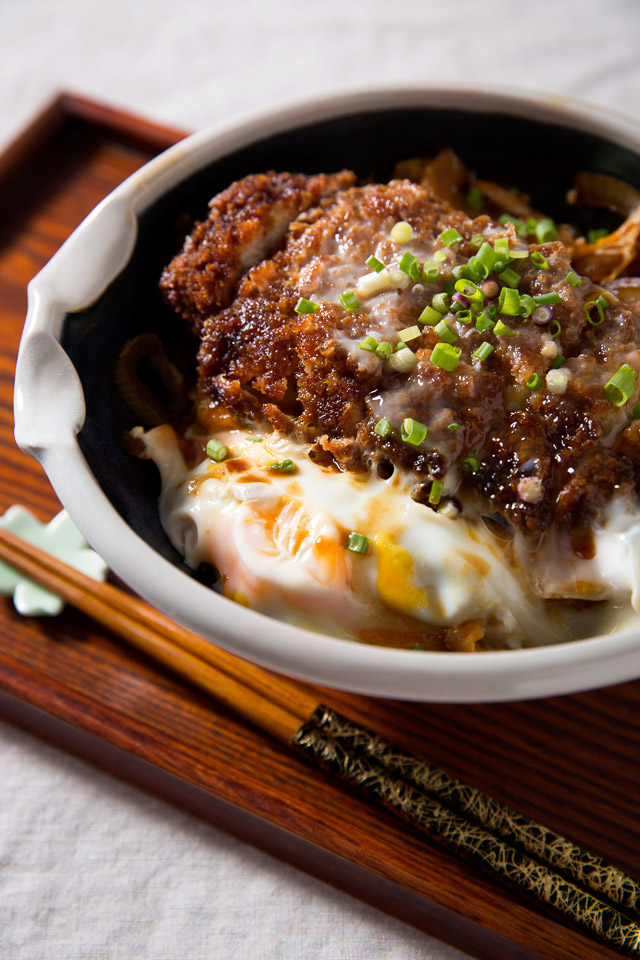 Unofficially, I ended up sorting through Japanese recipes here in my March posts. As someone who has moved from one country to another, from city to city, I have never felt that I had a place to really call home. Japanese cuisine and, of course, my partner, are essentially my home, allowing me to  feel most comforted wherever I am; maybe that's what I've been needing lately.
Undoubtedly, when I think of comfort food, katsudon comes to mind. I recall working at one of the reputable tonkatsu (specializing in pork cutlets) restaurants, called Wako, in Shinjuku during my university year, honing my skills in the kitchen with an enthusiastic Japanese chef and another chef who had French cuisine training under his belt. I learned not only how to cook but also why we cook. The ultimate answer was the pleasure of serving good and delicious food to those who love to eat! This mentality has always been inside of me, both before and after this experience, and to this day I remain unchanged. I wish I could track down those colleagues who cooked the most intricate and delicious lunches for us employees every single day–we had the greatest team in the kitchen!
Katsudon – Pork Cutlet Bowl with Rice
The key to restaurant-quality katsudon is all about using good quality pork and bread (plus the secret sauce). My soba sauce recipe is very similar to what I used to concoct every week in a huge batch within Wako's kitchen. Thus, I still make batches big enough to last for a few months in my fridge, and I ensure that they keep moving with me, wherever I go! The best texture is achieved by making your own homemade panko on which you nestle the pork, creating a veritable bed of sweet, fluffy panko. The size of the skillet matters as well; try to use the smallest one in which you can fit all the ingredients in order to ensure even cooking during the shortest possible time.
Serves 2
2 pork centre loin pieces, about 1 inch thick, boneless
Salt and pepper
All purpose flour
1 egg + 2 tablespoons water, beaten well
2 cups fresh white bread, torn in large pieces (for making panko)
Oil for deep frying
½ onion, sliced into ¼ inch pieces
3 tablespoons soba sauce or more to your liking
Or a mixture of 1 tablespoon sugar, 2 tablespoons soy sauce and 1 tablespoon mirin
2 eggs, beaten very lightly
Green onions, scallions or chives, chopped finely
Cooked white rice
Rinse and pat the pork until dry. Season with salt and pepper. Place the bread pieces in a blender and roughly grind until they look like large snowflakes. Don't grind to the size and texture of store-bought panko, as larger flakes are key to making the pork cutlet fluffy and textured.
Prepare the breading station by placing flour, beaten egg, and breadcrumbs in separate shallow bowls.
Do one piece at a time. Evenly coat the pork with flour, removing the excess, and then coat with egg. Lay the pork on the bed of breadcrumbs and cover the top with plenty of the crumbs as well. Press gently but firmly. Refrigerate, covered with a piece of clean wrung cloth or Saranwrap, for at least 10 minutes to moisten the breading. This makes breading adhere well and ensures an ideal texture.
In the meantime, warm oil to 345 to 355 F in a deep-rimmed pan, enough for deep frying.
Deep fry the pork until golden brown. Flip when halfway done. Test the doneness by slicing the thickest part. It is finished if the pork is light pink in colour and the juice is clear. Rest the pork on a rack for 5 minutes. Slice into pieces that are easy for you to eat.
Place the soba sauce, or the mixture of sugar and soy sauce, plus 2/3 cup water in a small skillet over medium heat. Cook the onion until tender. Place the sliced pork pieces in the skillet, and pour some sauce over top; cook for a couple of minutes. Pour the lightly beaten eggs over top, cover with a lid and cook for another 15 seconds, until eggs are half cooked. Serve over the cooked white rice, scattering the green onions on top.