Kale & Great Northern Bean Soup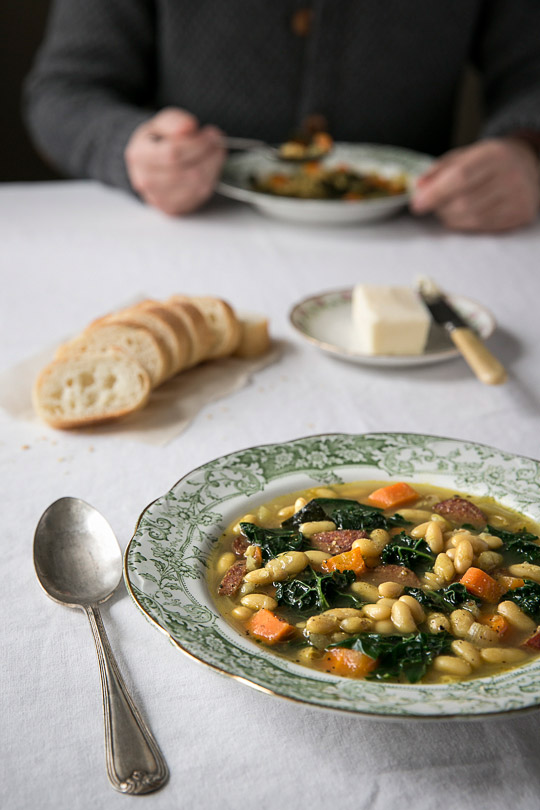 I thought I would share a garden update with you: what's in my garden at the end of November? The lettuce that I sowed in mid-September is now disappearing and turning into what seems like camping sites for slugs. On the plus side I have plenty of garlic chives that I love tossing into my miso soup with tofu. Also the cilantro is still holding strong, brightening our meals every day, as well as rows of skinny leeks, shabby looking Brussels sprouts, Swiss chard, and the rest is kale, kale and more kale.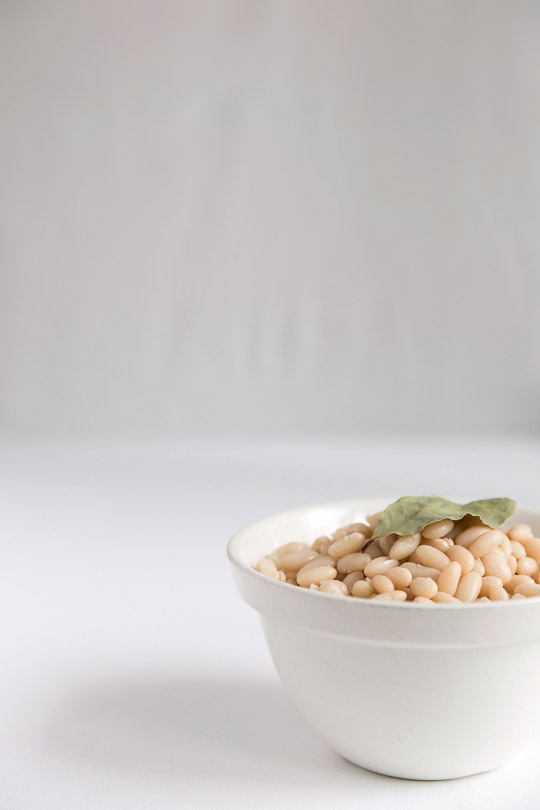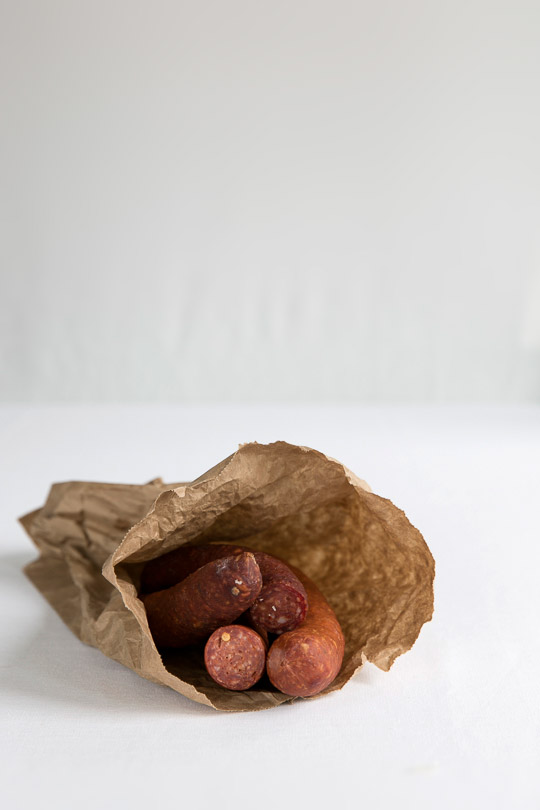 I have different kinds of kale plants in the garden but so far my reliable ones are heirloom Lacinato kale, which I love for its bug/disease resistance, and Red Russian, which has great cold resistance. We can never have enough kale in our household thanks to its vitamin and calcium content, as well as its renowned anti-cancer properties. The leaves at the bottom part of the kale plant get tough this time of year, so it is a welcome ingredient for soup.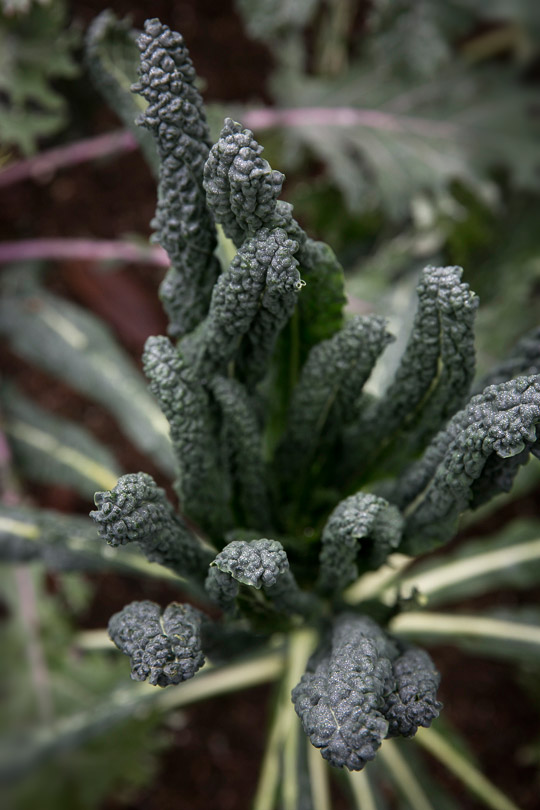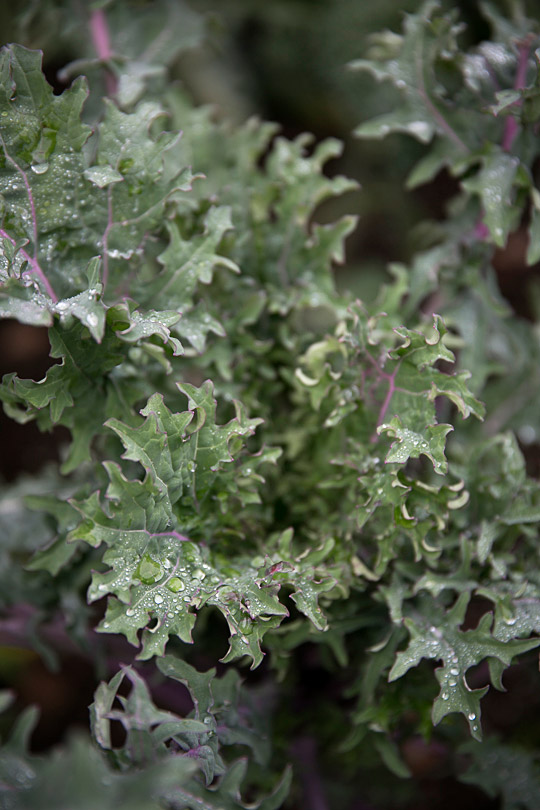 In a cold storage, aka simple lidded containers filled with peat moss in the garage, we have carrots and beets, separately stored. I hadn't had success in leaving carrots in the soil during winter due to the volume of rain (that equals too many slugs) here in the West Coast, so I pick before the rainy season starts every year. If you want more details on how to store them, check this post. Our 5-tier storage shelves are also lined with bright orange pumpkins, glossy kabochas and warty Marina Di Chioggias. So you might see a lot of pumpkin desserts for the next few posts, but I know you won't be disappointed! But for now, here is warm kale soup for you. And if you are hooked on kale, there are more recipes, check here.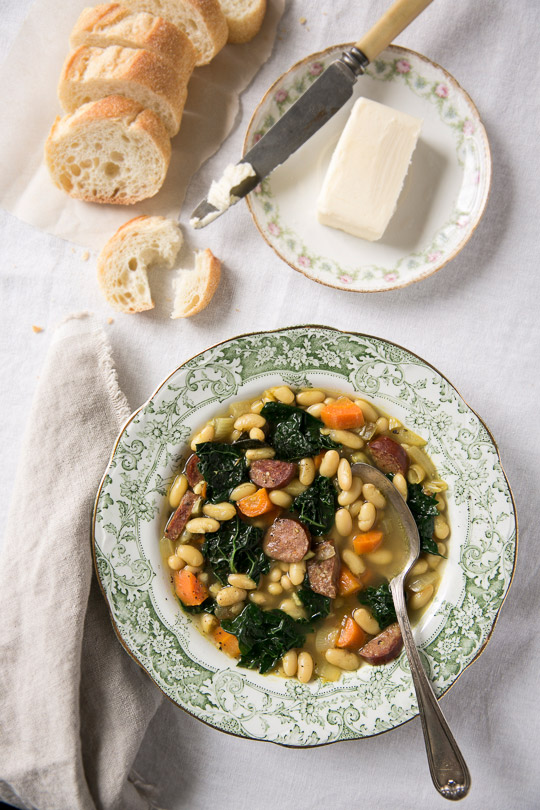 Kale & Great Northern Beans Soup
Serves 6
1 cup Great Northern Beans, soaked overnight
1 tablespoon butter
2 garlic cloves, finely chopped
1 small knob ginger, finely chopped
2 teaspoons cumin seeds
1 onion, diced
1 carrot, diced
1 stalk celery, diced
2 dry sausages of your choice, sliced
2.5 L chicken stock, vegetable stock or water
2 teaspoons turmeric
2 bay leaves
A big bunch of kale, stalk removed and cut into 1 inch length
Salt and pepper
Truffle oil or olive oil for finishing
Cook the beans for 25 minutes, then add a bay leaf and dash of salt. Continue to cook until soft, for about 20 minutes.
Sauté the garlic, ginger and cumin with butter in a large pot over medium high heat. Add onion, carrots, celery, and sausage. Continue to sauté till they are nicely coloured.
Add the chicken stock, and bring to a boil. Skim occasionally. Add the turmeric, a bay leaf and beans, and then turn the heat down. Simmer for another 25 minutes.
Add kale and cook until it is tender, for about 10 minutes. Adjust with salt and pepper. Serve with a dash of oil. I like adding a few drops of truffle oil for its rich aroma.