Hummus and Signs of Spring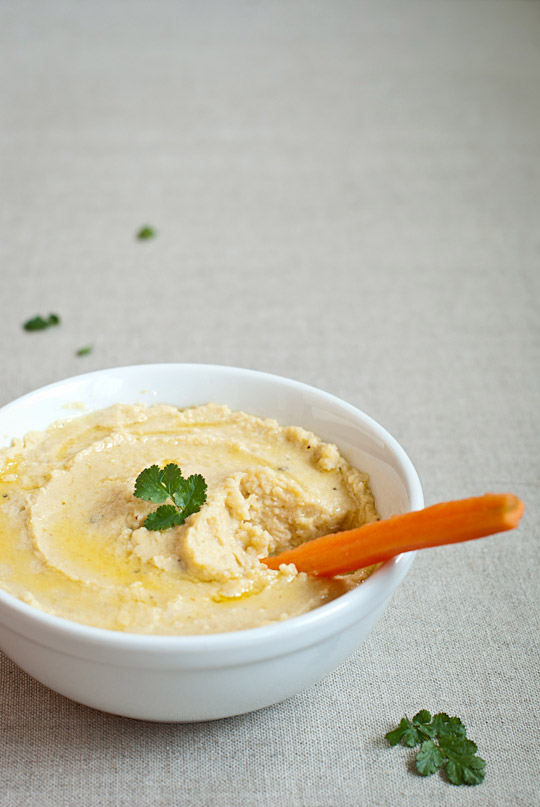 I have cooked this recipe many times whenever I craved fresh, crunchy raw vegetables. It is a healthy snack, allowing us to consume both legumes and nutritious, multicoloured vegetables on the go! As a matter of fact, this recipe was one of the meals that we packed when we drove across the country, not once but twice, to Quebec to see Pascal's parents. It's not only nutritious and easy to eat while driving across the prairies, but also the crunching action kept us awake through the ever changing sceneries.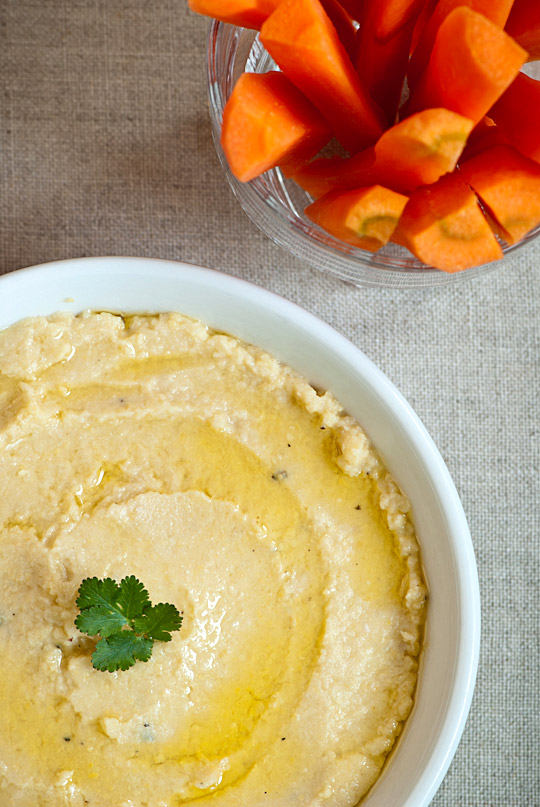 Another of my favourite ways to enjoy this beautiful creamy hummus is to smear the hummus generously on a slice of pumpernickel and crack extra black pepper on top. Sprinkle it with hot flavoured sprouts to finish! So many layers of flavours melt in your mouth to satisfy your taste buds.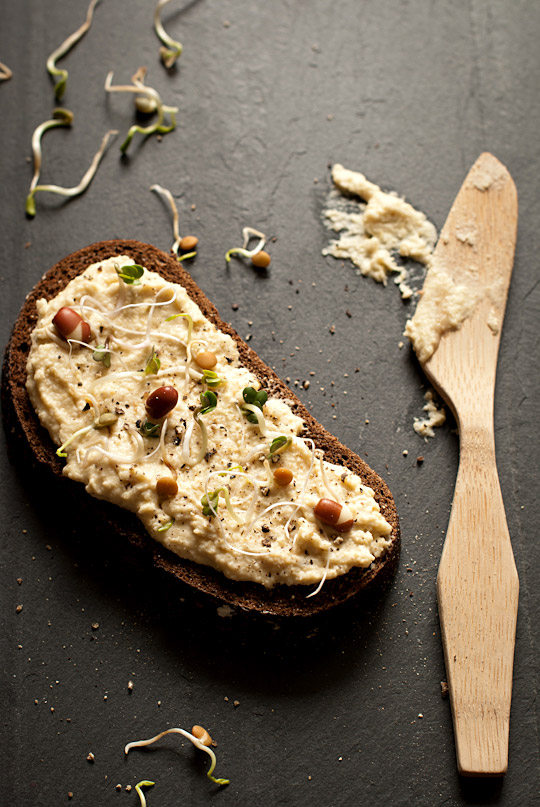 I grow carrots in succession, planting from late spring to mid summer to make sure we have them all year long, especially for winter. I have so far tried two methods of storing carrots. One method is to store them in a large container like a garbage can with a lid (I use it for storing food only!). I harvest whatever is left in the garden in late fall and select only non-blemished examples, leaving soil on them and trimming the tops with a knife. Here are the steps you can follow to properly store carrots during winter months:
Line the storage container with a recycled plastic bag,
Place some peat moss at the bottom of the container, and lay the carrots on top, leaving some room between them. Cover with more peat moss, making layers so that the carrots are not touching to each other. Repeat this up to the rim of the container.
Close the bag, put the lid on and leave it in a cool, but not freezing, space such as a garage. The carrots may become hairy, but they will keep well into late spring.
After using all the carrots, I simply recycle the peat moss by sprinkling it around my acid-loving blueberry bushes.
The second storage method is to leave the carrots that I started in mid summer in the ground all winter. I cover the carrots with a piece of cloche (Remay cloth), and set up hoops over the carrot patch. Then, I place a heavy duty plastic sheet over the top to protect them from the harsh freezing temperature. This way, they don't freeze and become mushy. By experimenting with these two methods, I'm more inclined to use the first one because I have discovered that some carrots rotted underground despite my best efforts to baby and blanket them for their comfort during the winter! Also, it makes sense to replenish the garden by sowing cover crops, like fall rye, for the coming season. The garden needs rest in winter as much as we urban gardeners do!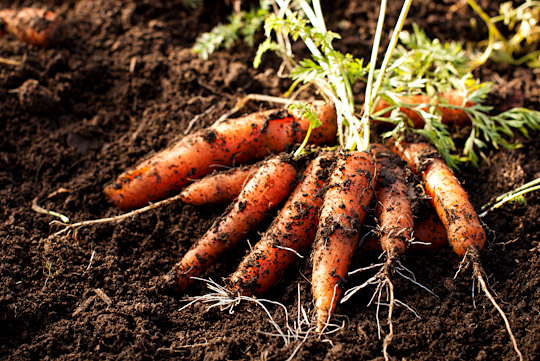 I know that spring has arrived each year when my bulbs finally bloom and fill the air with their sweet scents. I love spring bulbs for never failing to bloom when we really need some colours this time of year in the garden. It's worth putting in the effort to plant them in the fall, which I only had to do once when we moved here from Main Street. Now, these perennial bulbs show this amazing display of white snowdrops, yellow, pink and purple crocuses, and blue irises, and that's just for starters! When they start fading, bright blue coloured scilla, cream/ red diminutive tulips and 18 inch tall salmon pink French tulips fill in the space every spring!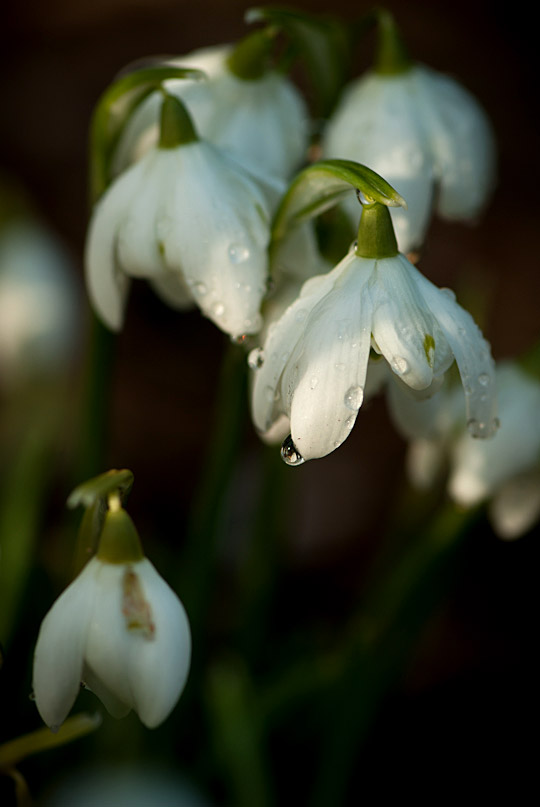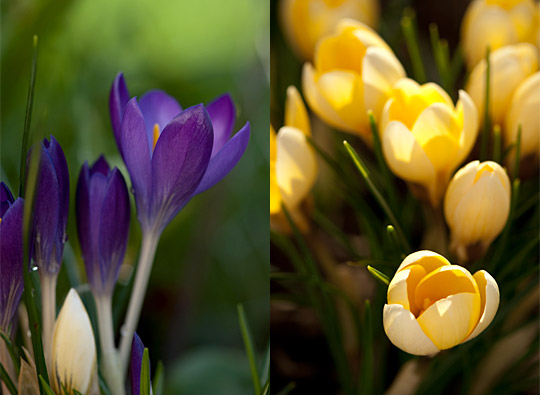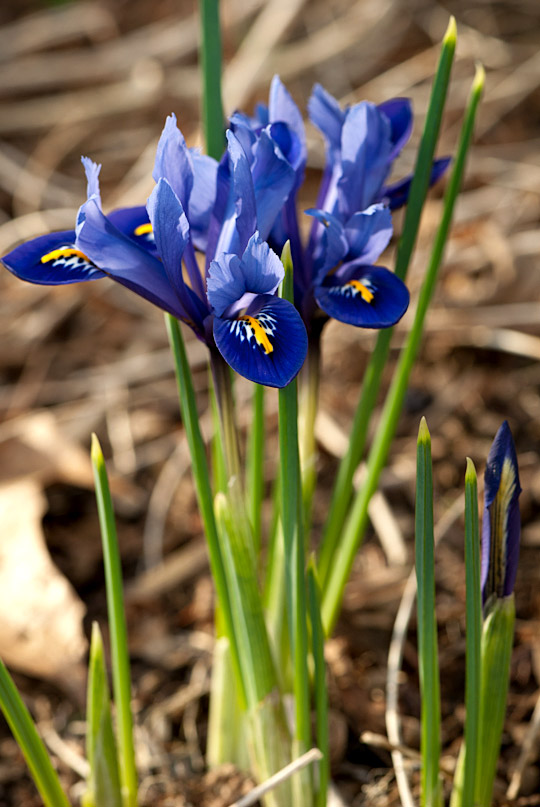 Hummus
Serves 8-10
1 cup dried chickpeas (garbanzo beans)
1 medium onion, peeled but left whole
4 to 5 cloves garlic
Juice of 1 1/2 large lemons, or to taste
3 tablespoons tahini
5 tablespoons olive oil
Sea salt and freshly ground pepper
A few leaves cilantro
Soak the chickpeas in cold water and leave overnight at room temperature. Rinse the chickpeas next day and cover with cold water in a large pot. Do not add salt at this point.
Bring to a boil and boil rapidly for 10 minutes, occasionally removing foam that floats on the surface. Add onion and 2 whole cloves of garlic. Continue simmering until the chickpeas are tender, for about 1 to 1 1/2 hours. Add hot water as necessary to keep the chickpeas well covered during cooking.
Drain the chickpeas, reserving some liquid, and discard the onion and garlic. Place the chickpeas in a food processor and add 2 cloves of garlic, the lemon juice, tahini, 3 tablespoons of the reserved liquid and 4 tablespoons of olive oil in a slow and steady drip. Blend until smooth. Taste and add salt and freshly ground pepper, more lemon juice, and garlic as desired. The hummus should be nice and fluffy; if it's too thick, add more of the reserved liquid.
Serve in a bowl, smooth the surface and spoon the remaining olive oil on top to prevent it from becoming dry. Garnish with cilantro.
Adapted from Linda Collister's Sensational Sauces.