Green Week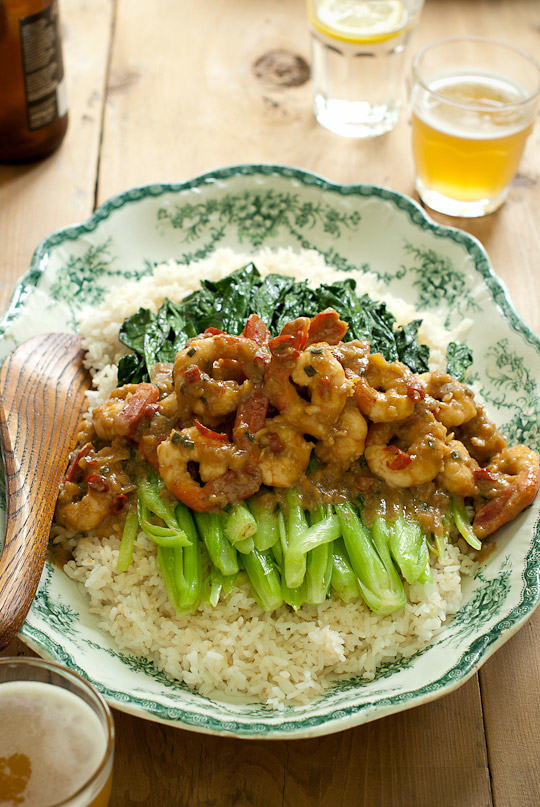 It seems as if we have been making up for the wintertime when the greens were scarce but tons of sprouts and stored vegetable dishes were on the table, because we have been devouring the greens: spinach frittata, spinach goma ae, salad with arugula, mizuna, various forms of lettuces and mustard greens, bok choy, and tah tsai for stir-fries. In other words, this is an opportunity to tuck these tender leaves in any recipes I encounter. After two weeks of hard rain (and the rain continues), these greens from my garden are more abundant than those that line the shelves at a grocery store, the difference being that mine are the freshest, tastiest organically grown produce around and haven't traveled long distance to feed us.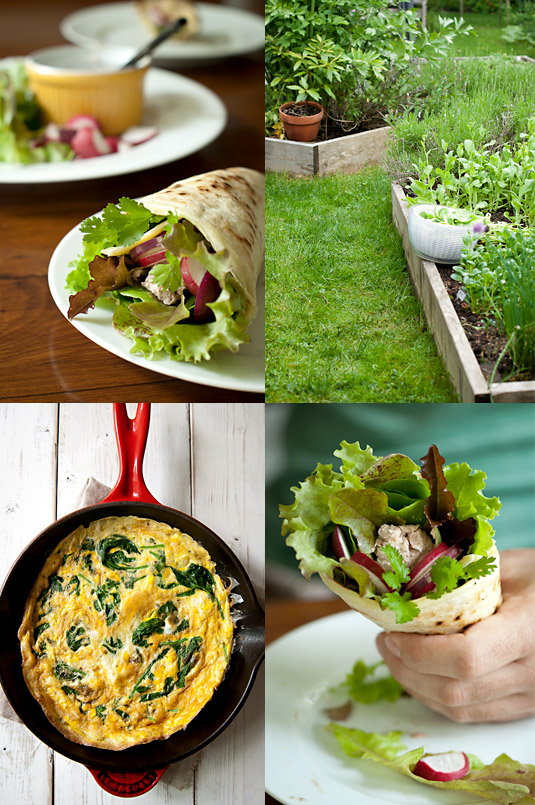 This rain also brought us back to the life of a fireplace and warm food inside the house. Simply put, Mother Nature decides for us as to what to cook, and I personally like this seasonal way of eating. As my gardener friend states, "the bright side of having so much rain is that we don't need to spend time watering vegetables." It is true that I don't have to worry if there is enough water in the soil so my greens stay crisp and sweet; a seasoned gardener always knows best. Looking out through the windows, it is obvious what we will eat for lunch today; grilled cheese sandwiches with a kick of mustardy flavour from mizuna leaves in between the bread.
It's impossible to ignore the army of greens standing up strongly, trying to reach the sky, and frankly it is overwhelming. So I call this week's post "Green Week." For some reason, I feel that now is also a good time to go meatless. Of course one cannot skip dessert, so I made a lighter version of a special treat that I feel somehow corresponds with the green theme. It's French vanilla blueberry frozen yogurt. However, if you are prepared to eat heavier ice cream, here is the recipe.
But first things first. Let's start with some delicious and nutritious dishes you can make using this wealth of greens before I go on to tempt your sweet tooth with the frozen yogurt recipe!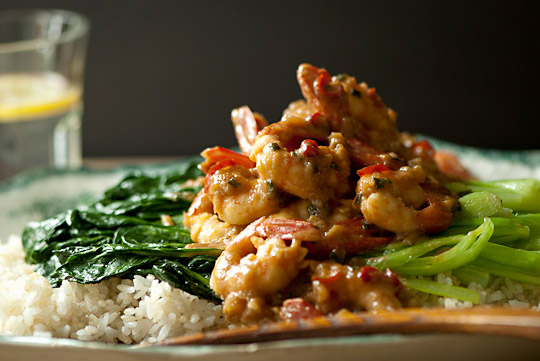 Spicy Spot Prawns with Tah Tsai
I cook this recipe all year around with tofu and any greens available, say with kale in winter, tah tsai or bok choy in spring and green beans in summer. Of course I used spot prawns to celebrate its season and that allows me to achieve the maximum flavour this recipe can ever get. Make sure you have a lot of greens on hand because they cook down to NOTHING!
Serves 3-4
2 garlic cloves, finely chopped
A knob of ginger, finely chopped
1 tablespoon scallions or green onion, chopped
2-3 red chili peppers, seeds removed, sliced thinly
20 spot prawns, head and shells removed (or 1 lb silken-firm tofu)
3 big bundles of tah tsai (or more), cut in half or ¼ lengthwise
4 tablespoons vegetable oil
1 tablespoon sesame oil
1 tablespoon cane sugar or brown sugar
2 tablespoons Chinese chili bean sauce, or Japanese miso for a non spicy version
3 tablespoons soy sauce
2 tablespoons sake, white wine, beer or water
1 tablespoon cornstarch
1 tablespoon water
Salt and pepper
3 cups cooked rice of your choice
Remove heads and shells of the spot prawns, then rinse and pat dry.
Heat 2 tablespoons of the vegetable oil and the sesame oil in a wok or large cast iron skillet, gradually add the garlic, ginger, scallions and red chili peppers, and cook over medium-high heat until lightly coloured and aromatic. Add the sugar, Chinese chili bean sauce, soy sauce, and the sake, and bring to a boil. Add the prawns and cook until heated. In the meantime, mix the cornstarch and the water in a small bowl. When the prawns turn whitish and are cooked through, add the cornstarch mixture, stir well and simmer for a couple of minutes to achieve the thick sauce consistency. Transfer to a plate and set aside.
Wipe the wok or skillet to remove any sauce left. Heat it with the remaining oil swirling around the side. When the oil is smoking hot, add the tah tsai and stir-fry constantly stirring on high heat. The key is to cook the vegetables on high heat for a very short time so as not to make them watery; they should still have a firm texture and bite to them. Season with salt and pepper.
Serve cooked rice on a big platter and arrange the tah tsai on top, then pour the prawn mixture on top.
Spinach Goma Ae
Serves 2
1 lb spinach, washed
1 tablespoon goma ae sauce (see below recipe)
Boil water in a wide pot with enough water to cover the spinach. Cook the spinach (it only takes a matter of a second or so). Turn the leaves upside down to ensure that the leaves on top are also cooked. Drain into a colander and soak in a medium sized bowl with cold running water to stop further colouring. Continue until fully cooled. Give a gentle squeeze to remove the excess moisture. Cut into 1 inch chunks. Discard the water.
Place the goma ae sauce with a little bit of water back in the bowl. Stir well until emulsified and somewhat liquidy. Toss the spinach in the sauce and stir gently to combine well. Serve immediately.
Goma Ae Sauce
This is a multi-purpose sauce for a variety of foods that I always keep on hand. You can turn any greens into a quick nutritional appetizer. Stir into cooked and chopped asparagus with red chili pepper, pour over julienned cucumber with steamed chicken, mix into cooked noodle salad or make goma ae with cooked nettles. Indeed, this sauce is remarkably versatile, and lasts for a long time in the refrigerator (about 2 months or even longer).
Makes about 250ml jar
3 tablespoons cane sugar or brown sugar
3 tablespoons soy sauce
4 tablespoons toasted sesame seeds
4 tablespoons tahini
Grind the sesame seeds very well until there is no coarse texture, using a suri bachi with suri kogi (Japanese mortar and pestle).
Combine all the ingredients in a large bowl until well mixed. Transfer to a clean airtight container and store in the refrigerator.
French Vanilla Blueberry Frozen Yogurt
I made this dessert right after finishing the delicious spot prawn dish, as I was craving something cold and refreshing to my palate. It was totally on a whim, but having an ice cream maker container in the freezer enabled me to do so. And of course, I used some frozen blueberries saved from last year.
Makes about 3 cups
1 cup fresh or frozen blueberries
½ cup cane sugar
1 cup whole milk
½ cup cane sugar
4 egg yolks
1 cup full fat plain yogurt
1 ½ teaspoons good quality vanilla extract
Place the blueberries and the sugar in a small saucepan over medium high heat and cook until the berries lose their texture and the sugar is well combined. Let cool.
Place the milk and sugar in a small saucepan, then heat just until bubbles appear around the edge of the pan. Gradually whisk into egg yolks, then return the egg yolk mixture to the saucepan. Cook until steaming and thickened enough to coat a spoon. Remove from heat, strain into a bowl and stir consistently until cool. You can speed up the process by placing the bowl of strained egg mixture over a large bowl filled with ice cubes and cold water.
Add the yogurt and the vanilla extract. Stir well and refrigerate for at least 2 to 4 hours.
Churn the yogurt mixture according to manufacturer's instructions. When the frozen yogurt is just about done, stir in the blueberry mixture and continue churning until your preferred texture is achieved.
Transfer the frozen yogurt to a separate container, cover and freeze for 1 to 2 hours.
Adapted from donvier's French Vanilla Frozen Yogurt recipe.