Goodbye Peaches and Hello Roasts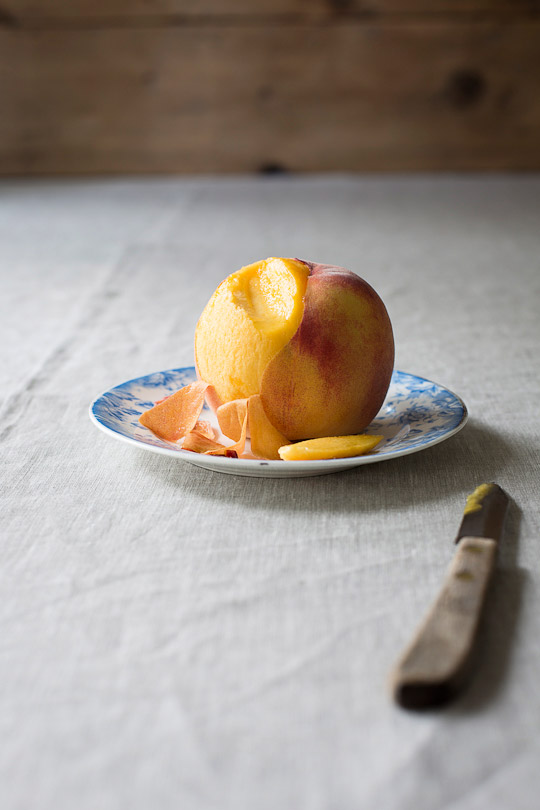 While I am still lingering on the remnants that summer has left behind, it is impossible to deny that the air has turned cooler. Peaches are finishing their season, Fameuse apples are ready for harvesting after having matured for four years in my garden and undoubtedly, it gets dark at 7:30 at night.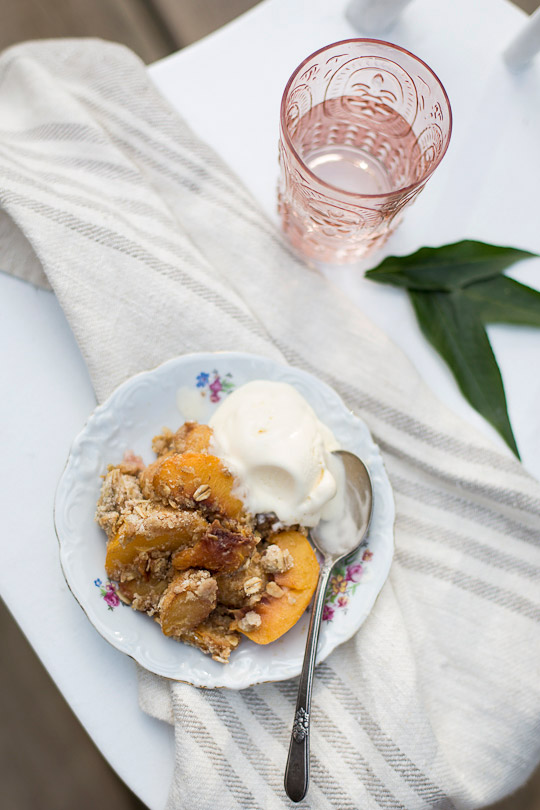 With the peaches I have picked up at the farmer's market, I made peach crisps to say farewell to summer (or at least tried to). I like this time of year; no longer summer, not yet fall, the season in between. It is the time for preparing our minds and bodies for the coming season. So I welcomed the chilly evening with a kind heart and a pot of roasted beef with gobo roots. I feel that we are going to have a good autumn.
Peach Crisp
Serves 6
6 large peaches, peeled, pitted and cut into ½ inch thick wedges
2 tablespoons cane sugar
2 teaspoons vanilla extract
¼ cup water
½ cup rolled oats, roughly milled using a food processor
½ cup all purpose flour
½ cup whole wheat flour or spelt flour
½ cup cane sugar
1 teaspoon cinnamon
½ teaspoon salt
½ cup butter, cut into ½ inch pieces
In a large bowl, toss the peaches, sugar, vanilla and water. Mix well, then let stand for about 10 to 15 minutes.
Preheat the oven to 350F. In the meantime, place the oats, flour, sugar, cinnamon, salt and butter in a food processor and pulse until flaky.
Squeeze the flour mixture in your fingers, form into small patties and refrigerate for about 10 minutes.
Butter a shallow baking pan. Place the peaches inside, and lay the patties over them.
Bake until top becomes golden and juice is bubbly, about 45 minutes.
Serve with a scoop of vanilla ice cream.
Braised Cross Rib Roast and Gobo Roots with White Wine Tomato Sauce
Serves 2 plus leftovers
4 lb cross rib roast
2 teaspoons salt
1 tablespoon black pepper
3 tablespons vegetable oil
2 garlic cloves, finely chopped
3 large onions, cut into 1 inch wedges
2 x 1' lengths gobo root
3 tablespoons tomato paste
1 tablespoon cane sugar
A few sprigs of fresh thyme
A sprig of fresh rosemary
1 ½ cups dry white wine
1 cup water
Clean gobo by scraping the skin with the back of a kitchen knife under running water. Cut into 2 inch pieces and cut in half in lengthwise. Soak in cold water for 10 minutes and change water. Repeat this process a few times until the water no longer becomes yellow. Drain well.
Adjust oven rack to the middle position and preheat the oven to 325F. Pat dry the beef and rub the salt and pepper all around.
In a heavy bottomed ovenproof large pot, heat the oil until hot but not burning and brown the beef on all sides. Transfer to a large plate.
In the same pot, sauté the onion, garlic then gobo until golden over relatively high heat. Stir constantly so as not to burn the vegetables. Add the tomato paste, thyme, and rosemary and adjust with salt and pepper. Add wine and water, and then bring to a simmer.
Return the beef to the pot, cover tightly and braise in the oven, turning the beef once in the mid way until done about 80 minutes to 1 ½ hours or a meat thermometer reads 145C for the medium rare in the centre of the meat. Adjust time to your liked doneness.
Take the pot out of the oven. Let the beef rest on a plate covered with a piece of aluminum foil. Transfer the vegetables to a serving plate with a slotted spoon, leaving as much the liquid in the pot as possible. Reduce the tomato-y liquid over medium high heat to half of the amount, stirring occasionally until it attains a thick consistency. Adjust the taste with salt and pepper.
Carve the meat into ½ inch thick slices and serve immediately with the wine tomato sauce and the vegetables.
Adapted from www.epicurious.com.
Roasted Carrots
Serves 2 plus leftovers
10 large carrots, cut in half or quartered lengthwise
Olive oil
Salt and pepper
Preheat the oven to 350F. Place the carrots in a large baking sheet, drizzle with the oil and sprinkle with salt and pepper. Roast for about 30 minutes.
Serve immediately with the cross rib roast. Follow by the peach crisp with ice cream.