Good Pumpkin Bread & Things from Our Pantry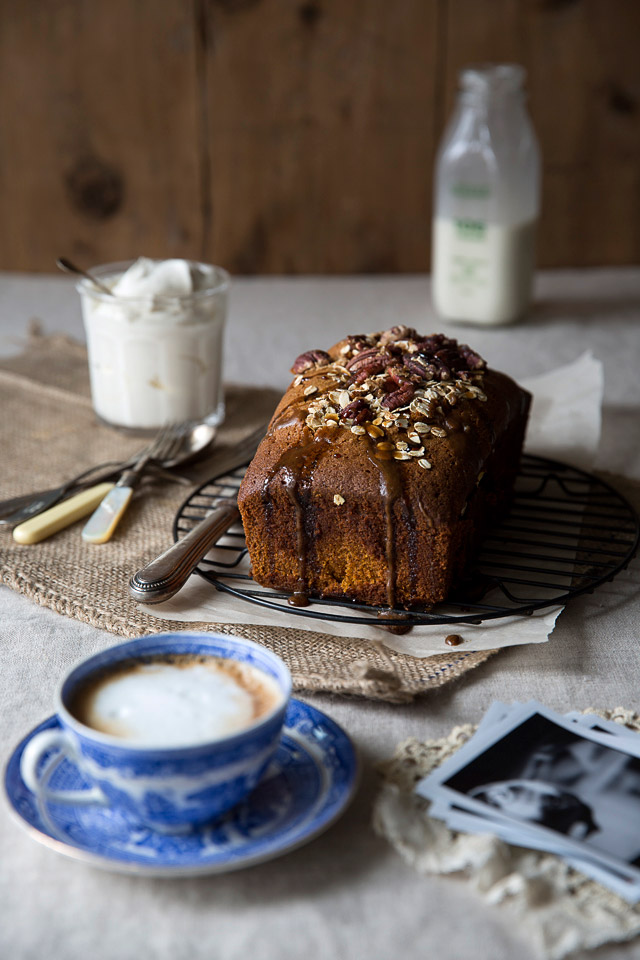 It's been a month since we came back from the exciting/ emotional trip to Japan, and things have been going back to normal. That means, for us, scavenging food from our garden, cold storage and kitchen pantry (and the occasional visit to a local grocery store). Although we enjoy challenging eating in this way, I felt that it was really a luxury not to plan a meal, not to gather ingredients from our household, and not to cook: the entire process and ritual. While we were traveling, we ate street food, decadent pastries, traditional meals that my family prepared plus enjoyed some delicious dishes at izakayas and a couple of restaurants.
One of my favourite snacks during the trip was a skewer of grilled chicken liver yakitori finished with teriyaki sauce, enjoyed while browsing the city streets. I also munched on a variety of salads with seafood, meat or grains that I could pick up at the food section at decent department stores. These experiences opened my eyes to creating new recipes with unusual ingredient combinations. As for those dishes that I have longed for but could not manage to eat during this trip, I will try to replicate them and introduce them to you in the near future. For now, here are some examples of what we've been eating recently.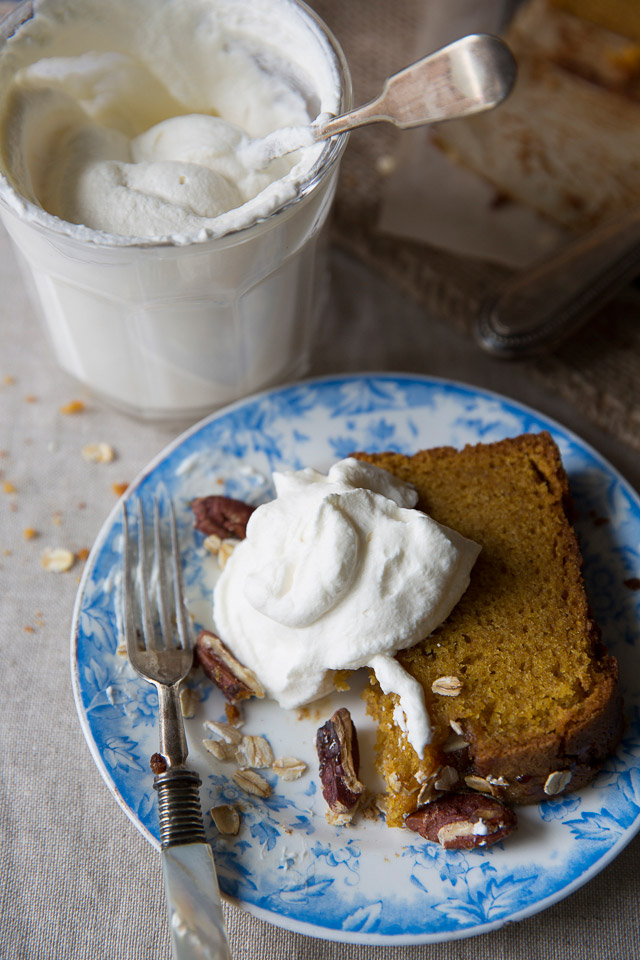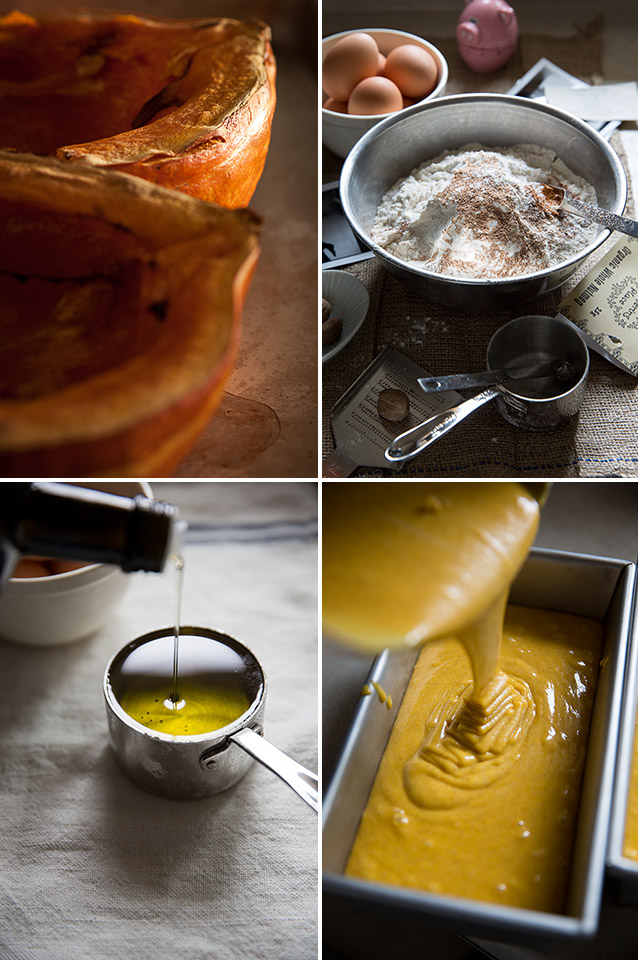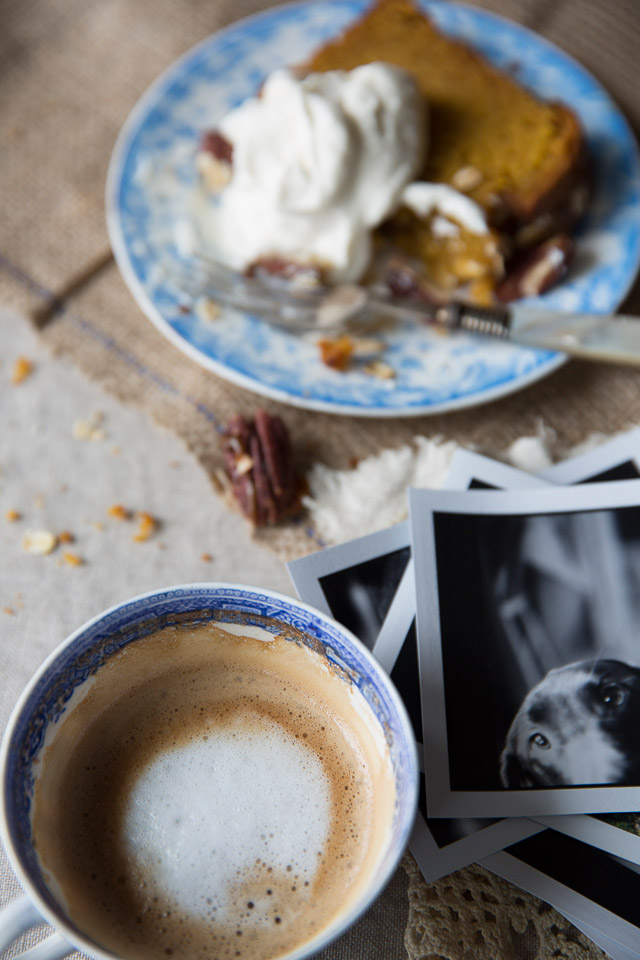 Good Pumpkin Bread
Originally this recipe was given to me by a very beautiful person while I was studying at horticulture school. She loved nature and good, healthy food as much as I do. Upon tasting her bread, I demanded a copy of the recipe and she kindly shared it with me. I modified it slightly, and the bread got even better! This is why I now grow certain varieties of winter squashes. The key to this particular bread is to use creamy, nutty, sweet and flavourful squashes like Red Kuri or Marina Di Chioggia, but not those sugar pumpkins that you carve for Halloween.
Makes 2 of 9 x 5 x 3 inch loaf pans
3 cups sugar
1 cup grape seed oil
4 eggs
2 ½ cups all purpose flour
1 cup spelt flour
1 ¼ teaspoons baking powder
1 teaspoon baking soda
2 teaspoons sea salt
1 teaspoon ground cinnamon
1 teaspoon freshly ground nutmeg
2 cups pureed pumpkin from 1 large pumpkin (or winter squash)
½ cup water
1 teaspoon vanilla extract
Topping
3 tablespoons rolled oats
Handful of pecans
2 tablespoons brown sugar
1 tablespoon water
Whipping cream for serving
Preheat the oven to 350C. Cut pumpkin in half. Remove seeds. Place them cut side up on a baking sheet and roast until tender, for about 30 minutes. Remove meat from the skin and puree in a food processor or blender (our dogs love the roasted skins!). If the puree feels too dense, add 1 or 2 tablespoons water to loosen it. Let cool to room temperature.
Preheat the oven to 350C.
Sift the flour, baking powder, baking soda, salt, and spices together in a bowl. Mix the sugar, oil, and eggs in another large bowl.
Then, add the dry ingredients to the wet ingredients while slowly adding in the water to create batter. Finally, add in the pumpkin and vanilla, and stir to combine completely.
Pour the batter into greased pans. Top with the rolled oats and pecans. Bake in the centre rack of the oven until an inserted skewer comes out clean, for about 1 hour. If the pecans become too dark, cover with a piece of tin foil to prevent them from burning.
Cool completely on a rack. In the meantime, make icing. Combine the brown sugar and water in a small saucepan and stir until bubbly. Pour onto the top of the bread.
If you have extras, they freeze beautifully. Thaw at room temperature when ready to eat.
Serve with a dollop of whipping cream.
Rhubarb Jam
If you read last year's post "Rhubarb bars," you may remember that I introduced the jam recipe there. Now is the time to enjoy the hard work of gardening and preserving from the growing season. I sit at the breakfast table, pour some tea, enjoy the view of my winter garden, savour the richly smeared condiment on toasts and, of course, contemplate another year of garden planning.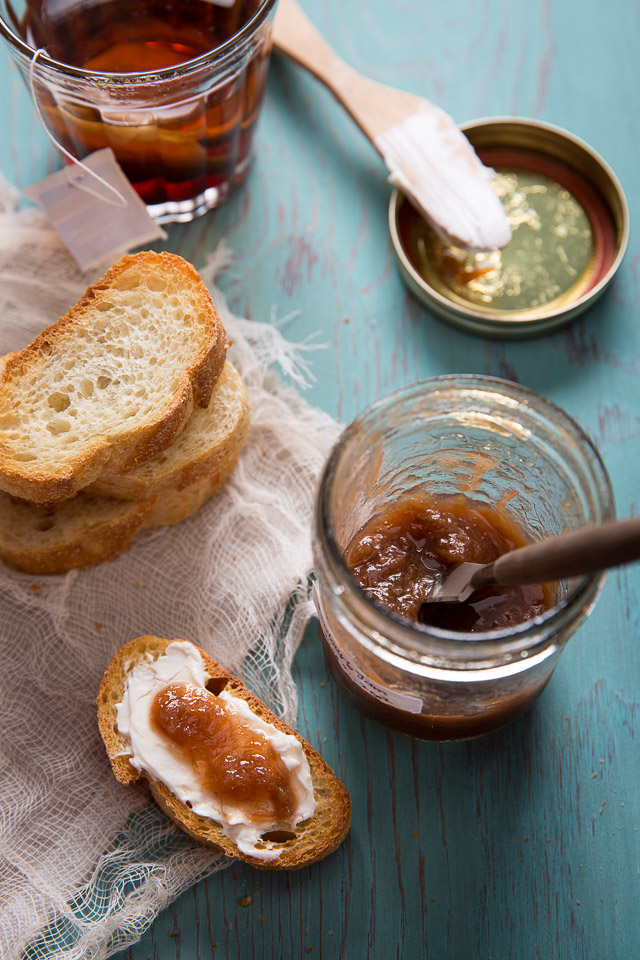 Beet Juice
We go through a lot of root vegetables, such as beets, carrots, and potatoes from our cold storage. In particular, we like to turn the beets and carrots, among other ingredients, into fresh juice. It looks like we have enough to make it to this year's harvest. Recipe can be found here.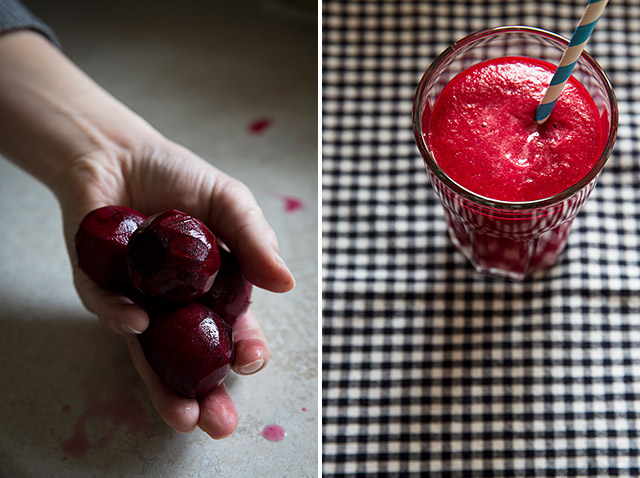 Sprouts
This is our source of raw food during winter months. There are always a couple of bottles sprouting on our windowsill. They provide a great texture and flavour for sandwiches, noodle soups, salads and fresh juices.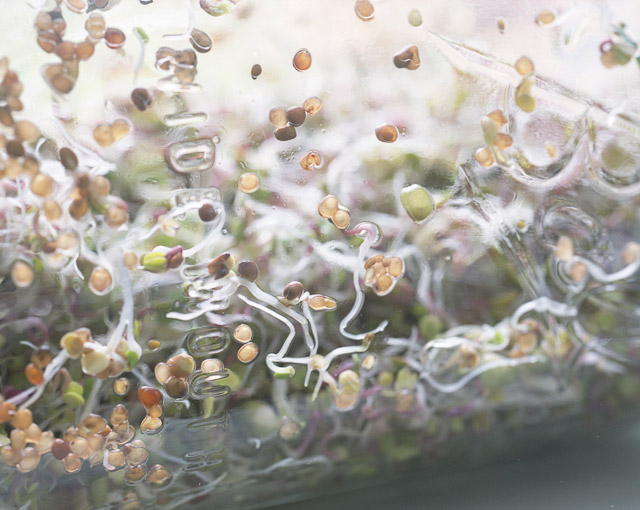 Gluten Free Bread "The Life-Changing Loaf of Bread" by My New Roots
Learning about this intriguingly named bread recipe actually made me run to a local organic store to pick up a bag of psyllium seed husks! The rest of ingredients are always at the read in my pantry. And the result? Yes, the bread changed my life! I feel lighter, healthier and more energetic after eating it. Sarah, the recipe creator, also has so many other amazingly sounding recipes that you may want to try, so I posted a link to her site above.  While this bread has about as many calories as my beloved French baguettes, it's also packed with more protein and nutrients, making it a much healthier choice all around.. My favourite way of eating Sarah's bread is to smear goat cheese on a toasted slice and drizzle maple syrup over top. It is unstoppably good! Oh, but I can't live without that crust of French baguette once in a while.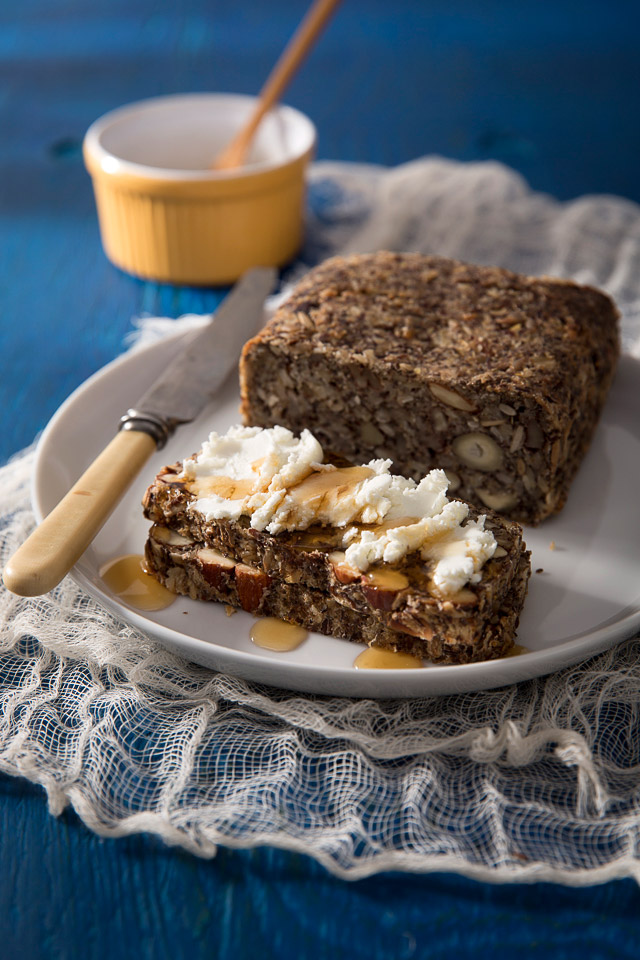 Plum Schnapps
After baking many plum upside-down cakes last August, I bottled the rest of the Japanese "Beauty" plums with vodka from our front yard. Six months later, I filtered and tasted the batch. It still seems young, so I'll let it mature a little longer. Nonetheless, the schnapps burst with flavour like summer in my mouth on a winter evening.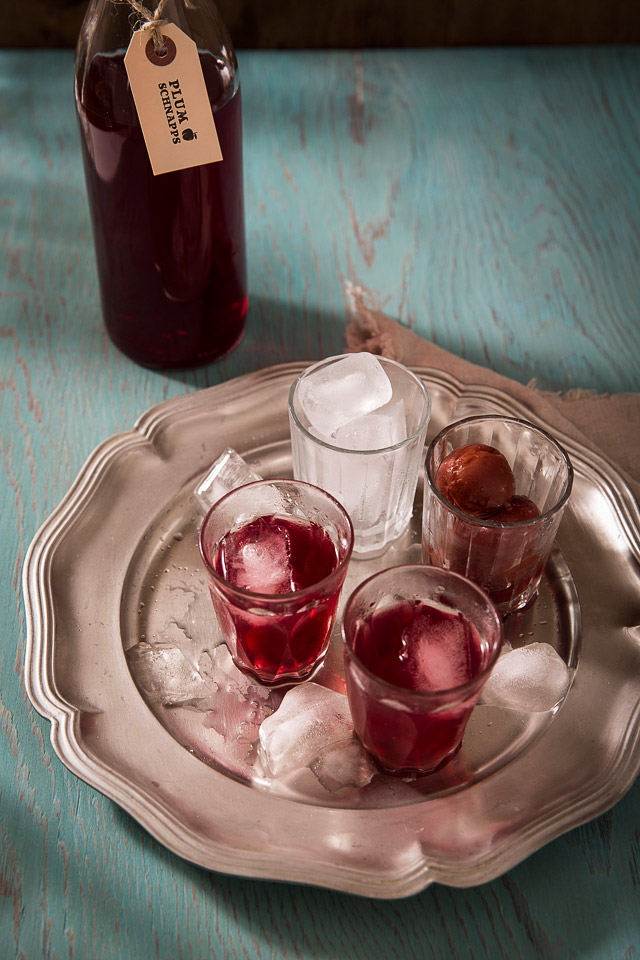 Peperoncino Pasta
I'm not much of a pasta person, unless we're talking about the delectable dishes that my Italian chef sister makes with tons of seafood. Another exception to the rule is this spicy peperoncino pasta! I remember the days when I looked forward to this pasta dish, served at a family owned café in the Yokohama vicinity, especially after long autumn motorcycle rides. Life is funny–I never ever imagined that I would no longer be riding a motorcycle and instead spend my time growing my own chili peppers in the Vancouver countryside. The heat of chili peppers and garlicky goodness melt together and wrap each individual pasta noodle in a fabulously oily sauce. This is a perfect pasta dish to help warm you up (and may eventually make you steam emerge from your head!). Oh, try not to rub your face while dealing with these peppers like I once absentmindedly did. It hurts for a long time! I miss motorcycling dearly and cherish even the memory of stuffing thick newspapers inside my leather jacket to keep myself warm while commuting on the highway in winter!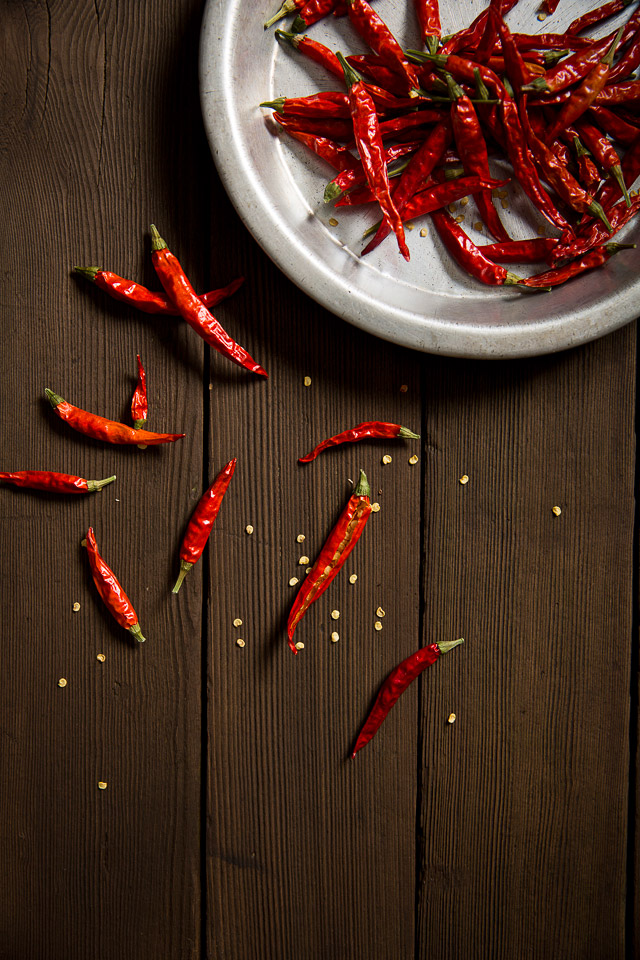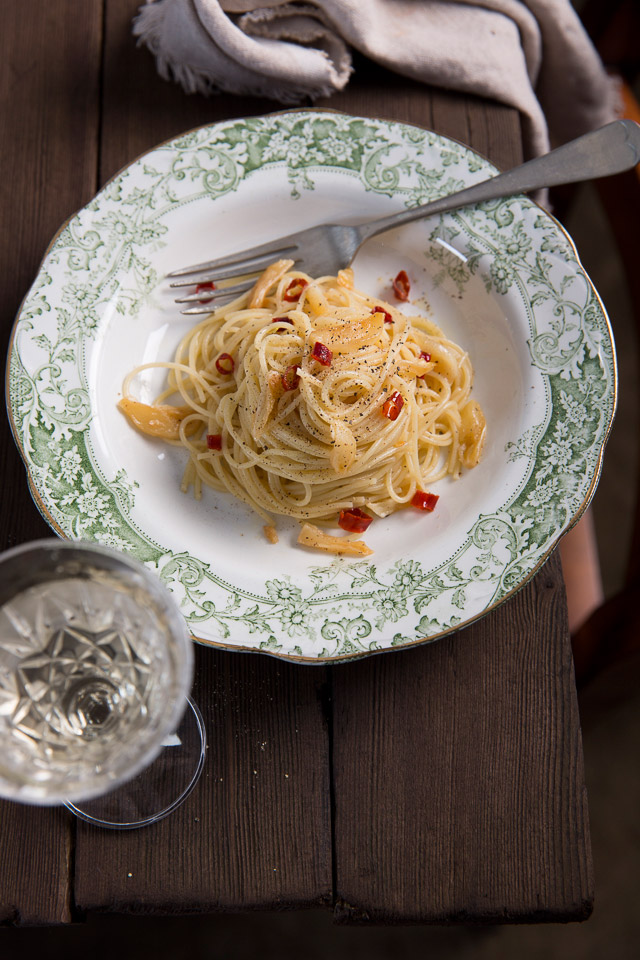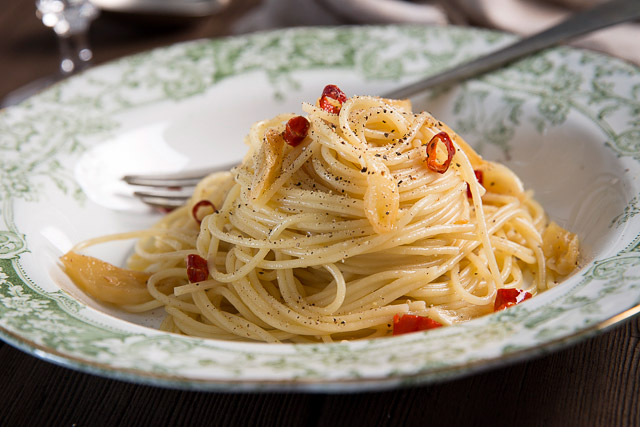 Peperoncino Pasta
Serves 2
200g spaghettini pasta noodles
3 tablespoons olive oil
4 garlic cloves, sliced
4 red chili peppers, seeds removed and sliced
Salt and pepper
Bring a pot of water to a boil and add PLENTY of salt. Cook pasta to just before al dente. Reserve some cooking liquid.
In the meantime, sauté the garlic and peppers with oil in a large skillet on low heat. Be patient and take time to infuse the oil, about 12 minutes. When the garlic turns golden and soft, add ¼ to ⅓ cup pasta water to create pasta sauce. Stir the pasta noodles into the sauce, making sure to coat all over. Finish cooking the pasta noodles in the sauce for a couple of minutes. Serve hot and adjust the taste with salt and pepper.