Garlic Scapes and Beef Stir-fry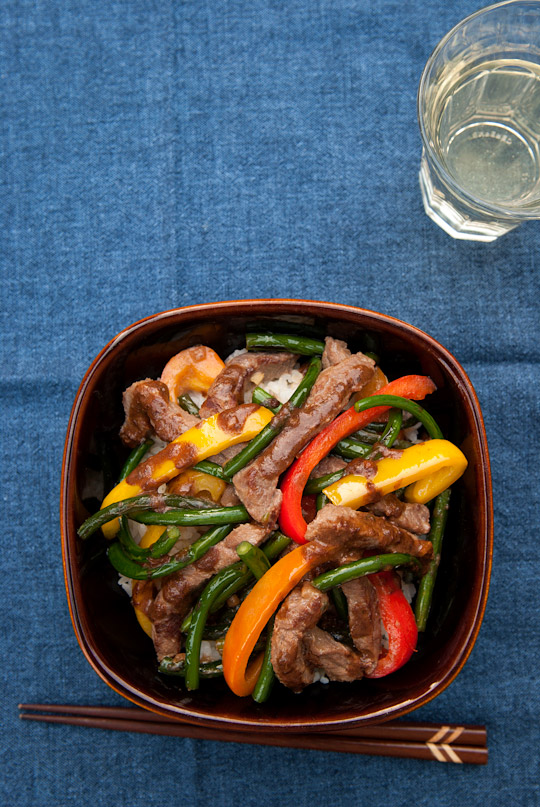 Summer has finally arrived in my garden with a sudden heat, melting my tomato plants against a south-facing wall, sweetening my raspberries and thickening sunflower stalks. Broad beans also started to swell rapidly under the scorching rays. After weeks of complaining about having too much rain, we now must rush, overwhelmed, to catch up with watering to maintain the crops. This is how we start summer in the West Coast. A much awaited season…
This is a dish my grandma used to cook when garlic scapes were abundant at the market. She didn't grow her own produce, other than few shiso plats in her tiny space in the midst of Tokyo, but appreciated cooking with nature's natural clock.
The tasty sauce in this recipe that she made by scraping the bottom of a pan was a good stimulant for a poor appetite even during hot Japanese summer evenings. I hope to serve this dish the next time that I see her accompanied by a light glass of beer!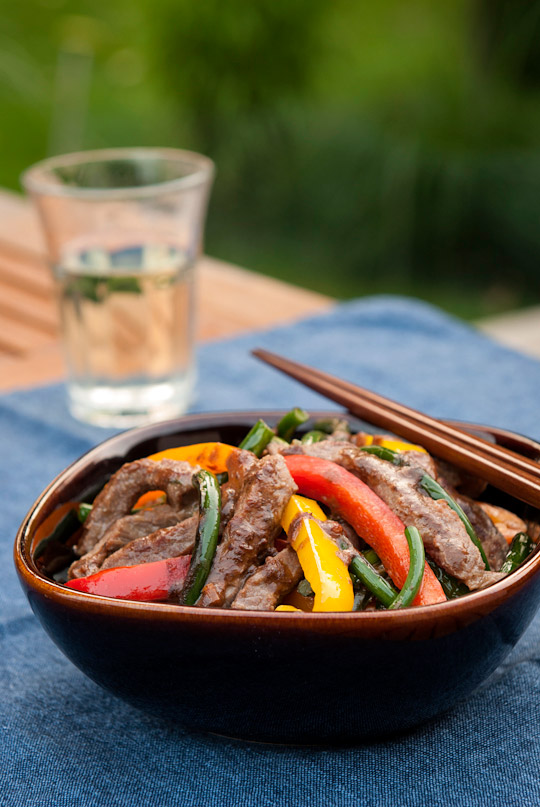 Garlic Scapes and Beef Stir-fry
Serves 3-4
1 lb beef sirloin, cut into ½ inch strips
A dash of sesame oil
1 tablespoon sake or white wine
1 tablespoon soy sauce
1 ½ tablespoons cornstarch
Salt
2 tablespoons sesame oil
4 tablespoons vegetable oil
3 garlic cloves, finely chopped
1 small knob ginger, finely chopped
2 scallions, thinly sliced
½ lb or more young garlic scapes, cut into 2 inch long pieces
½ each of red, yellow, and orange bell peppers, cut into strips
Salt and pepper
A pinch of cane sugar
3 cups cooked rice
Marinate the beef in the sesame oil, sake or wine, soy sauce and a pinch of salt for at least 10 minutes. In the meantime, prepare the vegetables.
Heat a large frying pan with half the amount of the sesame oil and vegetable oil over medium high heat. When it starts sizzling, stir-fry the garlic cloves, ginger and scallions for a couple of minutes.
Add the scapes and stir-fry till softened. It takes a while, so stir constantly so as not to burn the vegetables. Add bell peppers and cook until soft but still crunchy, and season with salt. Remove from the pan and set aside.
Stir the cornstarch into the marinated beef. Using the same pan, heat the remaining oil till hot. Sear the beef till browned on one side, and turn on the other side till browned.
Add a pinch of the cane sugar and the same amount of salt to the beef, and stir well. When the inside of the beef turns soft pink without blood, it's about time to return the vegetables to the pan. Stir well to combine all together for few minutes. Transfer the beef mixture to a large plate.
Return the pan on the stove over high heat with ½ cup water. Boil and scrape the bottom of the pan, reducing the liquid to make gravy sauce. When the sauce starts bubbling, stop the heat. Pour over the beef mixture.
Serve immediately in an individual bowl over rice.