Furofuki Daikon, the Memory of Tenderness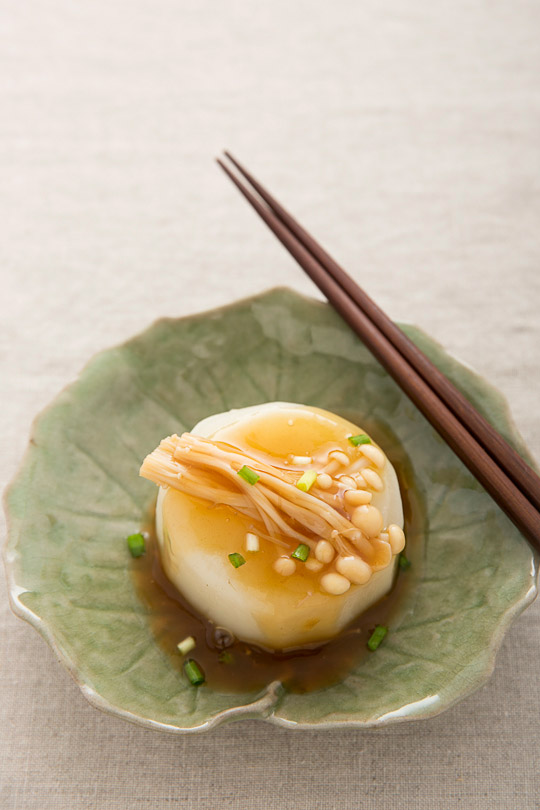 I recently received the sad news of my dear friend's mom's passing. Mrs. W has helped care for me for many years. After all, she was my Chinese grandmother in Canada, helping compensate for that fact that I have been far away from my own family for so long.
It's odd but I felt that somehow certain people would live for a long time, and she was one of them along with my own grandmother who was born in the same year as Mrs. W, the year of rooster in the Chinese/ Japanese zodiac. Years ago, Mrs. W gave me a family of little rooster figurines made of crystal. She had kept them for a long time, ever since the time she and her husband owned an antique store, and one day asked me to give it to my grandma as a gesture of their friendship before I left for a visit to my hometown. Although they had never met, my grandma really appreciated the gift, and understood how well I was taken under Mrs. W's wings.
As I have not lost anyone close to me in my life, I did not know how to cope with the news. So I went into my kitchen, just wanting to slow down to discern the situation. It felt appropriate and comforting to make this dish due to its required finesse, which would allow me a good length of time to cope with my feelings. Simple, calm, warm, reminiscent, tender yet strong, and indeed, deep and complex in flavour; something that resonates with my version of Mrs. W.
Trimming the sharp edges of daikon helped settle my panting heart. The golden colour of dashi stock calmed my mind. I stared at the gently swaying daikon pieces in the simmering pot of water for a long long time, and faded into many fond memories of Mrs. W.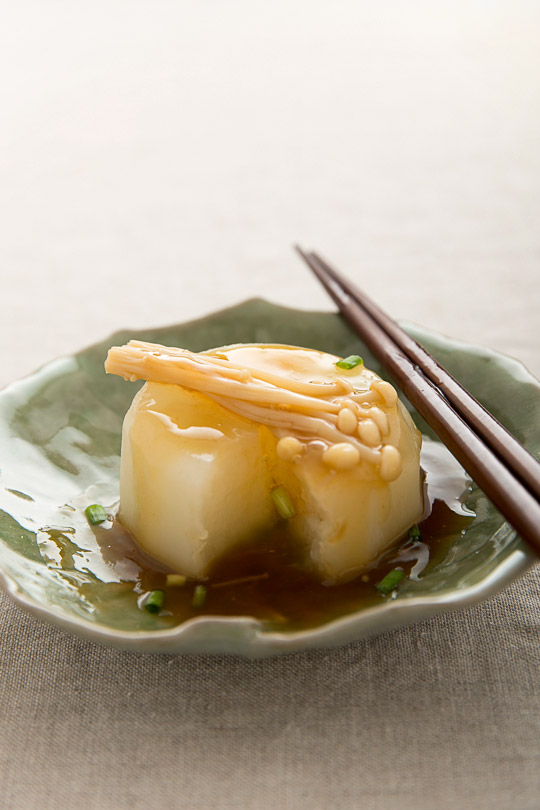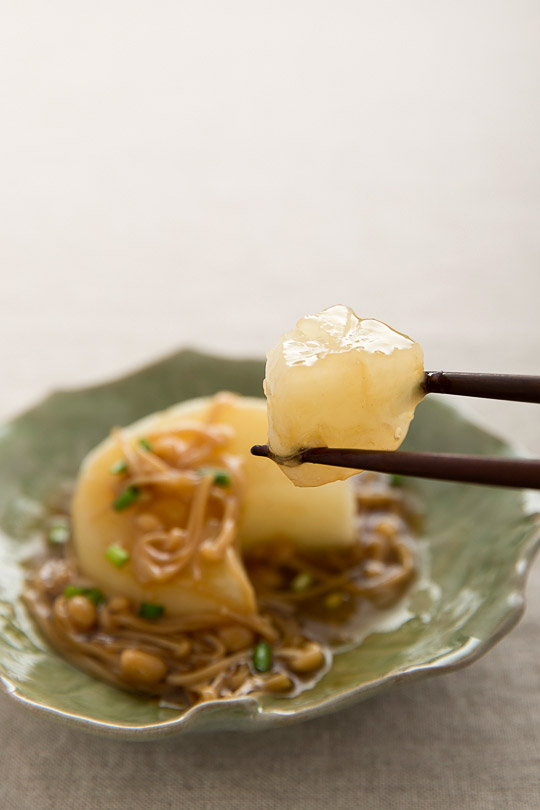 Furofuki Daikon
Serves 4
1 large organic daikon
2 tablespoons of Japanese rice grains
1 large sheet of kombu (about 6 x 8 inch), wiped and cleaned with a wet cloth
11/2 cups tightly packed bonito flakes
1 large package of Enoki mushrooms
3 tablespoons of soba sauce
Or a combination of
1 tablespoon sugar
2 tablespoons soy sauce
1 tablespoon mirin
Salt
1 tablespoon cornstarch
Scallions, finely chopped
In a large pot, place 7 cups of water. Make slits in the kombu with scissors, submerge in the pot and set aside for about 20 minutes. This will permit the kombu to emit the flavour necessary to make good dashi.
Peel the daikon and discard the ends. Slice into 1 inch thick pieces and trim the sharp edges with a peeler.
In a large pot, place the daikon and rice grains, and cover completely with water. Bring to a boil. Turn the heat down to medium low and simmer until a skewer can easily go through, for about 40 minutes.
In the meantime, set the pot of kombu over medium heat, and just before the water starts rolling, remove the kombu and discard. *Do not let it boil, as the kombu will start to give off an unpleasant flavour.
Throw the bonito into the kombu stock and bring it back to a boil for a few seconds. Turn the heat off and remove from heat. Let stand until the bonito flakes sink to the bottom of the pot. This will let the gentle umami emit into the dashi stock as well as make the dashi stock golden in colour.
Remove the daikon from the cooking liquid and rinse as gently as possible so as not to scar. Discard the rice and cooking water, and clean the pot.
Drain the dashi stock using a fine mesh into the cleaned pot, reserving 1 cup separately to make sauce. Place the daikon back in the dashi stock and bring to a simmer. Continue to cook for another 40 minutes or so until they are very tender.
While waiting, make sauce. Place 1 cup of the reserved dashi stock in a medium saucepan with Enoki mushrooms over medium heat, and bring to a boil. Turn the heat down, skim if necessary, and add the soba sauce and a pinch of salt. Cook until the mushrooms are tender, for about 7 minutes. Dissolve the cornstarch with 1 tablespoon of water and whisk into the sauce. Continuously stirring, bring to a boil to thicken. Remove from heat.
Serve each daikon piece with the sauce and a sprinkle of scallions. If you have any leftovers, keep them in the dashi stock and refrigerate.