Chili and Aged Cheddar Cheese Dill Scones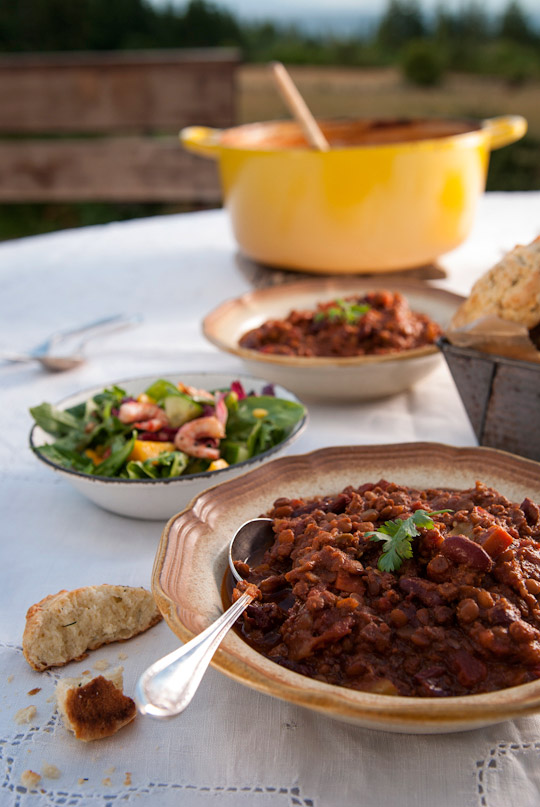 Years ago when I encountered a cheese and dill scone at one of my favourite cafes, Savary Island Pie Co. in West Vancouver, I fell in love with dill. The combination of a hint of buttery sweetness and the sharp edge from the cheese with the fresh distinctive aromatic greenness of the dill, had just created a delightful ménage à trois, the food kind. I picked up the scones on the way to Lighthouse Park, quickly photographed them in a moving car before we ate them and jotted down in a wish list in my journal about growing dill in my future garden. Then, we went off hiking at the park and years passed until I finally brought dill to my own little garden.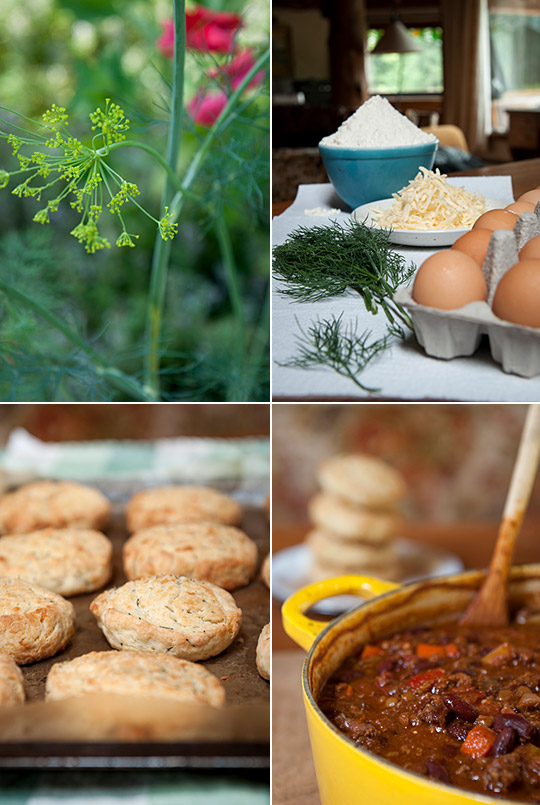 Now, I'm proud that my simple food daydreaming has become true and I can serve the special scones to my dear friends at a summer cabin trip. When I was delegated to be in charge of cooking at the cabin for friends who were arriving late at night, I had only this meal in mind. There is something sentimental about welcoming late arriving guests with a pot of warm chili and just-out-of-the-oven scones.
Chili with Ground Beef and Lentils
Serves 5-6
2 tablespoons vegetable oil
1 large onion, chopped
1 green bell pepper, seeded and cut into ½ inch pieces
1 red bell pepper, seeded and cut into ½ inch pieces
2 large carrots, chopped
1 jalapeno pepper, seeded and sliced
2 cloves garlic, chopped
1 ½ pounds ground beef
1 pound dried lentils, rinsed
1/3 cup tomato paste
2 cans (30-ounce) or freshly cooked red kidney beans, drained and rinsed
1 (28-ounce) can stewed tomatoes
1/3 cup chili powder, mild or hot according to your taste
4 teaspoons ground cumin
¼ teaspoon crushed red-pepper flakes
¼ teaspoon salt
¼ teaspoon freshly ground black pepper
In a large heavy bottomed pot, heat the oil over medium high. Add the onions, green and red peppers, carrot, jalapeno, pepper and garlic, and cook until the vegetables are half way cooked.
Add the ground beef and cook with the vegetables until the meat changes colour.
Stir in 7 cups water, the lentils, tomato paste, and kidney beans. Stir to blend, adding the stewed tomatoes, chili powder, cumin and crushed red-pepper flakes. Bring to a boil and skim occasionally.
Reduce heat to medium-low, cover and simmer until lentils are tender, about 45 minutes. Or if time allows, set the oven to bake at 250F, place the pot inside and cook until slightly thickened for about 1.5 to 2 hours. Reserve in the oven until serving time. Just make sure to stir occasionally and add hot water as needed. I like cooking this chili recipe ahead of time in this way to enhance the flavour to its maximum.
Season with salt and pepper and serve immediately.
Adapted from marthastewart.com.
Aged Cheddar Cheese Dill Scones
Makes about 15 pieces
3 cups unbleached white flour
2 tablespoons baking powder
1 tablespoon sugar
1 teaspoon salt
6 tablespoons cold butter, cut into cubes
3 eggs
¾ cup whipping cream
A bunch of fresh dill, stalks removed and torn in pieces
1 cup aged cheddar cheese, grated
Preheat the oven to 400F. In a large bowl, sift together the flour, baking powder, sugar and salt.
Using a pastry cutter, cut in the cold butter until the pieces become the size of small peas.
Beat the eggs in a small bowl and stir in the cream. Add the egg mixture, dill and cheese to the dry ingredients and combine until the mixture forms dough.
Dust a work surface with some flour and roll the dough into a 2-inch diameter log. Using a well sharpened knife, slice into 1 inch thick pieces.
Place them on a baking sheet lined with a piece of parchment paper 2 inch apart. Bake for about 12- 15 minutes or until the tops are golden.
Serve immediately with a bowl of chili.
Adapted from Whitewater Cooks cookbook.