Chicken Wraps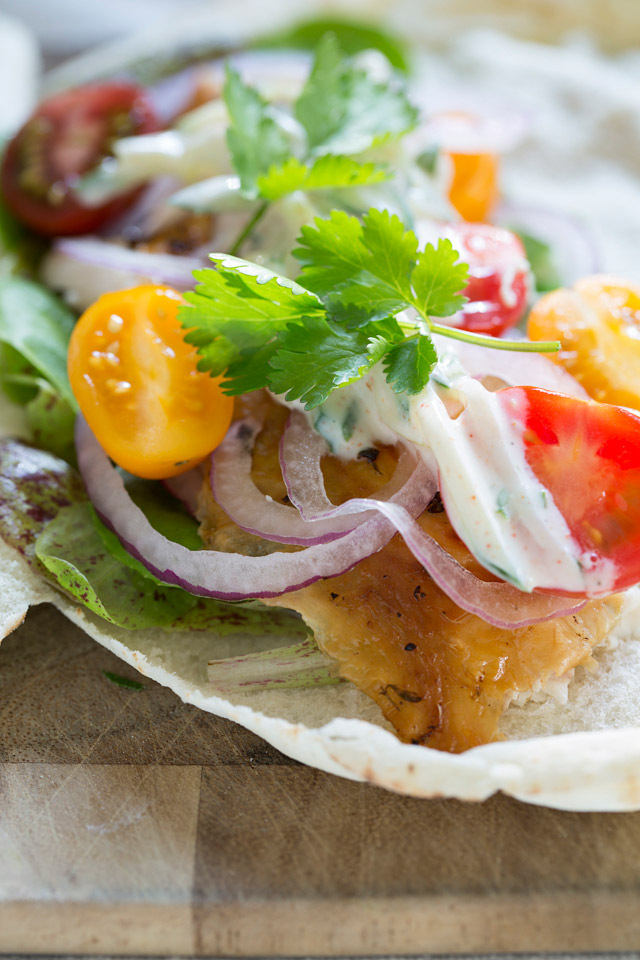 Every so often, we miss the place we used to live: Main Street and 15th Ave. in Vancouver. We considered this place to be the centre of all interesting things happening, be it culture, food, people or little clothing boutiques. However, we particularly miss going to Canteen Mitra, a Mediterranean falafel place. We used to grab a chicken wrap and eat under the summer evening light, watching waves of people pass by. Of course, one cannot skip richly flavoured, artfully made latte at JJ Bean coffee roasters next door either.
Possessed by a sudden craving at home, I did my best to imitate Canteen Mitra's chicken wrap with a lemon herb twist. Alas, nothing beats that chicken wrap they serve, but this is still a pretty delicious version. Also, we enjoyed the leftover chicken made into another meal with roasted asparagus, a super simple yet tasty pasta dish.
Chicken Wraps
Makes 2 wraps
2 pieces of pita bread
Lettuce leaves
Roasted chicken (see recipe below)
Red onion, thinly sliced
Cherry tomatoes, cut in half
Tzatziki (see recipe below)
Cilantro leaves
Carefully tear the edge of the pita bread all around to open, leaving a part intact. Layer the ingredients on one side, flip the other side of the bread on top, roll tightly and serve.
Lemon Herb Roasted Chicken
1 free-range chicken
2 tablespoons butter, room temperature
A bunch of herbs (thyme, oregano and marjoram)
2 tablespoons olive oil plus extra for sprinkling
Sea salt and pepper
2 lemons
3 whole heads of garlic
Make herb butter. Place the butter, half of herbs (remove tough stems) and oil in the bowl of a food processor and pulse until smooth. Set aside.
Quarter lemons lengthwise. Halve the garlic lengthwise. Set aside.
Preheat the oven to 425F.
Rinse the chicken inside out and pat dry. Season with a generous amount of salt and pepper. Rub the herb butter all around the chicken. Stuff two pieces of lemon, the rest of the herbs and ½ whole garlic head into the cavity. Tie the legs with kitchen string.
Place in a large roasting pan along with the remaining lemon pieces and garlic. Sprinkle some oil over the lemon and garlic. Roast until meat thermometer inserted in thigh registers 185°F, for about 1½ hours. Remove from the oven and cover with a piece of tin foil for 10 minutes. Carve and serve.
Tzatziki
Makes about 1 cup
2/3 cup julienned cucumber, moisture squeezed out
A few parsley leaves, finely chopped
A dash of lemon juice
A pinch of cayenne pepper
½ cup full fat plain yogurt
Salt and pepper
Combine all the ingredients in a bowl and stir to mix.
Roasted Asparagus
Serves 4
2 bundles of asparagus
Salt and pepper
Olive oil
Preheat the oven to 475F.
Rinse the asparagus and cut off the tough ends. Place them in a roasting pan and sprinkle with a generous amount of salt, pepper and oil over top.
Lower the oven to 450F. Roast until tender, for about 12 to 15 minutes. Serve hot. Remember to reserve the oil for the below pasta dish!
Pasta with Roasted Chicken and Asparagus
Serves 4
Spaghetti
Leftover cold chicken, cut in cubes
Roasted asparagus, cut in 2 inch pieces, oil saved
Cherry tomatoes, cut in half
Parmesan cheese, grated
Salt and pepper
Boil water, add a generous amount of salt and cook the spaghetti until al dente.
Drain the spaghetti well, and toss the chicken, asparagus, tomatoes and reserved oil from the asparagus in a large bowl to mix. Serve and sprinkle with the cheese. Adjust with salt and pepper.