Chana Masala and Delightful Accompaniments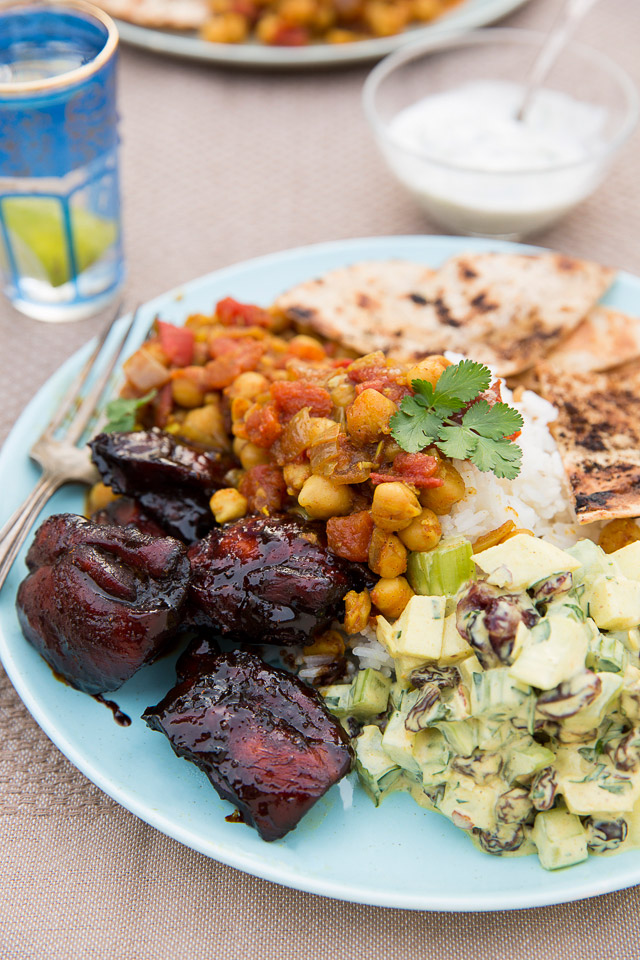 A big thank you to my friend Paula, who recently threw a beautiful Bollywood-themed birthday party, for kindly sharing some of her delicious recipes. This event also inspired me to create a wonderful curry dish. Now I'm able to pass these delights on to you!
At Paula's party, all of the guests appeared in colourful, gorgeous saris and brought with us tasty dishes to share. The night was filled with Paula and her talented musical friends' tunes; in fact, Paula possesses an extraordinarily beautiful voice and melted all of our hearts with her singing. Sunshine, good company, irresistibly tasty food, enthusiastic music–what more can you ask for? Thank you again for the wonderful time, Paula!
Chana Masala
Serves 6
2 tablespoons butter
1 tablespoon canola oil
Spices
1 teaspoon fennel or anise seeds
1 teaspoon ground coriander
1/8 teaspoon ground cardamom
1 teaspoon ground cumin
1 teaspoon Garam masala
½ teaspoon ground cinnamon
Pinch ground clove
1/8 teaspoon cayenne pepper
¼ teaspoon chili powder
1 teaspoon turmeric
1 large bay leaf, torn in a few pieces
1 large onion, finely chopped
2 garlic cloves, finely chopped
1 small knob ginger, finely chopped
4 tomatoes, finely chopped and juice saved (makes about 2 cups)
About 3 cups cooked chickpeas (I use cooked ones from 1 cup dried chickpeas)
1 ½ cups chicken stock or water
1 teaspoon salt or to taste
Freshly ground black pepper
3 cups cooked Basmati rice
In a large heavy bottomed pot, melt the butter, add the oil and fry all the spices over medium heat. When the spices give off a nice scent, add the onion, garlic and ginger and sauté until soft and onion becomes translucent.
Add the tomatoes and their juice, and cook until softened. Add the chickpeas, salt, generous amount of black pepper and chicken stock, and bring to a boil. Lower the heat and cook for 15 to 20 minutes.
Serve with Basmati rice.
Spicy Blackstrap Chicken
This chicken is quite sweet, but adds a nice caramelized smokiness to a plate of Indian cuisine. Combined together with the curry and the below salad, it is just perfect.
Serves 6-8
6 to 10 pieces of boneless, skinless chicken thighs, cut in about 2 inch pieces
1/3 cup unsulfured molasses
¼ cup cane sugar
½ teaspoon salt
½ teaspoon chili powder
½ tablespoon turmeric
½ tablespoon ground saffron
½ tablespoon ground cumin
½ tablespoon whole coriander seeds, freshly ground
Preheat the oven to 375F. Rinse the chicken and pat dry. Combine the molasses, sugar, salt and all the spices. Place the chicken in a large cast iron pan and pour over the molasses mixture. Roast until chicken produces a caramelized look, for about 35 to 40 minutes.
Serve hot along with below dishes.
Curried Apple and Celery Salad
Serves 6-8
¾ cup slivered almonds
4 sticks celery
2 medium apples (I like this salad with Granny Smith)
½ cup raisins or dried cranberries, or mixture of both
3 tablespoons parsley, chopped finely
Dressing
1/3 cup sour cream
2 tablespoons mayonnaise
1 teaspoon curry powder or a mixture of small amount of following spices;
Turmeric
Ground ginger
Ground coriander
Ground cumin
Garam masala
2 tablespoons freshly squeezed orange juice (from ½ orange)
Chop the celery stalks into ¼ inch pieces or, using a food processor, make small slivers. Peel, core, and chop the apples into ¼ inch pieces. Make dressing by thoroughly combining all the ingredients in a bowl.
Combine the almonds, celery, apples, raisins, parsley and the dressing in a large bowl. Keep refrigerated until serving time. Serve with the curry and the chicken.
Fried Cumin Tortilla and Cucumber Raita
Make a large platter
2 packages of whole wheat tortillas
Olive oil
Ground cumin
Coriander, freshly ground is preferred
Brush a cast iron frying pan with 1 tablespoon of olive oil, and add ¼ teaspoon of each cumin and coriander. When the pan is hot, add tortilla and fry until golden brown. Flip over and fry the other side. Repeat for the rest. Cut into wedges and serve around a small bowl of raita (recipe follows) on a large platter, pointy part facing toward the raita for a pretty presentation.
Cucumber raita
½ cup grated cucumber
¾ cup plain yogurt
¼ tablespoon ground cumin
½ tablespoon cane sugar
Salt
Combine all the ingredients in a bowl and stir well. Adjust the sugar and salt to your liking. Chill and keep refrigerated until serving time.