Carrot 3 Ways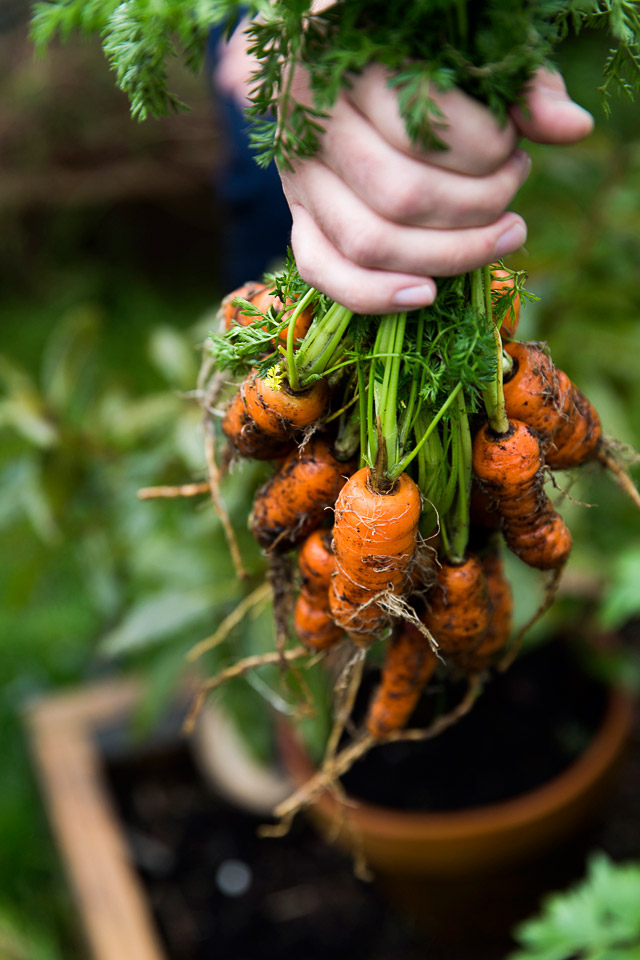 If you are like me you may tend to fall into a routine and continue for a long time without a clear purpose: in this case, I'm talking about the drinking coffee routine. When mindlessly following a routine, you may lose sight of the fact that what you're doing isn't at all healthy. Examples of this phenomena are shown in the movie "Food Matters," which sends a strong message that what you eat is what you are. In the last few years since I started my garden, my partner and I have totally changed the way we live and eat, mostly for the better. However, if we are not paying attention, our best efforts to live more healthfully and consciously could be subverted.
For the longest time, I've woken up in the mornings and immediately begun looking forward to a cup of coffee. That is, until my friend suggested that I cut back on my morning intake to improve my health. For sure, I love coffee's aroma and richly sweet taste, but mostly I love the idea of enjoying a cozy morning routine, which for so long has featured a cup of coffee.
After discussing "Food Matters" with yet another friend, we both decided to majorly cut back on coffee. We still haven't finished watching the whole movie yet, but definitely got the message in the first 20 minutes. My routine shifted from a cup of coffee to a cup of matcha latte and then to freshly made raw juice, thanks to our friends' influences. However, I still allow myself a cup of coffee now and then when I have the chance to visit BEAUCOUP BAKERY & CAFÉ, Le Marché St. George, or a few other neat places in Vancouver whose artistry and cozy atmospheres are just too hard to resist! So try this juice, slaw and if you need the coziness, I also baked for you a decadent cake made with another harvest from the spring cleanup.
Carrot Juice
Serves 2
1cup carrot, washed, peeled and roughly chopped
1 small apple, peeled and cored
2 large oranges, peeled
¼ of whole pineapple, rind removed, cored and roughly chopped
2 ice cubes
Place all the ingredients in a blender (we adore our Vitamix for this), and blend until smooth. Add water to achieve your preferred consistency and serve.
Carrot Slaw
Serves 4
4 large carrots, peeled and julienned
2 garlic cloves, roughly chopped
1 small knob ginger, chopped
A handful of chives, roughly chopped
¼ cup rice vinegar
½ teaspoon cane sugar
1 tablespoon plus 1 teaspoon soy sauce
1 tablespoon toasted sesame oil
2 tablespoons white sesame seeds, roasted in a skillet
2 tablespoons tahini
Combine garlic, ginger, chives, vinegar, sugar, soy sauce, sesame oil and tahini in the bowl of a food processor and proceed to blend well. If you don't have a food processor, don't worry, but just chop everything fine, place in a jar and shake well to blend.
In a large bowl, mix the carrots and the dressing well and chill. You can serve in a couple of hours. If you have leftovers, the dish is indeed very tasty the next day. I would sneak this slaw into a sandwich made with leftover cold pork tenderloin sliced along with lots of cilantro leaves or whatever is on hand (or in the fridge) the next day.
Carrot Lemon Cake
Makes 9 x 5 x 3 inch loaf pan
1 cup butter plus extra for greasing, room temperature
1/3 cup plus 1 tablespoon sugar
3 large eggs, room temperature, beaten
1 cup grated carrot
2 tablespoons sour cream
Lemon zest from 1 lemon
1 tablespoon fresh orange juice
1 ½ cups cake flour plus extra for dusting
2 teaspoons baking powder
¼ teaspoon salt
Icing
2 to 3 tablespoons lemon juice
¾ cup icing sugar
Combine the flour, baking powder and salt, mix well and set aside. Grease the pan with extra butter, dust flour removing the excess and keep refrigerated until the batter is ready. Preheat the oven to 350F.
Cream the butter with an electric beater in a large bowl until fluffy. While continuously beating, add the sugar in a few installments and beat until well combined. Add eggs gradually and beat to blend. Switch to a whisk, add the carrot, sour cream, ½ lemon zest and orange juice, and stir to combine. Proceed rhythmically by beating the batter each time you add an ingredient.
Add 1/3 of the flour mixture into the batter and incorporate. Switch to a spatula, add the rest of the flour mixture and gently combine until no flour is visible.
Bake until tested skewer comes out clean, for about 50 minutes. In the meantime, make icing. Place the sugar in a small bowl and add the lemon juice and the rest of the lemon zest a small amount at a time. Stir well, making a smooth consistency.
Let the cake stand for 10 minutes, and then remove from the pan to cool. Drizzle the icing over top. Slice and serve at room temperature.