Pumpkin Dinner Rolls and Borscht for Valentine's Day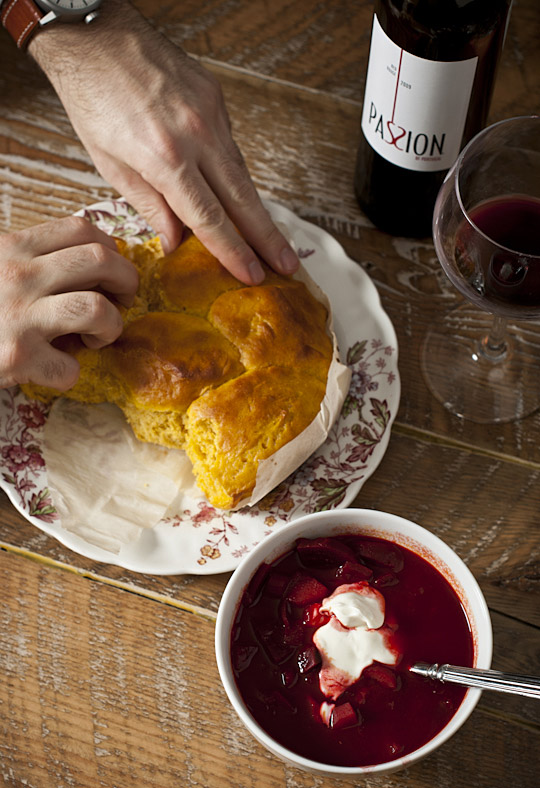 We don't really celebrate Valentine's Day. But we always make a nice meal and pour a glass of red wine. This year, however, we didn't have  steaks or bourguignon, but choose a vegetarian dish, borscht and these rolls. Maybe because we started hot yoga, it feels right to eat more vegetable dishes to cleanse our system. Drink a lot of water, eat more raw food, or at least veggie-based food, stretch, drink more water and sweat it out.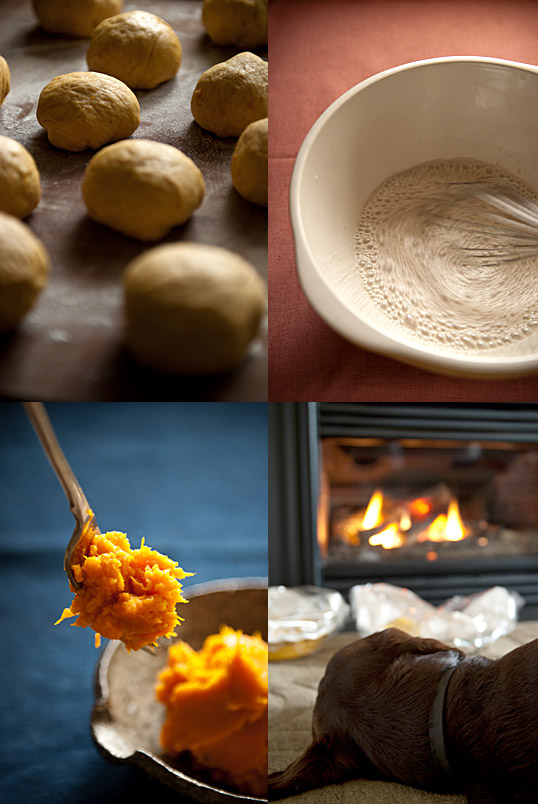 I use freshly roasted winter squash, like Marina Di Chioggia or Red Kuri , that was left after making soup. I know there are a lot of pumpkin dishes at our house this time of year. The fireplace comes in handy when I bake this type of bread. The dough seems to nicely rise for a short time. I just rotate it every so often to make sure one side doesn't get too hot. If you do, be careful not to place pans too close to the fire. We have two friends who happily anticipate the good food coming later in the day while I bake these rolls. It's leftover pumpkin skin that they love! For now, they sleep (or watch) in front of my rising doughs.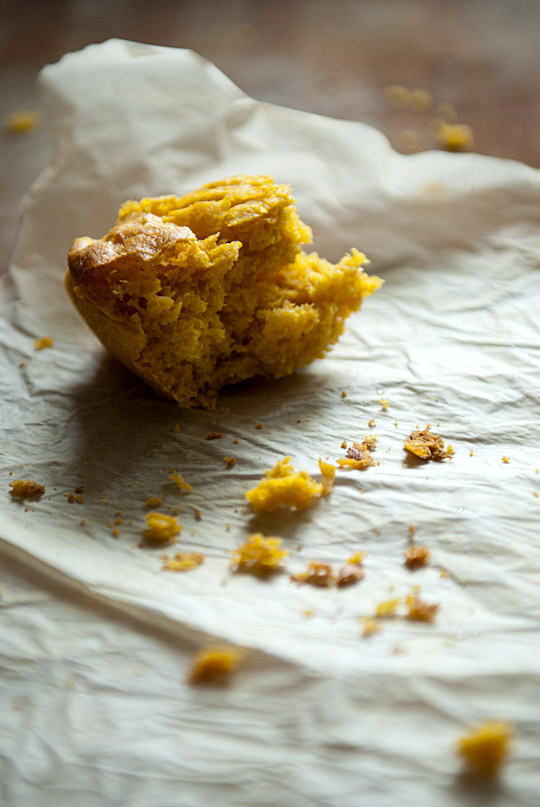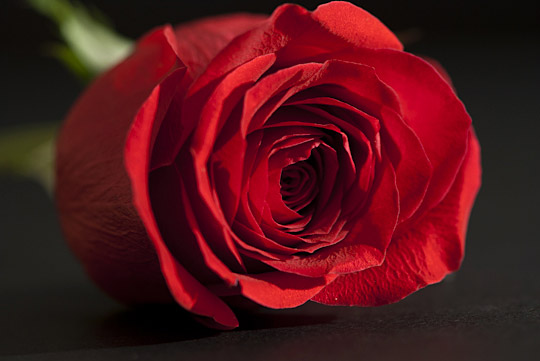 These rolls go really well with a big pot of chili or soup.

Pumpkin Dinner Rolls
Make about 25-28 rolls
1 tbsp instant yeast
1 cup warm milk
1/2 cup warm water
5 tbsp sugar
2 tsp sea salt
1/4 cup + 2 tbsp olive oil
1 1/2 cups pumpkin puree
5 cups all purpose flour
1 cup spelt flour (if you don't have spelt, substitute with 1 cup of all purpose flour)
Extra olive oil for greasing a bowl
2 tbsp milk for brushing
Put together the yeast, the milk, the water and the sugar in a large bowl. Whisk to dissolve and let sit for a few minutes. Add salt, oil, and the pumpkin puree, and whisk until combined. Add the flour a cup at a time and knead into a soft dough, adjusting flour or liquid as needed. Knead for 7 minutes, until smooth.
Place dough in a greased bowl, cover, and let rise for 1 hour, or until doubled in size
Line two 9 inch round pans with parchment paper. Pull off pieces of dough a little bigger than a golf ball, about 2 oz and roll them in your hand to form a ball. Place in the prepared pans just touching one another. When pans are filled cover and let rise for about 40 minutes, until almost doubled.
Preheat oven to 400 F and just before putting the doughs in the oven,  brush the milk on the top of the doughs. Bake for about 18 minutes, or until golden brown. Remove from pan to cool on a wire rack. Serve warm and pull off rolls as needed. They freeze beautifully if you have too much. Thaw them at room temperature and warm them up when you need them.