A Weekend in Seattle -culinary trip-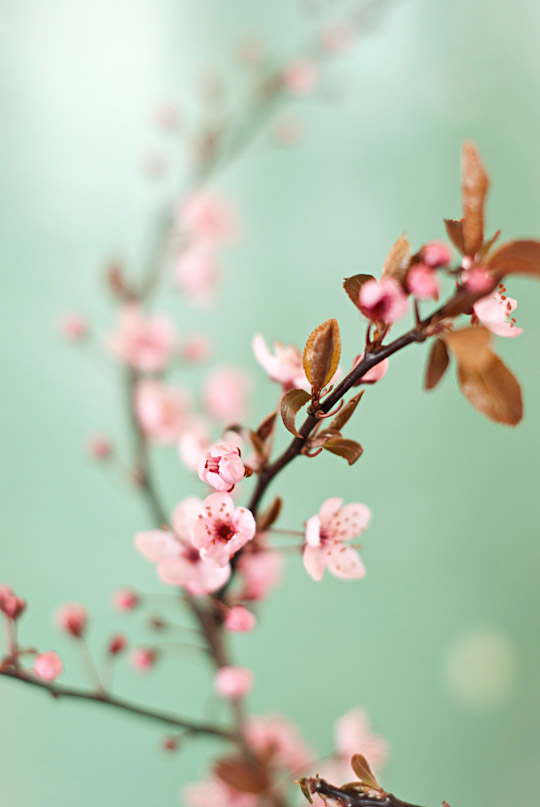 Although similar in some ways to Vancouver, it is always a treat to take a little weekend trip to Seattle. It takes about two and half hours if you get through the American border smoothly, and shortly after crossing over you are in the heart of downtown Seattle. The weather during the trip was cold and windy but the sun was so gorgeous that we could browse every downtown nook and cranny on foot. The highlights of this trip were of course eating fresh seafood, browsing in Pike Place Market, and discovering more artisan food stores. Yes, everything was related to eating! Of course we headed to the market and smelled bouquets of tulips and daffodils, tasted fresh crabmeat and continued a search for a culinary adventure. The market was close to the end, but was filled with people.
It was a true memorable moment when I first tasted a piece of Coconut Gold Bar from Fran's Chocolates. Jeremy at the store was so professional in helping us, and let us taste samples so that we could choose favourite pieces to take home. We then walked into a Chinese tea store to quench our thirst after the long walk. A young lady poured us freshly infused Oolong tea. There were many varieties to choose from but I settled on some white jasmine tea to bring back home with me.
At the end of a long day, we found a place called Fonté Café and Wine Bar. It was a casual dinner with a bottle of Oregon red wine and a crispy thin Margherita pizza for me, while my friend ordered Fungi pizza which seemed fancy due to its  truffle oil aroma. We ended the night with a warm glass of Grand Marnier at a bar. We wished we could taste its superior version, Cuvée du Cent Cinquantenaire, since our dear French friends at the table talked about how beautiful the flavour is, but we had no luck.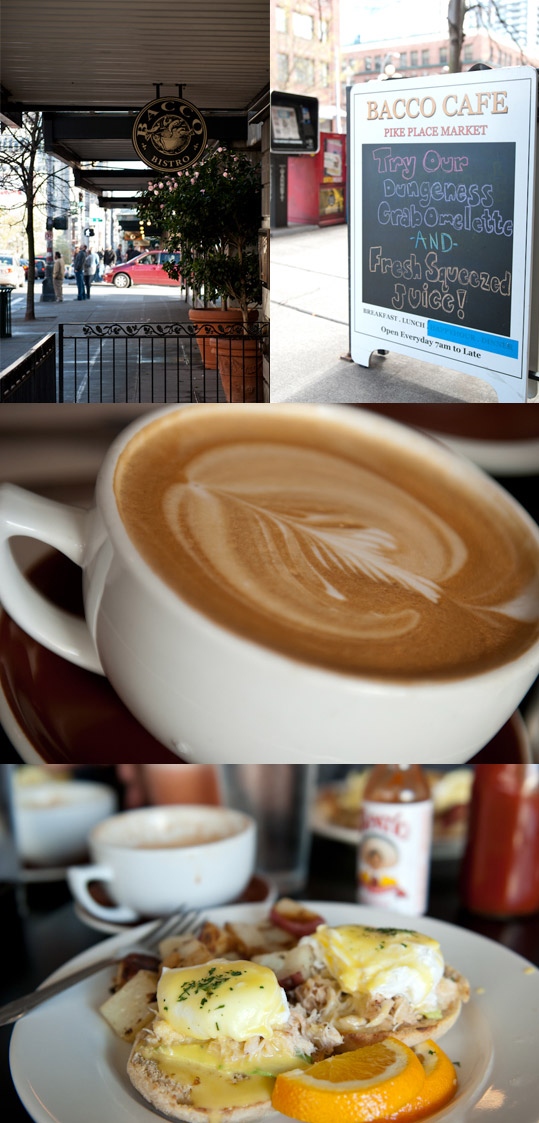 It was worth waiting for half an hour to get seats at Bacco Café on the following morning. Such waits appear part of a typical Seattle Sunday morning in this area, which is only a block away from the busy, touristy Pike Place Market. I had a nicely frothed latte, and a delicious Dungeness crab Benedict. Afterwards, we had such fun seeing all of the  kitchen gadgets and tools at Sur La Table. I was very thankful that my friend Chef Eric gave me some advice on purchasing kitchen tools. It is great to travel with a French chef. Thank you Eric! We walked down the slope to Beecher's Handmade Cheese. It was totally packed with parents and children, young couples and adults, I could hardly enter the store, but the smell was very enticing.
If you get a little full and are looking for exercise, try Bill Speidel's Underground Tour. It was interesting to see what were once the roadways and stores of old downtown Seattle. It was almost too bright to see the water along the coast after coming out of the underground tour, but it was really amazing to have the sunshine for two days!
We hurried to Elliott's Oyster House, longing for fresh seafood and fresh beer (or a glass of wine for me). We ordered a several variety of fresh oysters that were served with lemon wedges and champagne pepper sorbet. The cold, slightly salty, and succulent meat going down on my throat, ah… and a glass of Muscadet to follow. It was heaven! My favourite oyster was called "Mystery Bay" grown in Marrowstone Island, WA, and I could personally eat a couple dozen easily! The freshness of the sorbet was the perfect accompaniment. A small ball of Fried Chocolate Truffle Sundae was a nice way to end this culinary trip with its rich ganache spilling out of the fried shell when I inserted a knife! We had a great time with good company, and of course, great food indeed. I love Seattle.
Here are some souvenirs from the trip: chocolates from Fran's Chocolates; Gavottes' Crêpe Dentelle purchased at DeLaurenti Specialty Food & Wine.
Have a great Easter weekend, everyone!